The spring really has been a tale of two parts of the state; if you lived East of the Continental Divide you most likely saw tons of beneficial rain and snow for several months - exactly what is needed to bust a drought. If you lived West of the Divide, you most likely saw warmer than average temperatures, earlier than normal snow melt and below average snow pack. As such, Eastern Colorado is doing fairly well on moisture so far this spring while Western Colorado continues to suffer.
Indications are a drying pattern could push Eastern Colorado back into dry conditions with above average (in some cases scorching) temperatures while Western Colorado continues to experience warmer and dry conditions - I don't see drought conditions going away anytime soon for our mountains and Western Slope in Colorado - outside of an abnormally strong monsoon which is sadly no gaurantee this year.
Here's a quick look at the drought status across Colorado, the Western U.S. and what the probability outlooks say is most likely for our weather in the next 2 weeks...
Latest Drought Update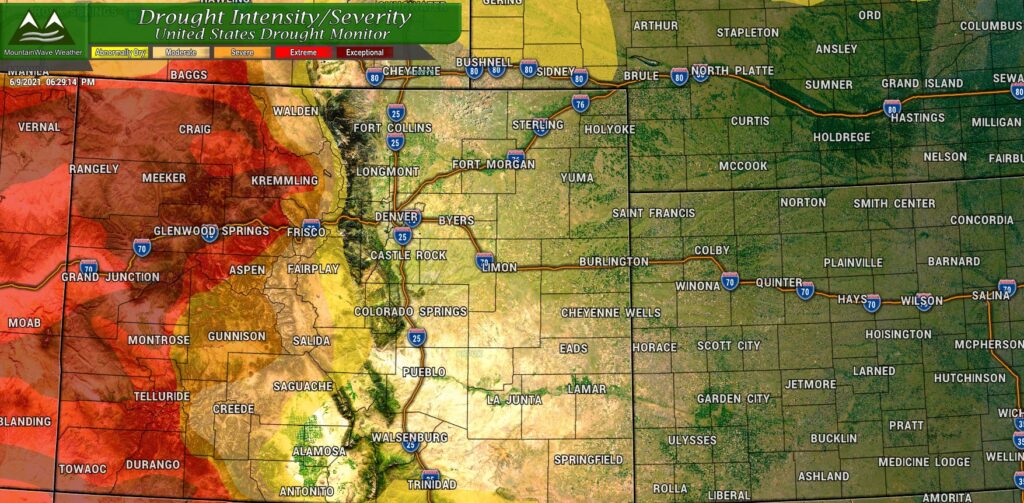 It's amazing how much rain and snow it took this spring to break our drought in Eastern Colorado... and even more amazing we received that much. Wet springs are nearly unheard of in La Nina years and we were experiencing one this year. No two ENSO events are alike, but what we saw this spring was definitely against the odds. Most of Eastern Colorado has been completely removed from a drought and abnormally dry classification. This means as of right now, vegetation, soil and wind/temperatures are in good shape. Still, I wouldn't sleep on seeing some of these conditions return this summer if we see abnormally dry AND/OR abnormally hot AND/OR abnormally windy weather.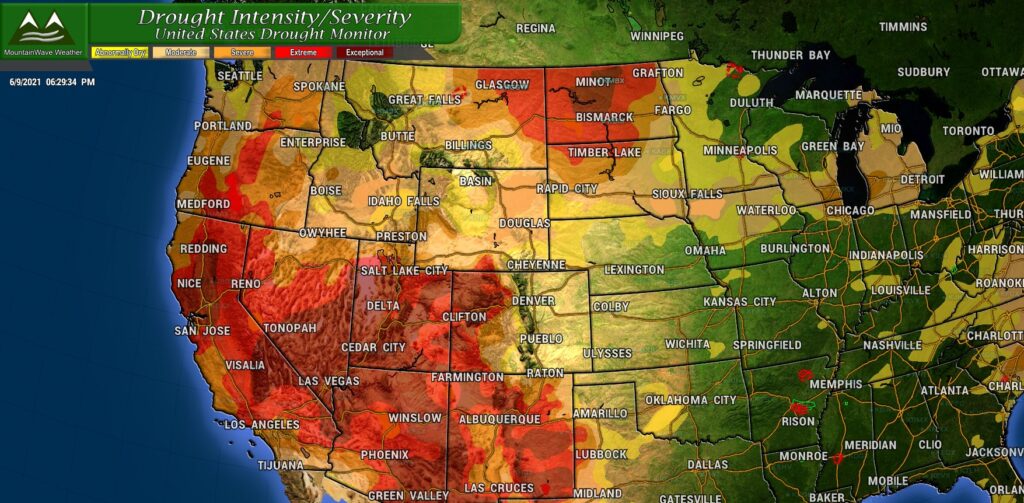 As far as Western Colorado and the rest of the desert Southwest; they're in pretty dire straights. Much of Utah, Nevada, California, Arizona and New Mexico are in extreme and exceptional drought... the exceptional classification is about as bad as it can get.
For example, here is what happens when Exceptional drought conditions are reached in California:
Fields are left fallow; orchards are removed; vegetable yields are low; honey harvest is small
Fire season is very costly; number of fires and area burned are extensive
Many recreational activities are affected
Fish rescue and relocation begins; pine beetle infestation occurs; forest mortality is high; wetlands dry up; survival of native plants and animals is low; fewer wildflowers bloom; wildlife death is widespread; algae blooms appear
Policy change; agriculture unemployment is high, food aid is needed
Poor air quality affects health; greenhouse gas emissions increase as hydropower production decreases; West Nile Virus outbreaks rise
Water shortages are widespread; surface water is depleted; federal irrigation water deliveries are extremely low; junior water rights are curtailed; water prices are extremely high; wells are dry, more and deeper wells are drilled; water quality is poor;
The folks at the drought monitor even mention the Colorado River headwaters and the situation in regards to water storage:
Impacts are building in the region with water cutback anticipated on Lake Mead as it is currently 37% full and fell below the critical 1,075-foot level triggering cutbacks to Arizona, Nevada, and Mexico.
---
Weather Pattern Next 6-10 days (1 week)
It definitely looks like the wet and cool pattern we enjoyed through spring will be gone for awhile... at least based on the CPC outlooks for the next week or so. Remember, these are not forecasts per-se... they are a probability of is most likely based on what models and forecasts are seeing for that period of time. Therefore, redder colors for example don't necessarily describe how hot it's going to be, they are simply a measure of the probability of above average temperatures.
Here's a look at probability for temperatures above or below average in the next 6-10 days: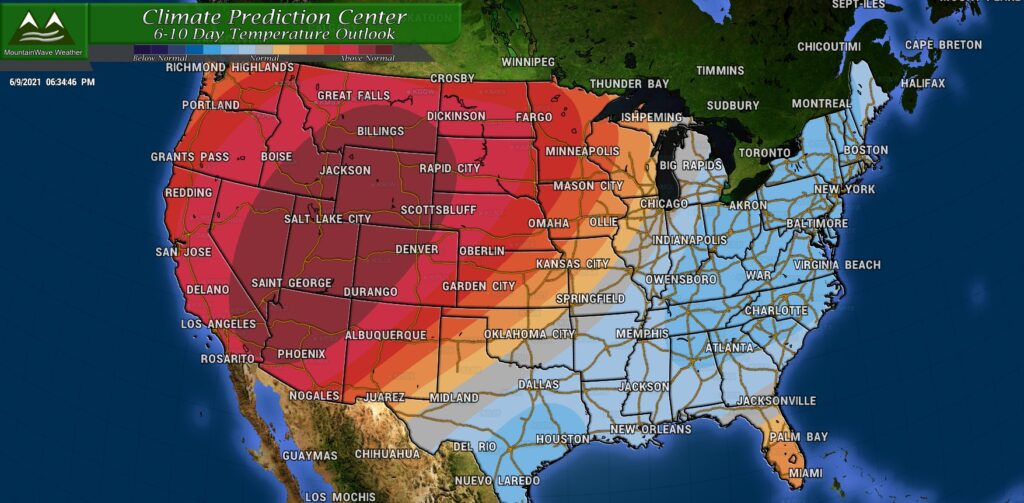 and here's the potential for above or below average precipitation for the next 6-10 days: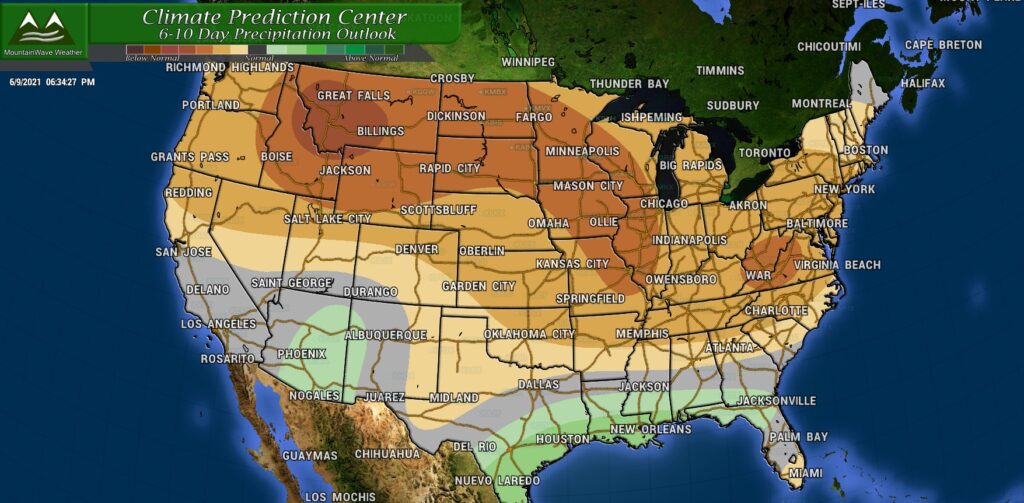 When you look at what the models are saying a lot of this makes sense. An enormous ridge of high pressure will anchor across the great basin. It's so large that it will keep the jet stream and the storm track well up into Canada. This means dry and warm conditions are very likely for a lot of the areas the CPC Outlooks above outline. Here's a look at the Euro Ensemble with ridging for the next week: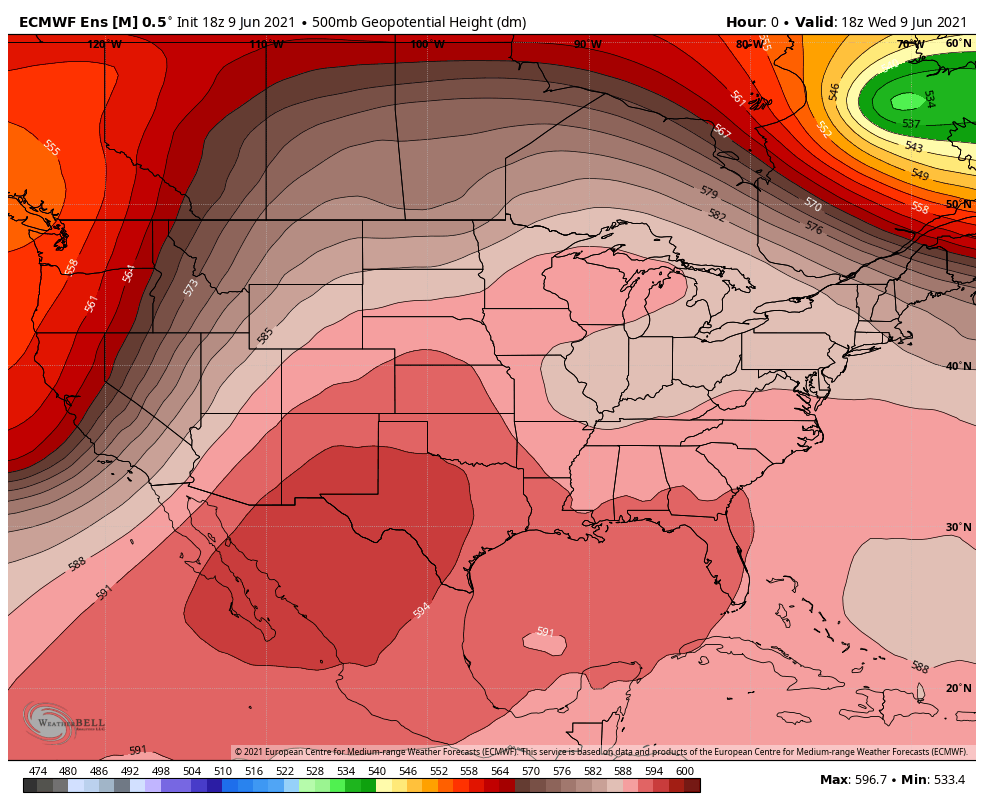 ---
Weather Pattern Next 8-14 days (1-2 weeks)
You're going to see a lot of the same for the period after 1 to 1.5 weeks. Here's the 8-14 day temperature probabilities: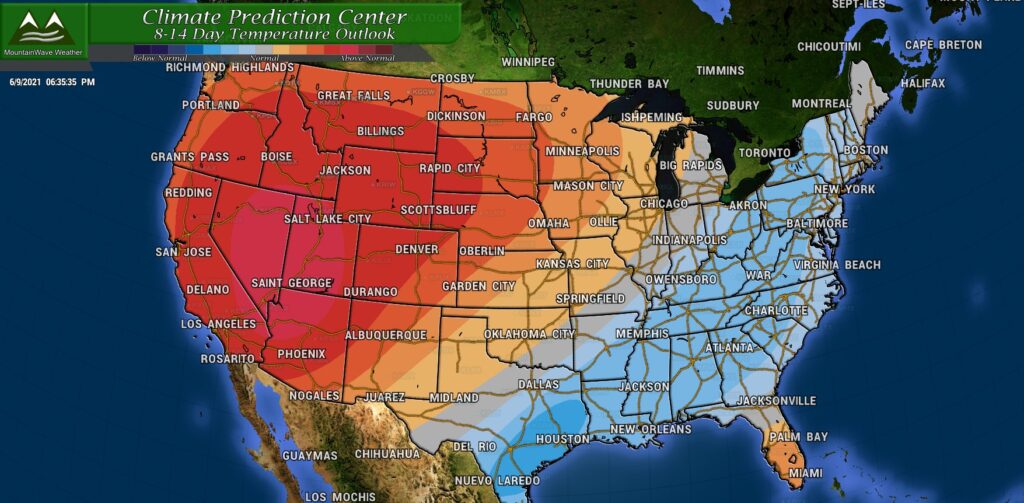 and the 8-14 precipitation probabilities: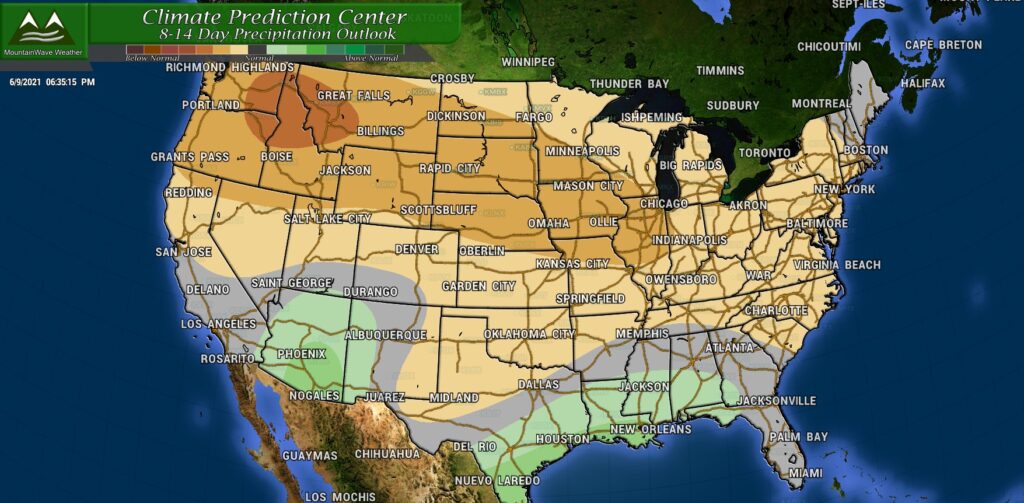 and just like the 6-10 day outlook I'll provide the Euro Ensemble 500mb heights for next week: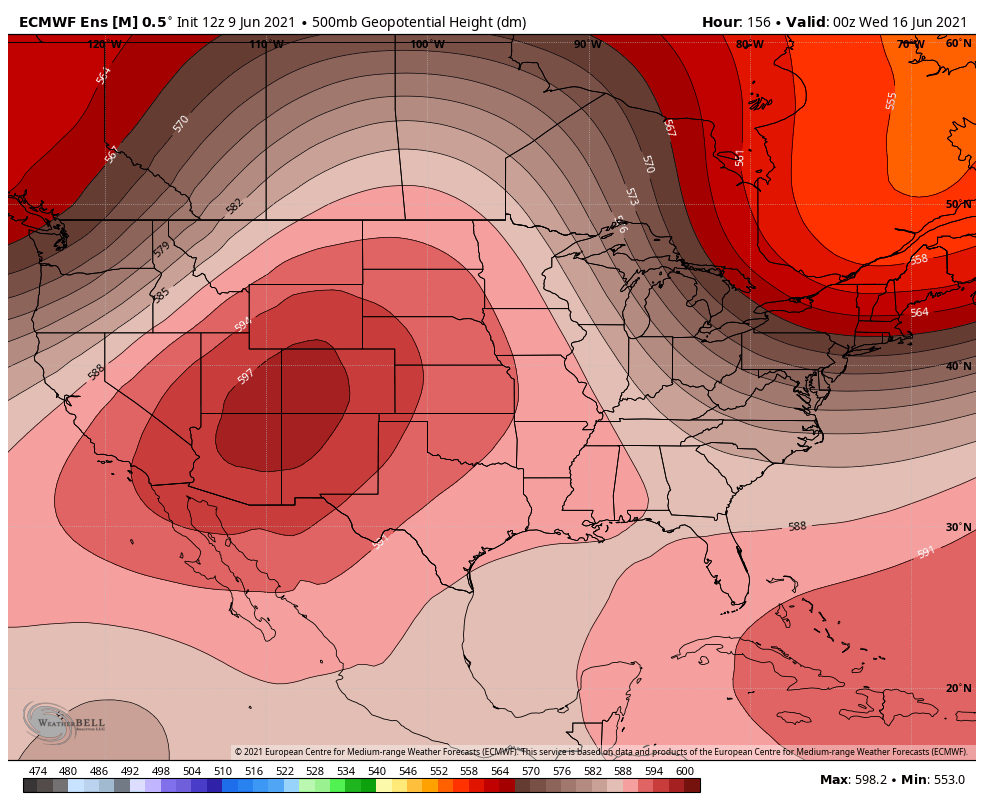 Can you see why a meteorologist looking at these outlooks would have higher confidence in hotter and dryer conditions over wetter and cooler?
---
Summary
So to sum everything up in a short, neat little sentence; it is highly likely that hot and dry conditions will stay with us in Colorado for at least the next 2 weeks. I do see the potential of an occasional "cool-down" here and there but those look like they drop us from the mid 90's to the upper 80's... not exactly what I'd call a "cold front." Make sure you're prepared for the heat and be careful because with all this vegetation we've seen grow; it could very quickly dry out and begin to cause fire issues.
If I fast forward ahead into July on the weeklies I see a lot of ridging well into July... but the models are not super set on where it sets up and how intense it is. Keep in mind, a ridge is required to kick our monsoon off so it may not necessarily be a bad thing that we still see this looking so far forward.
I'll keep an eye on it and provide any details if anything looks interesting, stay tuned!