Our storm system has moved into Northern Colorado and brought with it heavy precipitation to areas North of Denver. We are still waiting for it to move a bit further South for us, but we expect that to happen a bit after midnight. Heavier snow will continue through the morning and afternoon hours on Thursday on and off... this will be a longer duration event so expect snow all day Thursday.
Here's the latest we see in the data:
Winter Weather Highlights
The National Weather Service has a Winter Weather Advisory issued from 12AM tonight through 12AM Thursday night. This advisory means road conditions could be come tricky and could inconvenience travel. The advisory is mainly for areas along the Palmer Divide above 6,000 feet, but also includes Denver, the front range foothills and areas to the North of Denver.
Updated Snowfall Forecast
Not a whole lot of change to what see in the models... as such I've only made a few tweaks to the snowfall forecast.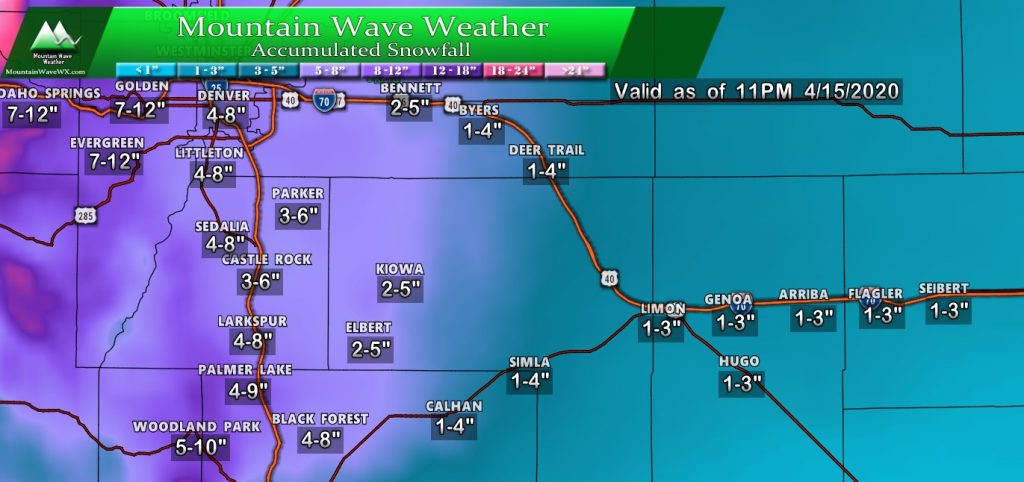 The main differences to note from the preliminary forecast to this one is I've adjusted the snowfall ranges up slightly for Denver and areas nearby. This is mainly due to models showing a bit heavier snowfall as you get North into and around Denver and points West of the city as well. For locations along the Palmer Divide, I haven't made any changes as my forecast ranges are within line of modeling data and even what the NWS expects, always a good thing!
Timing/Impacts
Main bout of snow will start after midnight for the Palmer Divide with snow lasting through most of the day Thursday. Expect the most likely time for travel impacts to be overnight tonight and into Thursday morning. Due to the high sun angle this time of year and warmer temps with this storm, I think the roads will warm enough to recover by the time the sun is well up.
Summary
We'll settle down and enjoy another bout of spring snow along Colorado's front range. The wildcards here are mainly when the snow falls (too much sunlight/melting means lesser snowfall totals) and the jet overhead enhancing snowfall meaning totals for some areas will be higher. Should be interesting to see which way it goes!
We feel pretty good about the forecast we've made though and will stick with that until we see anything otherwise. This will probably be the last update on this storm, we'll have storm total snowfalls and a re-cap available sometime on Friday.
Stay warm and stay safe!