Colorado Weather Pattern - What to Expect
High Pressure will be solidly in control across the Western United States for the next several days, this means the norm for most of us will be scorching heat (record setting for some locations) and very dry conditions.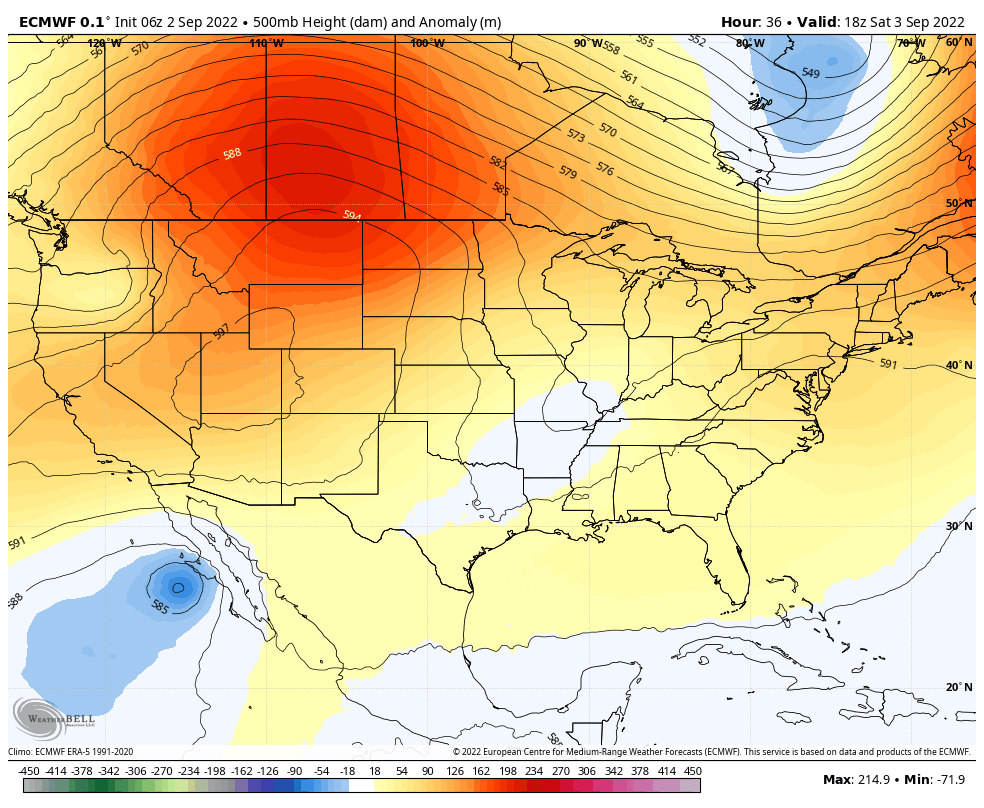 The 500mb height anomaly graphic above shows above average pressure in oranges and reds with below average in blues and greens. Notice the strong orange/red signal across the Western United States and along the Northern Plains into Canada. This pattern will keep many areas under very warm and dry conditions.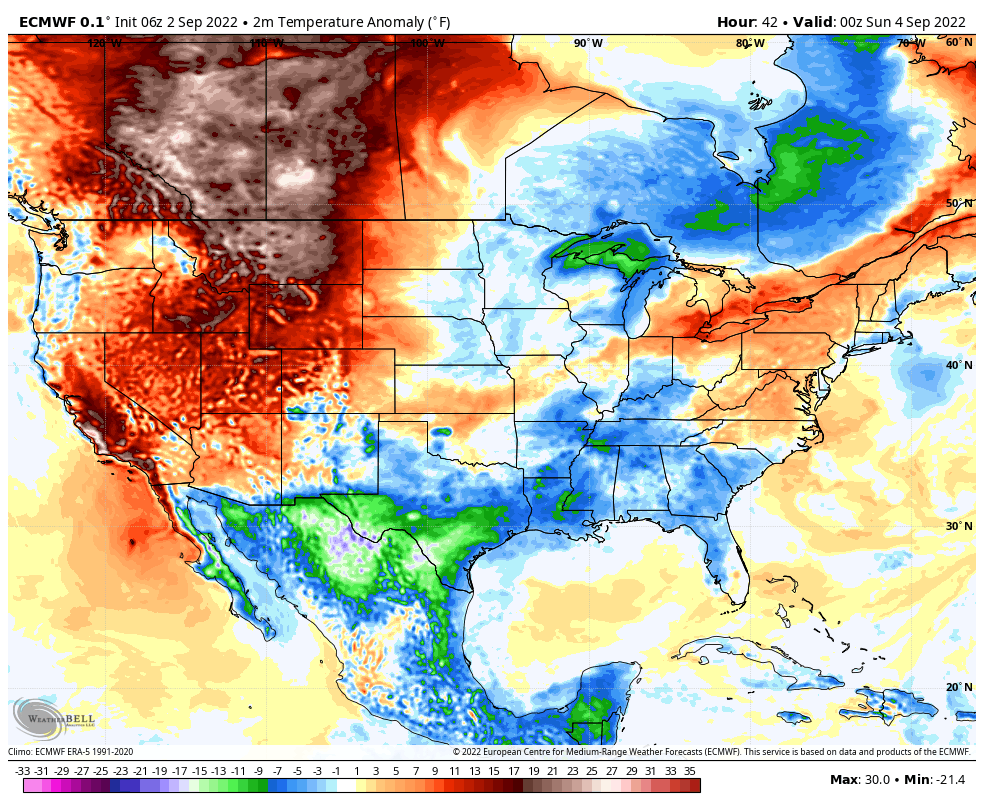 The temperature anomaly graphic above shows how much higher or lower than average temperatures will be on Saturday. This is one snapshot in time for the entire weekend, but honestly the pattern persists all weekend like this. Expect very warm conditions across the Western United States, while cooler conditions will be likely across the Southern United States.
---
Castle Rock Forecast
I've attached the spot forecast for Castle Rock below, this can apply to most locations along the Palmer Divide but add or subtract one to three degrees depending on your elevation. it will be fairly warm throughout the weekend and we are not really seeing much in the chance for rain.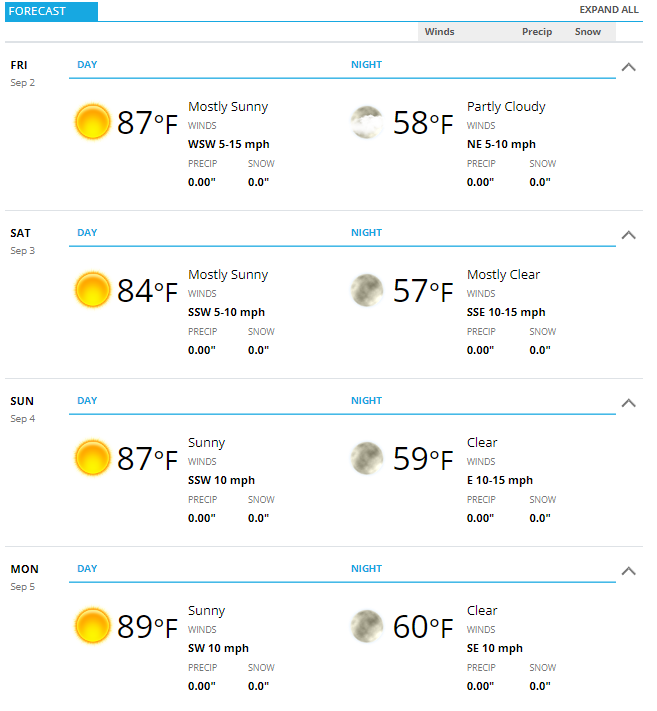 If you are outdoors this weekend remember the following:
Stay well hydrated - drink lots of water
Hottest time of the day between 10AM-6PM
Sunscreen is a must! UV index will be very high and little cloud cover will not help either. Make sure you don't get burned!
The Rest of Colorado
I've attached the forecast high temperatures across Colorado for the next 4 days, you'll see that the entire state is going to be very warm - but relief can be found in the mountains. Unfortunately, expect a lot of company if you head to the hills, this is one of their busiest weekends of the year.
Friday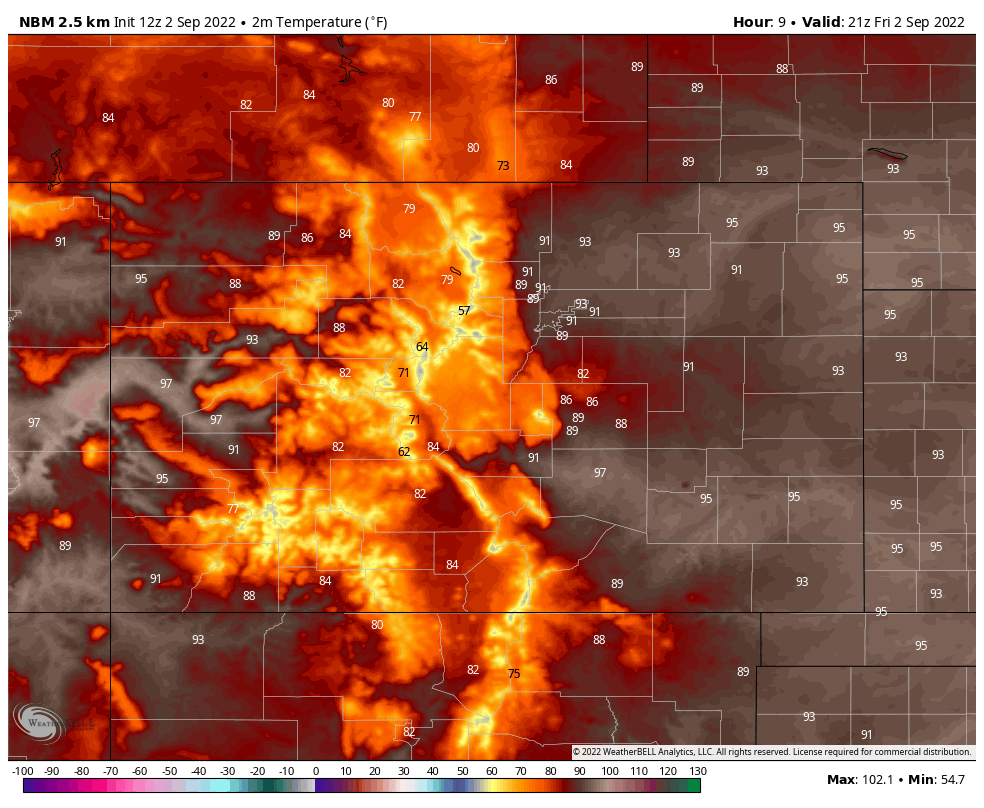 Saturday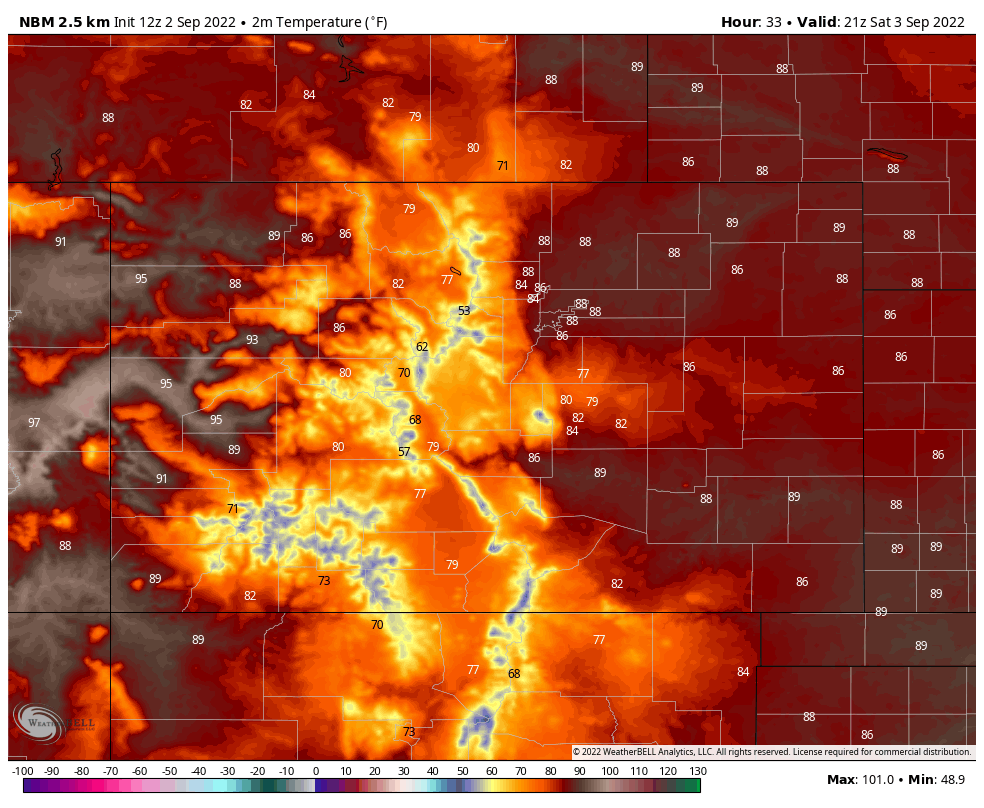 Sunday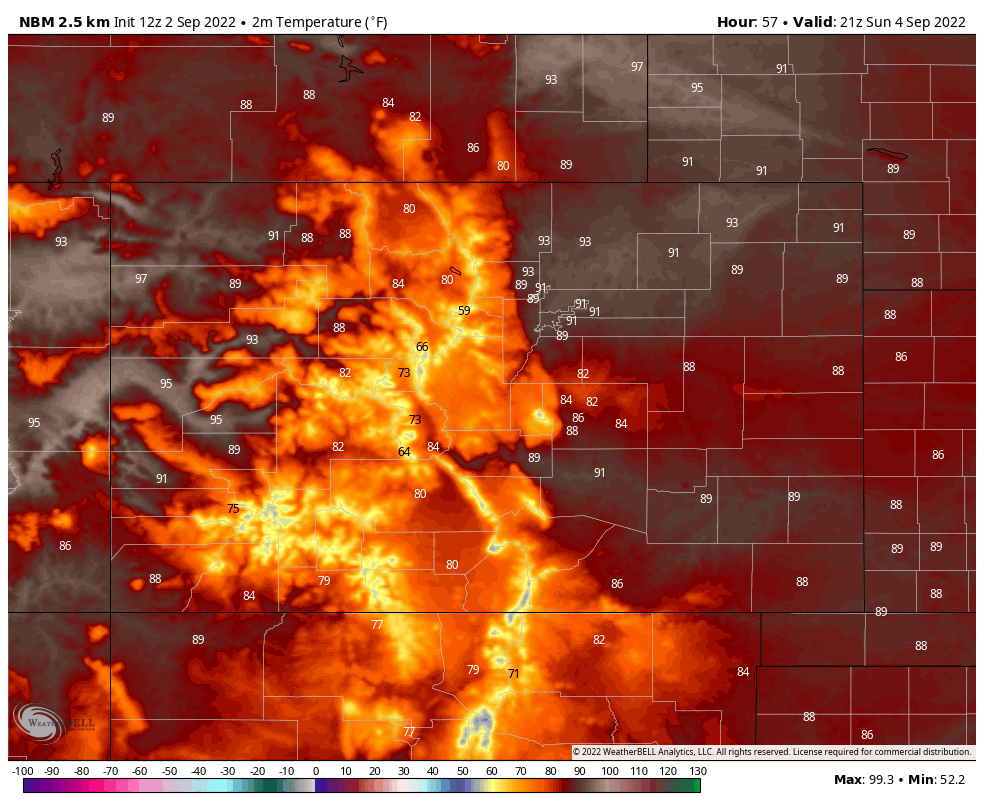 Monday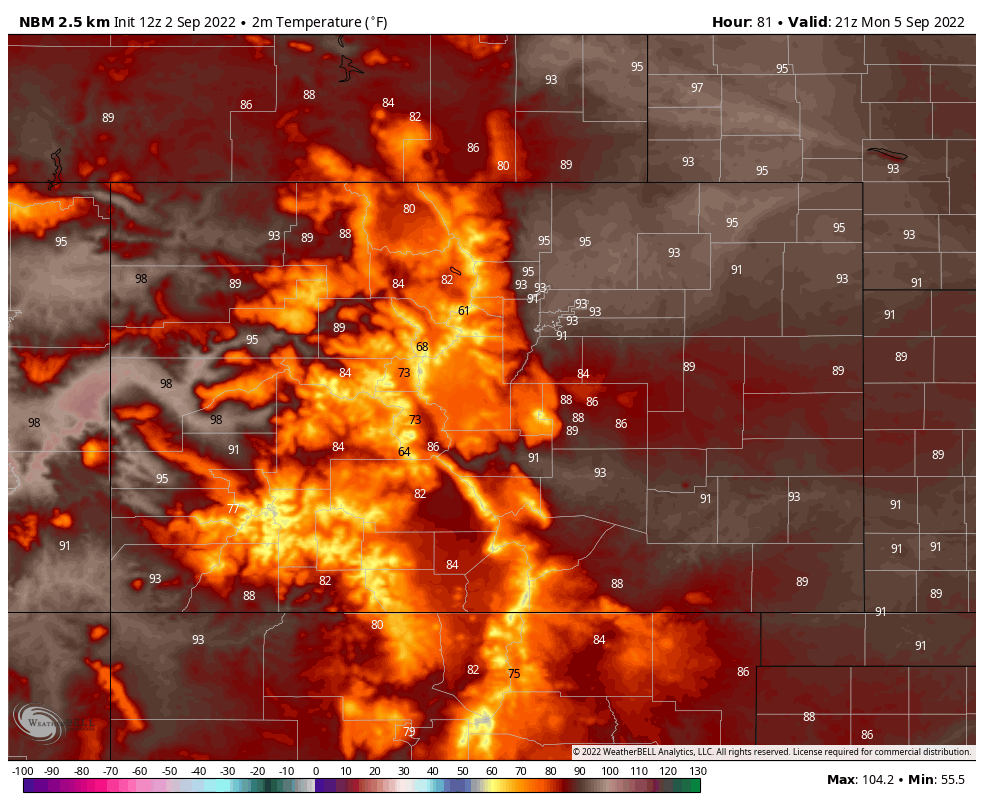 Saturday Rain Chances?
Most of the state won't see much in the way of precipitation for the next 4 days. There is a small chance of a bit of rain late in the day Saturday and Saturday night across the Southwestern and Southern mountains. A few of those showers may sneak up to the central mountains however, so keep an eye out for that.
Notice the overall scant amounts predicted though... any mountain locations that see rain will see a few sprinkles to a very quick/weak shower at most. 0.01 to 0.02 inches of precipitation is not much to write home about...
For the Eastern plains, I'd put the chance of seeing a storm around 0-5%. Storms will really struggle if they move off the mountains as the air will be quite stable, I'm leaving a tiny 5% chance in there just in case one can break through.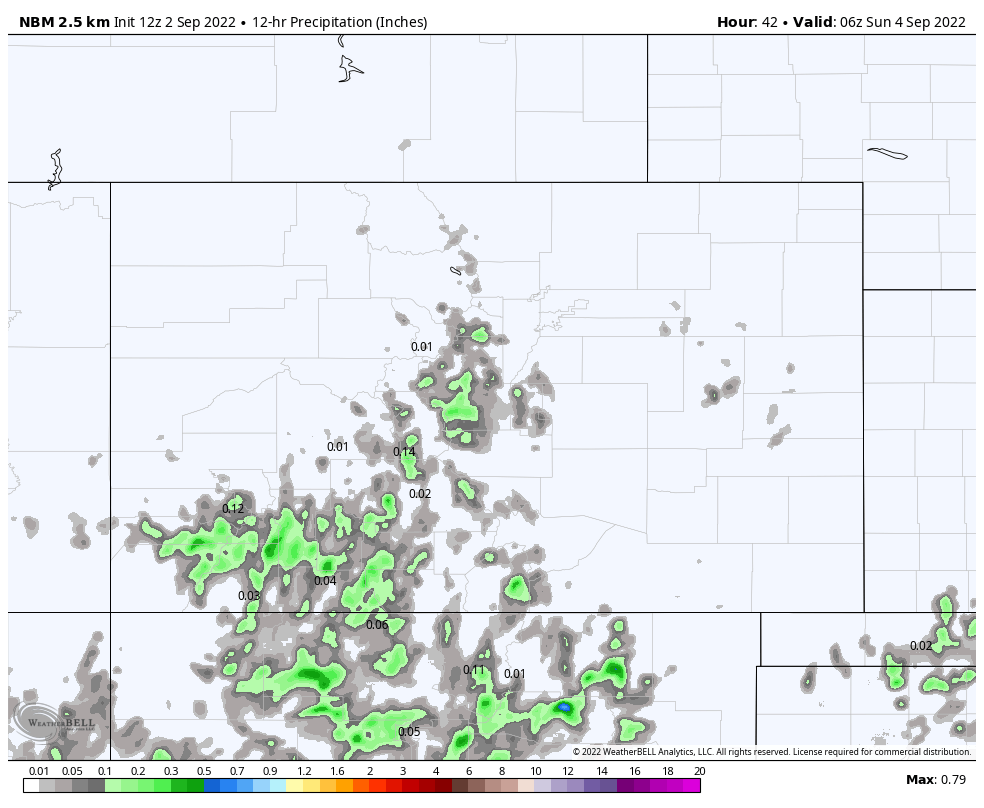 ---
Summary
This weekend looks quite nice if you are traveling in and around Colorado. Don't see much in the way of weather impacts outsides of heat related stuff.
It's going to be hot
It's going to be dry
Stay hydrated
Use sunscreen
Avoid strenuous activity in the hottest part of the day
Have a happy and safe Labor Day Weekend!