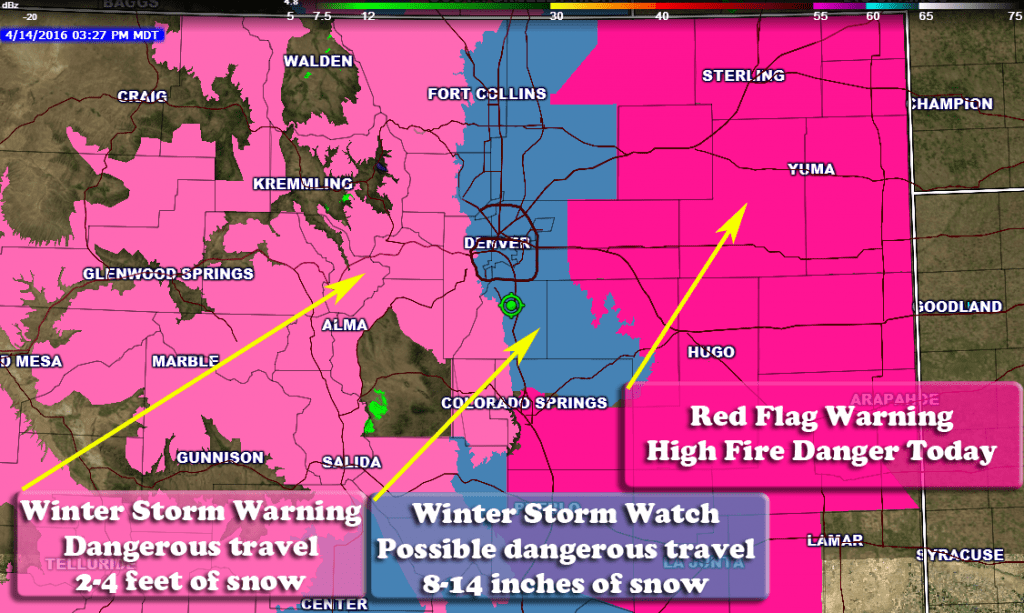 It's a busy day for meteorologists in Colorado today as we have had a slew of weather watches, warnings and advisories issued this afternoon. Everything from Winter Weather to High Fire Danger is expected from this afternoon through Monday.
Latest Winter Weather Watches/Warnings
**Winter Storm Watch**
Timing
WINTER STORM WATCH IN EFFECT FROM LATE FRIDAY NIGHT THROUGH
LATE SATURDAY NIGHT
Cities/Areas Included
FORT COLLINS...HEREFORD...LOVELAND...
NUNN...ARVADA...BOULDER...GOLDEN...LAKEWOOD...LONGMONT...AURORA...
BRIGHTON...CITY OF DENVER...DENVER INTERNATIONAL AIRPORT...
HIGHLANDS RANCH...LITTLETON..

.PARKER...CASTLE ROCK...ELBERT...
FONDIS...KIOWA...LARKSPUR

...EATON...FORT LUPTON...GREELEY...
ROGGEN
Snowfall
ACCUMULATIONS OF 8 TO 14 INCHES WILL BE
  POSSIBLE BY SUNDAY MORNING. THE HIGH DENSITY SNOW WILL TEND TO
  SETTLE AS IT ACCUMULATES...SO THAT SNOW DEPTHS COULD REMAIN LESS
  THAN 8 INCHES.
Impacts
A WINTER STORM WATCH MEANS THERE IS A POTENTIAL FOR SIGNIFICANT
SNOW...SLEET...OR ICE ACCUMULATIONS THAT MAY IMPACT TRAVEL.
CONTINUE TO MONITOR THE LATEST FORECASTS.
**Winter Storm Warning**
Timing
In effect from April 15, 12:00 PM MDT until April 17, 06:00 AM MDT
Cities/Areas Included
CAMERON PASS...
LARAMIE AND MEDICINE BOW MOUNTAINS...RABBIT EARS RANGE...
ROCKY MOUNTAIN NATIONAL PARK...WILLOW CREEK PASS...
BERTHOUD PASS...BRECKENRIDGE...EAST SLOPES MOSQUITO RANGE...
EAST SLOPES SOUTHERN GORE RANGE...EISENHOWER TUNNEL...
INDIAN PEAKS...KENOSHA MOUNTAINS...MOUNT EVANS...
WILLIAMS FORK MOUNTAINS...WINTER PARK...ESTES PARK...GLENDEVEY...
NEDERLAND...RED FEATHER LAKES...BAILEY...CENTRAL CITY...
EVERGREEN...GEORGETOWN...IDAHO SPRINGS...WESTCREEK


Snowfall
ACCUMULATIONS OF 2 TO 4 FEET OF SNOW CAN
  BE EXPECTED THROUGH EARLY SUNDAY.
Impacts
ROADS ARE EXPECTED TO BE SNOW-COVERED AND SNOW
  PACKED...POSSIBLY LEADING TO ROAD CLOSURES. DENSE AND HEAVY
  SNOW ACCUMULATING ON TREE BRANCHES MAY CAUSE TREES TO FALL...
  OR BRANCHES TO BREAK OFF.
A WINTER STORM WARNING FOR HEAVY SNOW MEANS SEVERE WINTER WEATHER
CONDITIONS ARE EXPECTED OR OCCURRING.  SIGNIFICANT AMOUNTS OF
SNOW ARE FORECAST THAT WILL MAKE TRAVEL DANGEROUS.
Fire Weather Advisories
**Red Flag Warning**
...RED FLAG WARNING REMAINS IN EFFECT UNTIL 7 PM MDT THIS EVENING
FOR WIND AND LOW RELATIVE HUMIDITY FOR THE EASTERN COLORADO
PLAINS...FIRE WEATHER ZONES 242...AND 244 THROUGH 251...

* AFFECTED AREA...FIRE WEATHER ZONES 242...244...245...246...
  247...248...249...250 AND 251.

* TIMING...THURSDAY AFTERNOON INTO EARLY THURSDAY EVENING.

* WINDS...SOUTH 15 TO 25 MPH WITH GUSTS UP TO 35 MPH.

* RELATIVE HUMIDITY...AS LOW AS 16 PERCENT.

* IMPACTS...INCREASING WINDS AND LOW HUMIDITY WILL ALLOW ANY
  FIRES TO SPREAD RAPIDLY...ESPECIALLY IN AREAS THAT HAVE
  EXPERIENCED LIMITED SPRING GREENUP.