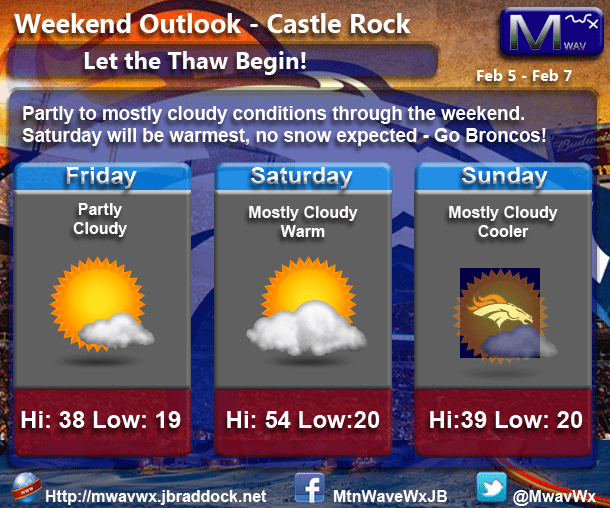 Friday February 5, 2016
Morning sunny skies will give way to partly cloudy conditions in the afternoon. Some areas may be a bit breezy throughout the day, especially near the foothills. Temperatures will top out in the upper 30's with night time temperatures in the upper teens to low 20's.
Saturday February 6, 2016
Mostly cloudy to partly cloudy skies  throughout the day. Temperatures will be much warmer with highs in the low to mid 50's during the day and night time temps into the lower 20's. Down-slope winds from the Southwest and West throughout the day will aid in the warm up, despite the snow on the ground, some areas may see breezy conditions.
Super Bowl Sunday February 7, 2016
Winds will shift to the East meaning our warm up will pause for a day or two. Expect cloudy to mostly cloudy conditions, winds should be light overall. Temperatures will reach the low 30's during the day and upper teens to low 20's overnight.
No snow is expected throughout the weekend, major snowstorms look unlikely for the next 7-10 days
One more thing...
G

o

B

r

o

n

c

o

s

!