We are nailing down the finer details on this weekend's expected winter storm this morning. I have an update on the latest warnings issued as of this morning and a look at snowfall totals and expected severe weather.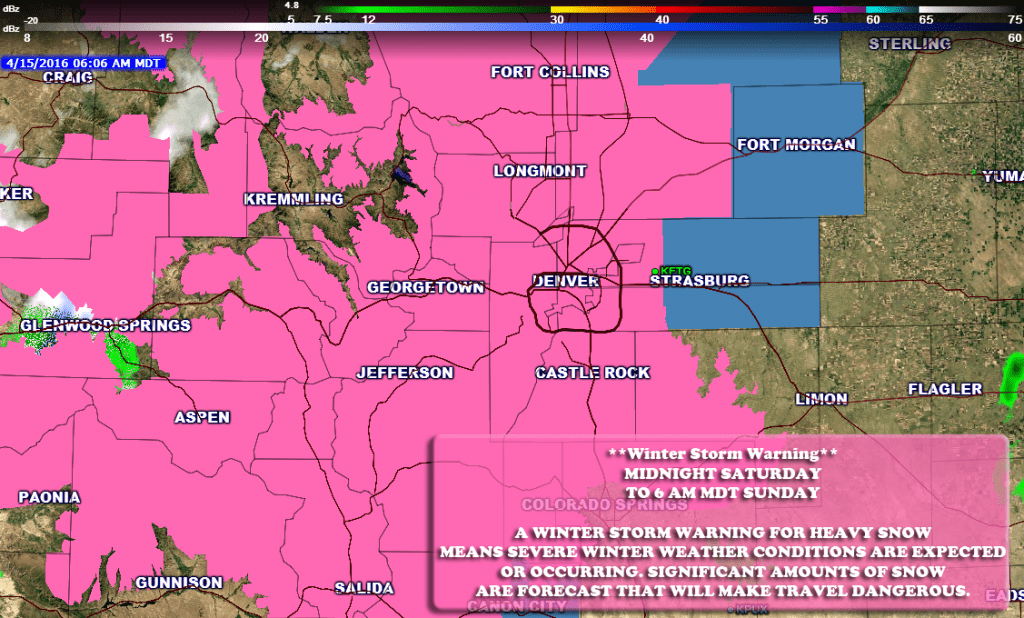 **Winter Storm Warning**
Timing
WINTER STORM WARNING IN EFFECT FROM MIDNIGHT TONIGHT TO 6 AM
MDT SUNDAY
Cities/Areas Included
INCLUDING THE CITIES OF...FORT COLLINS...HEREFORD...LOVELAND...
NUNN...ARVADA...BOULDER...GOLDEN...LAKEWOOD...LONGMONT...
CASTLE ROCK...ELBERT...FONDIS...KIOWA...LARKSPUR
Snowfall
10 TO 16 INCHES WILL BE
  POSSIBLE BY SUNDAY MORNING. THE HEAVY SNOW WILL TEND TO SETTLE
  AS IT ACCUMULATES...SO SNOW DEPTHS COULD REMAIN LESS THAN 8
  INCHES.
Impacts
A WINTER STORM WARNING FOR HEAVY SNOW MEANS SEVERE WINTER WEATHER
CONDITIONS ARE EXPECTED OR OCCURRING. SIGNIFICANT AMOUNTS OF SNOW
ARE FORECAST THAT WILL MAKE TRAVEL DANGEROUS.

**Note, my snowfall forecast for Castle Rock depicts 
slightly higher totals for the Palmer Divide area
Storm Synopsis
So far the storm system is moving as expected, through the day Friday it will begin to drop South further and eventually stall out of the four corners region. This will allow it to begin to tap into moisture and begin moving that moisture into the state of Colorado. We should begin feeling the effects of this by Friday afternoon, as the energy moves into the state coupled with a cold front from the North. Expect thunderstorms this afternoon along the front range, some could be strong as lift ahead of the front causes the air to destabilize.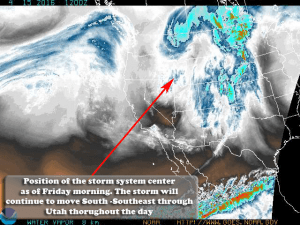 Snowfall Forecast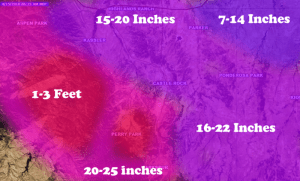 Here's a look at the expected snowfall totals through Sunday morning.
Castle Rock: 16-22 inches

Palmer Divide South (Larkspur, Monument…) : 20-25 inches

Western Douglas County Foothills: Spots of 1-3 feet accumulation

Denver: 10-16 inches
**This is going to be a very heavy, wet and dense snow. These totals may be slightly shorter if the snow compacts a lot as it falls.
Timing
Thunderstorms possible Friday afternoon as the initial wave of energy moves in. Severe weather is not expected along the front range, but possible East of town

Rain will fall Friday night into early Saturday. We expect the switch to snow to occur later Friday night into Saturday. Higher elevations may see a switch sooner

Winds between 15-25mph, not quite windy enough for blizzard conditions but some areas may see higher gusts

Best chances of snow is late Friday, Saturday and Saturday night. Lighter snow will linger on Sunday - Monday

This storm may adversely impact travel along the urban corridor at this time and especially the Palmer Divide. Expect worst conditions between Castle Rock and Monument
Impacts
Heavy snow will stress budding or trees with leaves on them. Keep an eye on those branches and be prepared to shake them off frequently to prevent damage

Heavy snow may accumulate on power lines causing power outages in areas

Road conditions will deteriorate, expect heavy, wet, slushy snow to accumulate on roads
Severe Weather
Our friends out East will be dealing with a slight chance of severe weather. The main threat will be high winds and large hail but there is a notable threat for tornadoes as well.
I will have further updates if it looks like any of this will change through the day. I will be on the road storm chasing Southeastern Colorado today so updates will be a bit less frequent.
I will be using my twitter account and live streaming on periscope for those who would like to follow my storm chasing today and tomorrow.