We should be getting used to these types of storms this year, but another Northwesterly "clipper" type storm is expected to move through late Sunday and into Monday. The cold front moved through during the evening hours Sunday and another re-enforcing surge of cold air will arrive on Monday morning.
As with the last storm, we don't anticipate a ton of moisture with this storm, mainly just a period of light snow that moves through for a couple of hours and then diminishes.
We should see a few lingering pockets of snow through the day, but overall this storm looks very similar to the last so we don't really anticipate higher snowfall totals along the front range. The foothills and mountains will be lucky enough to squeeze out 1-4 inches, but that's about it.
Closer to home, here are the snow totals forecast by the NAM3k going through early Tuesday morning: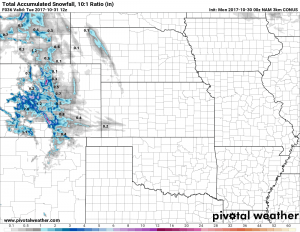 Storm Forecast
Short and sweet: expect some icy conditions during the morning commute, mainly for areas South of Denver in higher elevation. 0-2 inches of total snowfall accumulation across most areas of the Palmer Divide (many areas remaining below an inch) Snow should linger into the afternoon hours for a few select areas and taper off completely late Monday night.
Halloween will be chilly! Make sure to bundle up as temps will drop quickly after the sun goes down!