Finally Starting to Feel Like Fall
Temperatures have been running well below normal for the past few days, we haven't seen average or above average temperatures in Castle Rock since October 5. That's great news after how warm September was and even better news is that we've seen a bit of moisture as well. After the cold temperatures abate a bit on Friday and Saturday another blast of cold air and a chance of snow makes its way into the area. The good news for snow fans is that it looks very likely we will see decent snow accumulation with this weekend's storm!
Storm Setup and Analysis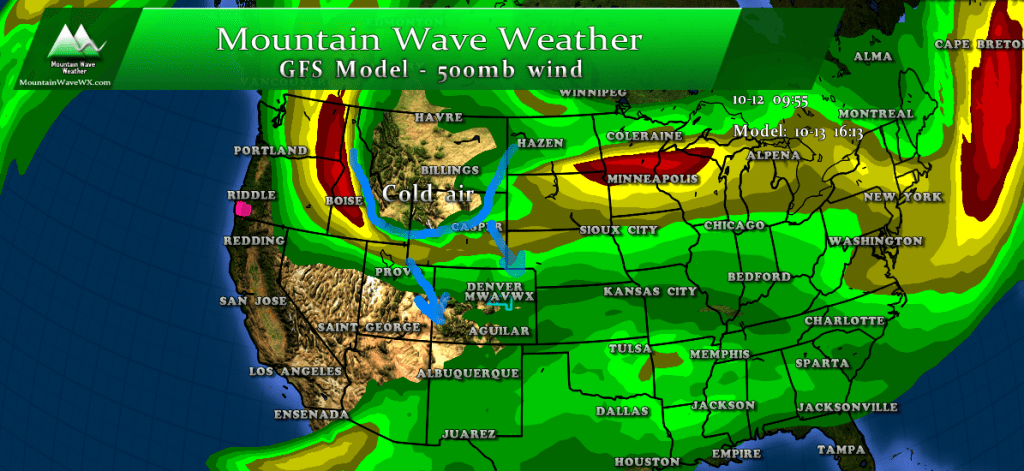 Here's a quick look at conditions on Saturday; a strong trough is expected to dip out of Canada and move into Colorado. Behind this trough is a whole boatload of cold air that has been pooling over Canada for some time now. That means we expect very cold temperatures to accompany this storm system. While this is not a favorable track for large amounts of snow, many models are showing enough moisture for accumulating snow along the front range.
The image above shows the most likely expected snowfall accumulation through late Sunday (50th percentile or probabilistically the most likely snowfall amount based on data today.) You can see areas along the foothills and areas over the Palmer Divide generally have snowfall totals pegged in the 4-6 inch range.
The SREF ensembles show a 6.42 inch mean at Centennial Airport and a 5.53 inch mean at Monument Hill. Those numbers are pretty consistent with what we see above and with some of the modeling.
Given the much colder temperatures I say snow accumulation is a good bet if everything else pulls together well. As you can see there is still a bit of discrepancy between some of the models for the snow totals at lower elevations but the overall image is pretty consistent. The foothills and mountain areas stand to see the best snowfall amounts while over the Palmer Divide we will see slightly more than Denver and areas to the North and East.
Speaking of temperatures, they're going to be downright frigid!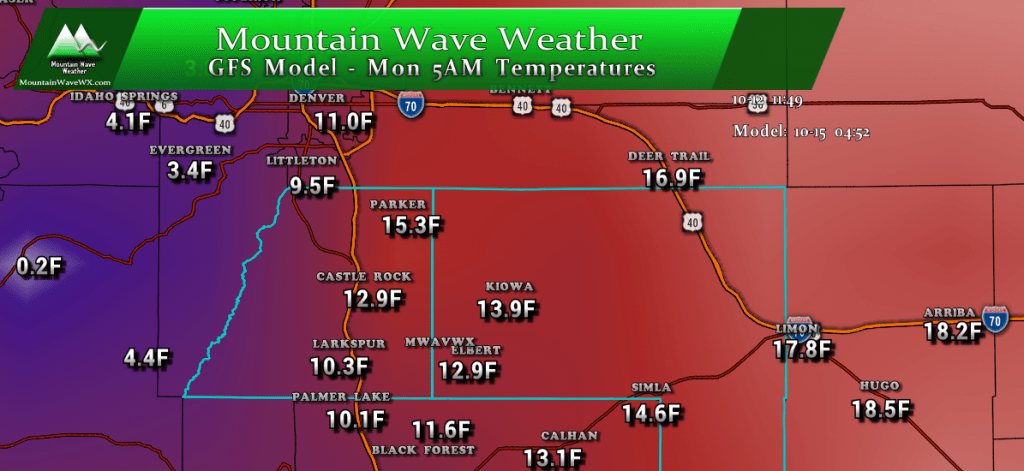 What To Expect
Friday and the first half of Saturday will be quite nice with decent temperatures and mostly clear skys.
Snow will move in late on Saturday most likely in the evening hours past 4PM
Snow will continue overnight saturday into Sunday
Snow looks to end by about 12PM on Sunday
Extremely cold temperatures will set in Sunday night into Monday morning
Expect most areas along the Palmer Divide to see accumulating snow in the 3-6 inch range
Largest travel impacts look to be later Saturday night into Sunday morning
Keep the things listed above in mind and know that timing and snow totals still have time to shift. We will have another update as more data comes in!
Stay tuned!