Not many major changes to what we are seeing tonight based on new data coming in. A lot of the mid and shorter range models are coming in and have dropped snow totals just ever so slightly across the area.
As we've been saying all along, the way this storm system is moving in (the direction and moisture content) is not conducive to a major snow storm along the front range. The biggest impacts will be the cold temperatures the areas sees on Sunday and into Monday morning.
Still, we can't discount a few quick bursts of moderate snow overnight tonight and combined with the much colder temperatures could make some areas a bit tricky for travel. The jet stream is overhead and as we've seen that can do crazy things to our snow totals for certain areas. Expect some areas to see slick roads overnight into Sunday especially South and West of Denver. The foothills should still see decent amounts of snow so I'd expect the travel conditions to be a bit trickier up that way.
Updated Timing, Impacts and Snowfall Amounts
Timing
The front is moving through Denver and Southward towards the Palmer Divide as of about 7:30PM
Expect precipitation to start as rain but may quickly change over to snow this evening
Snow will continue through the night and into the morning hours Sunday
Snow looks to end by 12PM on Sunday from the North to South
Impacts 
Roads
Light to moderate travel impacts across Denver and the Palmer Divide
Moderate travel impacts for the foothills and areas of Western Douglas County
Temperatures
Temperatures will be below freezing as the front moves through
Sunday will see highs in the upper 20's to low 30's
Sunday night into Monday morning, lows will be in the teens to lower 20's for most areas. Some areas may even see single digits
Snowfall
Castle Rock, Parker, Lone Tree, Castle Pines, Sedalia / Central and Western Palmer Divide

3-6 inch range still looks in play here

Southern Palmer Divide (Monument and nearby areas)

2-4 inches looks like the most likely range for these areas

Eastern Palmer Divide (Limon, Elizabeth, Elbert)

2-4 inches looks likely in these areas, towards the lower end of that range as  you get East towards Limon
Remember, the Winter Weather Advisory is still in effect from 8PM Saturday through 12PM Sunday for the Palmer Divide! (eastern areas towards Limon excluded)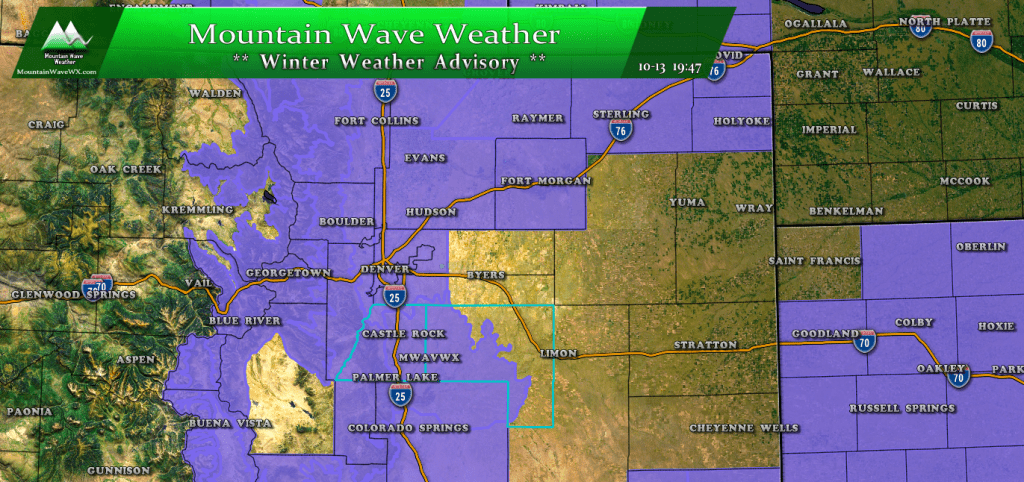 Any updates I'll be sure to pass along, also you can ask any questions or pose any thoughts on Facebook.
Stay warm and stay safe everyone!