For the past few days we've had an idea that a storm would affect the region late Saturday into Sunday but we didn't think much of it because it really didn't look like much was there.
Yesterday the storm started to come together a bit better on the models and we saw that snowfall was looking more likely in the area and models continued to bump snowfall totals up ever so slightly. Even still, the meteorology just didn't support much out of this storm with the data we were seeing at the time... the storm looked to moving too fast, upslope didn't establish well and like with most storms of this track, moisture was a concern.
Today we've seen more data and modeling coming in and a few interesting things have begun to manifest...
---
Models overall have shown more support for a bit longer of a duration event, which basically means the storm lingers a bit longer. This is good news if you're looking to squeeze a little bit more snow out of this storm. The snapshot above for Sunday morning from the Nam3K shows a lot of snow and a lot of energy in the area. Notice the stronger returns along the Palmer Divide, especially in the Douglas County area... this means upslope looks to establish for a time and provided it can stay there long enough, there should be ample time and energy for some snow to stick.
If we take a look at another model, the RAP we see a similar pattern. This is a lower resolution model so it doesn't have quite the detail as the last, but it's good that there is some alignment between the two.
I'd love to show the HRRR model, but it's just out of range right now. May be able to show it in a few hours if it is picking up on anything interesting. Stay tuned for that.
---
What to Expect
Timing
I don't see much happening on Saturday with the current data we are getting... it looks like the largest impact of this storm will come Sunday morning.
Light snow possible before midnight, not much accumulation
Early Sunday morning snow intensity will pick up
Expect heavier snow showers through early morning and late morning on Sunday
Some models continue snowfall into the afternoon hours, so be prepared for those conditions if you're out and about
Impacts
Travel impacts may include slushy and icy roads
We expect any travel impacts to be most prevalent on Sunday morning
Should snow linger into the afternoon, it may be cold enough for the roads to stay slushy and snowpacked in some areas
Snowfall Totals
Still a bit tricky on this call as models are nearly 50/50 split between two scenarios with this storm. Half of the models have the storm leaving early (remember most of them have done this so far this year) which would result in lower snowfall. The other half show the storm moving through the area slower which would mean we see higher snow totals.
Here's the results of the two scenarios with our latest data in:
Scenario 1 - Slower Moving Storm... higher snowfall amounts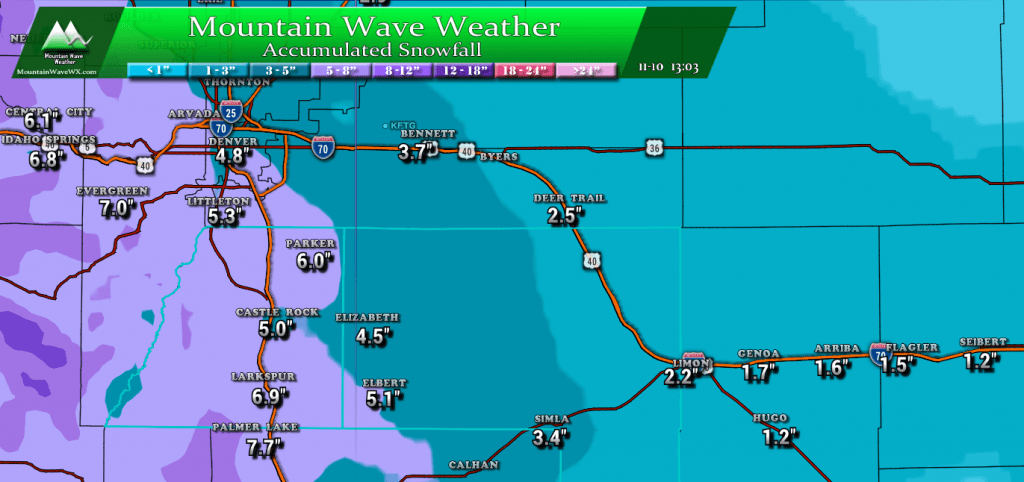 Scenario 2 - Quicker Moving Storm... lower snowfall amounts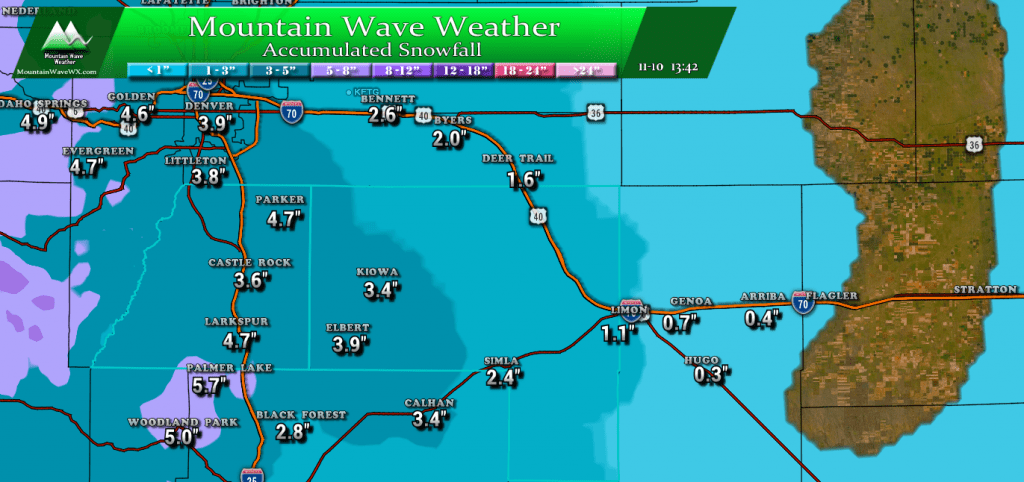 So... still lots of information to chew through and a few questions still remaining. We should get a better idea on snowfall this evening as our higher resolution, short range models come in. Nearly every model is picking up on the snow accumulation as a sure thing for the front range and Palmer Divide... so expect that. The details we still need to sort out will be exactly how many inches of snow we see.
Stay tuned!