As you know if you've been following along, we haven't been getting too excited about this storm... while others have. There's a good reason why, when we are in a continued dry pattern with the jet stream and storm track being the way they are, it is very difficult to break out of that pattern. This storm looks like it will be just another example of that.
Here's the latest...
Warnings and Advisories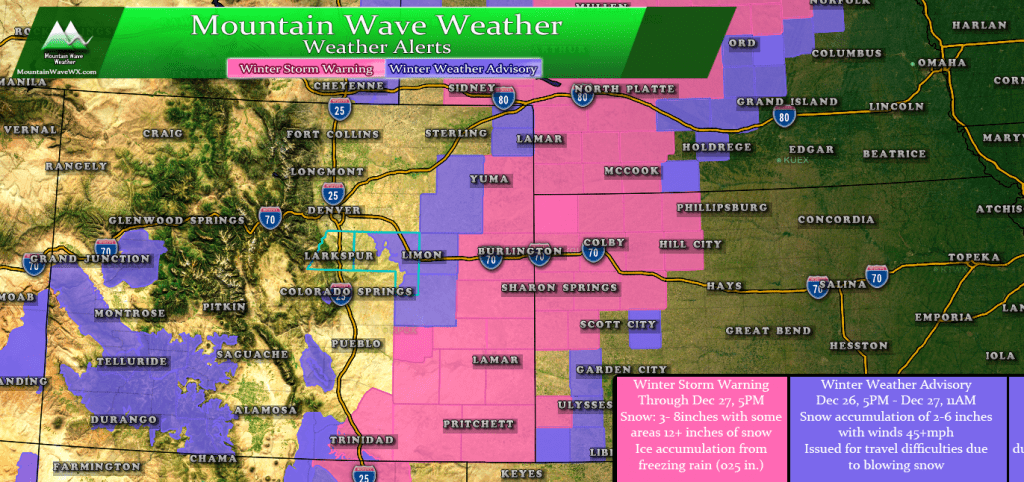 Winter Storm Warnings are in effect for Eastern Colorado, Western Kansas and up through Nebraska and the Dakotas. Expect strong winds, heavy snow and icing conditions on the road making for treacherous travel. If you are planning on driving through these areas, stay very aware of the weather and road conditions. A lot of roads should be ok earlier in the day today with deteriorating conditions as we move into the afternoon, evening and overnight hours.
Closer to home, Winter Weather Advisories are in effect for the Southwestern Mountains, areas South of Pueblo and the far Eastern sections of the Palmer Divide. Snow totals in these areas is expected to be less, but the combination of wind and falling snow could make travel difficult for a period of time.
---
Model Updates and Data
No surprises here, models continue to shift the heaviest moisture away from the front range and further out onto the plains. Here's the models as of this morning...
Notice the trend? All 3 models are in agreement with moving the heaviest bands of snow further East and less snow along the front range. Interestingly, all 3 still hold on to a bit of snow mainly over the Palmer Divide so that's at least something to hold on to!
---
Latest Snowfall Forecast
This snowfall forecast is a bit tricky, because if models continue to move the main energy East... a lot of these ranges will bust short. If the trend continues, I would not be surprised to see many areas along the I-25 corridor see little to no snow accumulation at all. Either way, here's the ranges we are going with at this time...
Castle Rock: 1-3 inches
Larkspur: 1-3 inches
Monument: 0-2 inches
Littleton: 0-2 inches
Highlands Ranch: 0-2 inches
Parker: 1-3 inches
Elizabeth: 1-4 inches
Franktown: 1-3 inches
Elbert: 1-4 inches
Limon: 2-5 inches
---
Summary
All in all, we are not expecting a major impact from this storm along the Palmer Divide. Yes we should see at least a bit of snow and yes some roads may get a bit slick under those snow bands, but it doesn't look like this storm will produce a major problem for most folks.
I'm going to borrow a line from my friends at Weather 5280 that sums up this fall and winter pretty well so far... "Not how many of us hoped this week would pan out... but hey, we'll keep faithfully writing about blowing dirt until it finally snows again. We're getting pretty good at it!"