Weather Warnings/Highlights
A busy weather map tonight, NWS has issued several High Wind Warnings, Winter Weather Advisories and High Wind Watches. The storms energy is too far North to mean much to the front range of Colorado, but the mountains will see decent amounts of snow. What we will see in our area is several hours of very strong wind... stronger than we had on Thursday so you can use that as a measure of what kind of wind we'll be dealing with here.
Why the Wind?
If you've followed our articles over the past few days, this will start sounding a bit like a broken record; the jet stream continues to crank over Colorado. As we move into Friday a low pressure trough begins to form and tighten up over Northeastern Colorado, eventually moving into Nebraska. Being on the South side of the low means we won't see snow with this storm... but we will see a ton of wind!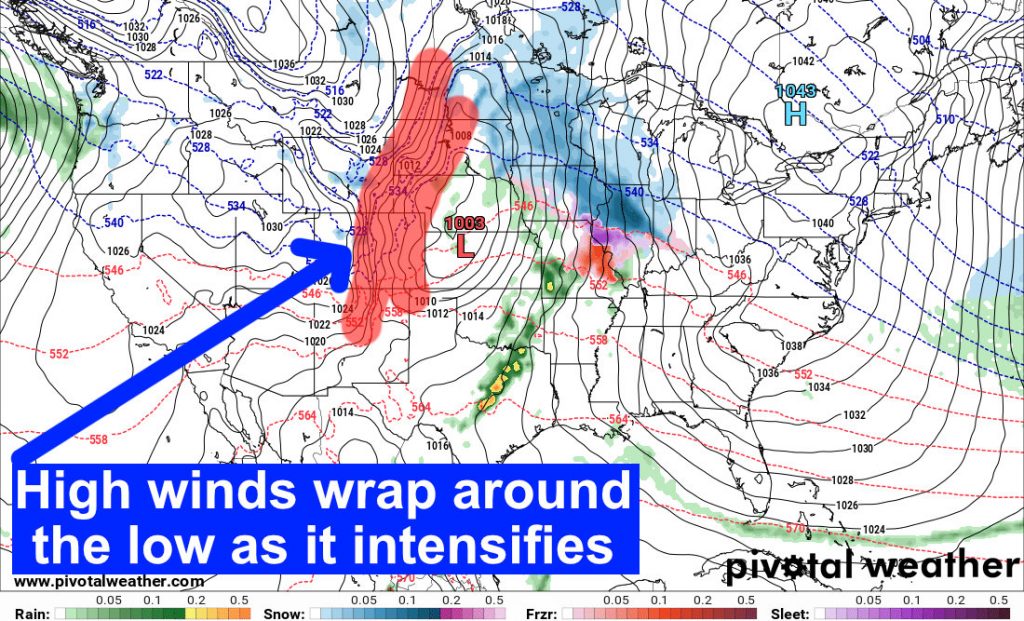 Especially as the storm intensifies over North Central Kansas! Notice how the isobars (the thin black lines) in the red area are bunched very tightly together. This is caused due to the tight pressure gradient that forms between the low to our East and ridging high pressure to our West. When you see things like this on models and weather maps, you know right away it's going to be windy!
Summary
Plan on tough travel conditions if you are driving tomorrow, mainly due to the wind blowing things and perhaps the car around a bit. Be sure to secure anything that is liable to blow away and keep an eye out for things flying through the air. Driving to/from the mountains may be a bit miserable later on Friday, keep that in mind if you are heading that way.
We will have any updates as needed tomorrow.