Marginal Risk of Severe Weather for Colorado Today

The latest Storm Prediction Center outlook has Northeastern Colorado under a marginal risk for severe weather today. This means that the risk is overall low for strong to severe storms but high enough that a few scattered storms may break out in the region. Surrounding areas in the "General Thunderstorm" risk could also see a widely scattered storm grow into something strong or severe but no largely organized severe events are expected in those areas.
This severe weather risk is all part of a strong storm system moving through Colorado and into the central United States. Areas East of Colorado will have a much higher risk for organized severe weather events including large hail and a decent chance at tornadoes.
By the way, if you haven't brushed up on your Severe Weather Risk Categories and what they mean; here's the reference chart: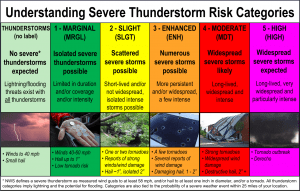 Closer to Home
Models bring decently sized thunderstorms to the Northeastern plains, closer to the Palmer Divide they struggle to maintain strength for very long. This is a pattern seen across many models and the low level moisture doesn't look great in the forecast soundings...
That being said, there may be enough instability and mid-level wind shear that a stronger storm could pop up in our area. The sounding above supports it, but I see a "pulse storm" situation very likely this afternoon. This means that we may get a storm to survive long enough with the right conditions to become strong to borderline severe, so definitely keep an eye out!
What to Expect
If you're in or around Castle Rock, expect storms possible after 12PM, becoming more likely after 2PM. We don't expect a widespread severe storm event for the Palmer Divide but can't rule out a stray pop-up stronger or severe storm. The main threats out of these storms will be high winds and the possibility of hail.