A bit of a lengthy post ahead as we've got a lot to cover.
An unsettled weather pattern will set up over Colorado starting on Sunday and continuing possibly through Wednesday. With it will come a chance for storms in Eastern Colorado and heavy snow for some mountain areas. Additionally, some areas along the front range could see signifianct accumulating snow (mainly foothills locations and areas Northwest of Denver) with some areas along the Palmer Divide seeing accumulating snow but lesser amounts with the data we are seeing.
Without further ado; here's the details for the next couple of days. Keep in mind, this forecast is fluid so continue to expect changes and tweaks as we get more data in.
Sunday 4/28/2019 - Thunderstorms and Strong Cold Front
Sunday will start off relatively nice with breezy conditions under partly cloudy skies. With a storm system moving into the western and northwestern part of the state the atmosphere will destabilize and allow the potential for thunderstorms. While a general thunderstorm risk will exist closer to the front range, the Storm Prediction Center has eastern Colorado in a "Marginal Risk" area today for wind and hail threats from severe thunderstorms. Marginal means severe thunderstorms will be possible in those areas but storms will be very isolated, so no "widespread" severe thunderstorm risk exists in Colorado today.
Highs Sunday will generally be in the mid to low 70's across the Palmer Divide. Be sure to keep an eye out for a stray thunderstorm in the afternoon hours.
By late Sunday night, a strong cold front moves in from the North and will begin to drop temperatures substantially into Monday morning.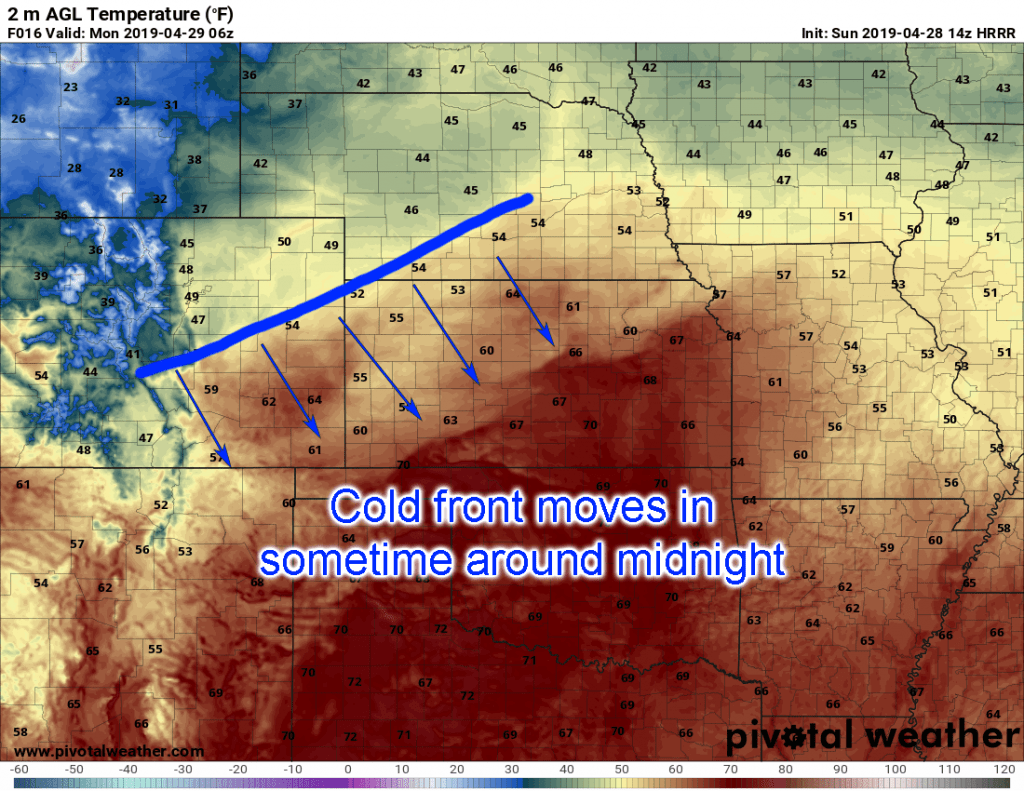 By Monday morning, temperature should be in the upper 20's to low 30's across the Palmer Divide. Many areas will struggle to hit 40 degrees for a high on Monday.
Note: some models have this cold front pushing through sooner (8-10PM timeframe) so don't be surprised if it gets here a bit early!
Monday - Tuesday Spring Storm Details
As we continue later into spring, storms with snow tend to get harder to nail down. There are a lot of things working against significant accumulating snowfall such as temperatures at different elevations and the higher angle of the sun. We find that for any strong storms with lots of snow to manifest, we have to see a lot of variables set up perfectly and the odds are often against everything setting up exactly.
Expected Snowfall (through Thuesday 12PM)
*These are our forecast numbers and may not always match the NWS official forecast numbers*
Castle Rock and surrounding areas
Parker, Lone Tree, Highlands Ranch areas
Elbert, Elizabeth, Kiowa

1-4 inches (will be watching higher elevation areas for slightly higher totals)

Larkspur, Monument,Black Forest
Woodland Park, Palmer Lake, W. Colorado Springs Foothills

5-10 inches (especially higher elevation foothills areas West of Colorado Springs)
Timing
Precipitation will be possible on and off Monday, mainly as rain throughout the day
Any snow that falls Monday may not accumulate much
Highest chance for accumulating snowfall for the Palmer Divide is evening and overnight hours from late Monday into Tuesday morning
Snow may be heavy at times along the Palmer Divide Monday night
Potential Impacts
Models are showing evidence for convective and banded snowfall... as you know this means some areas could see quick, intense bursts of snowfall in a short period of time
Will be watching the Monday evening and Tuesday morning commute closely for potential travel impacts
Roads parked under convective snow or snowfall bands could see slushy and slick conditions
Synopsis
A very tricky forecast for this storm as we know these spring storms have a lot more moving parts than earlier season storms do. The temperatures, moisture, upslope, etc... all need to play ball for us to see a significant snow accumulation event. In most cases they don't set up because one or more of those variables doesn't set up quite right.
With this storm we are seeing models struggle to agree on snowfall. This is because some have moisture falling during the day more (warmer temps less snow accum.) while others have the heaviest overnight Monday (colder temps more snow accum.)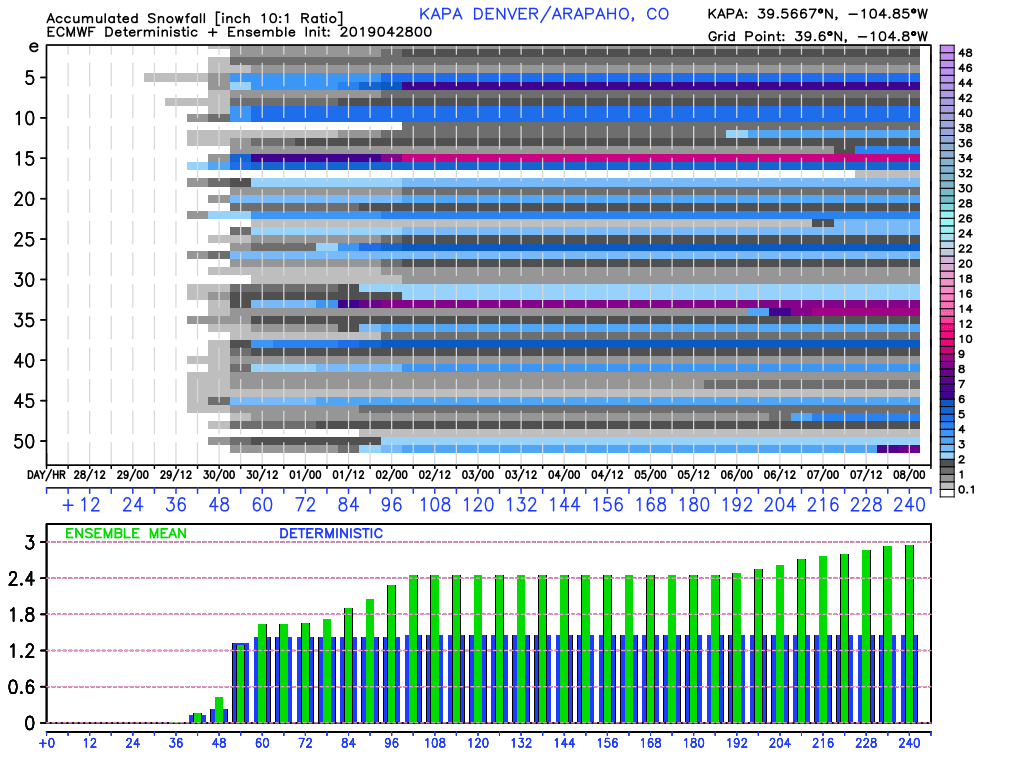 Euro ensembles don't seem to excited either... this snapshot for Centennial Airport (KAPA) shows the mean of these models run is just a bit shy of 2 inches. Given all that I've seen this looks right in the ball park with what I'd expect at this point in time.
Summary
So while this doesn't look like a major storm at this point for the Palmer Divide, we can't ignore the signs of convective snow and banded snowfall. As we've discussed, where these set up is very difficult to predict and all we can see on models is that the potential is there.
If you find yourself under a convective burst of snow or a snow band, your location may very well exceed some of these forecasted totals... while areas just a few miles North or South may see much lower totals.
Chalk this up as a spring storm that has the potential to cause minor to moderate travel impacts and just be ready for it. I'm away from the computer the rest of today but will pass along updates as I can from my cell phone. If anything changes one way or another I'll be sure to post updates!