Submit Snowfall Totals Here!
Remember, it often helps to take 3-5 measurements and submit the average of those. This helps to negate differences in drifting and terrain. If you are in a rush, one measurement will do! Thank you!
[Form id="12"]
We will be accepting snowfall total reports through 12PM Sunday April 30, please submit one if you can!
---
Latest Update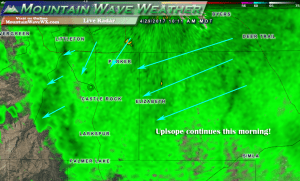 Latest radar shows the storm still pulling energy into the state and a decently strong upslope pattern this morning. This will continue to bring snow showers to the area throughout the day with accumulations mainly on the grass. Roads don't seem to be too bad all today.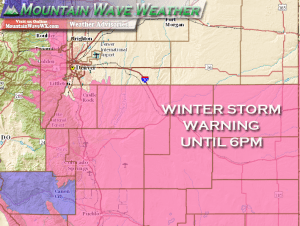 ***Winter Storm Warning In Effect***
Locations Included: 
Jefferson and West Douglas Counties Above 6000 Feet/Gilpin/Clear Creek/Northeast Park Counties Below 9000 Feet- Elbert/Central and East Douglas Counties Above 6000 Feet- Including the cities of Bailey, Central City, Evergreen, Georgetown, Idaho Springs, Westcreek, Castle Rock, Elbert, Fondis, Kiowa, and Larkspur
Timing:
The Warning is set to continue through 6PM MDT Saturday April 29, 2017
Preparedness Actions:
A Winter Storm Warning for heavy snow means severe winter weather conditions are expected or occurring. Significant amounts of snow are forecast that will make travel dangerous. If you must travel…keep an extra flashlight…food…and water in your vehicle in case of an emergency.
---
Latest Forecast and Impacts
Timing
Showers will continue mainly along the Palmer Divide through the afternoon hours
Expect clearing into the evening and overnight hours
Precipitation Accumulations
Castle Rock and Northern Palmer Divide: Expect an additional 2-4 inches with snow that fall throughout the day today.

Castle Rock, Pinery, Franktown, Elizabeth, Kiowa

Areas over and near Monument hill: Additional accumulations should be in the 2-4 inch range with any additional snowfall today.

Larkspur, Palmer Lake, Monument, Black Forest
Wind/Visibility
Winds may be breezy at times but no significant wind impacts are expected
Visibility may be impacted in some areas
Impacts
Additional snowfall today is not expected to stick to the roadways in most areas. Still, keep an eye out for slick conditions on side-streets and overpasses.
HARD FREEZE IS EXPECTED TONIGHT! Watching the possibility of a

FREEZE WARNING

from the National Weather Service for this evening.
---
Overall this storm is behaving pretty spot-on with our forecast so we're happy about that! The snow is much needed as we are still in drought status, but the moisture today should definitely help!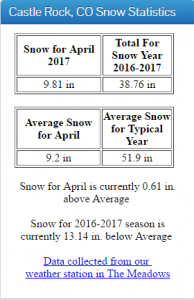 On another note, with our snow amounts measured yesterday and today, April 2017 will officially finish above average for snowfall in the Castle Rock area... woohoo!