Castle Rock Weather Summary
Mountain Wave Weather has moved as of the middle of October so our weather station in Castle Rock is no longer operational. The good news is that we still have a great network of personal weather stations to pull data from (we make sure only to use the most reliable and accurate data as possible) so we shouldn't see any interruption in our ability to track Castle Rock's weather!
Without further ado; here's how the weather finished for Castle Rock in 2017!
Departure From Normal Temperature and Precipitation in October 2017
Analysis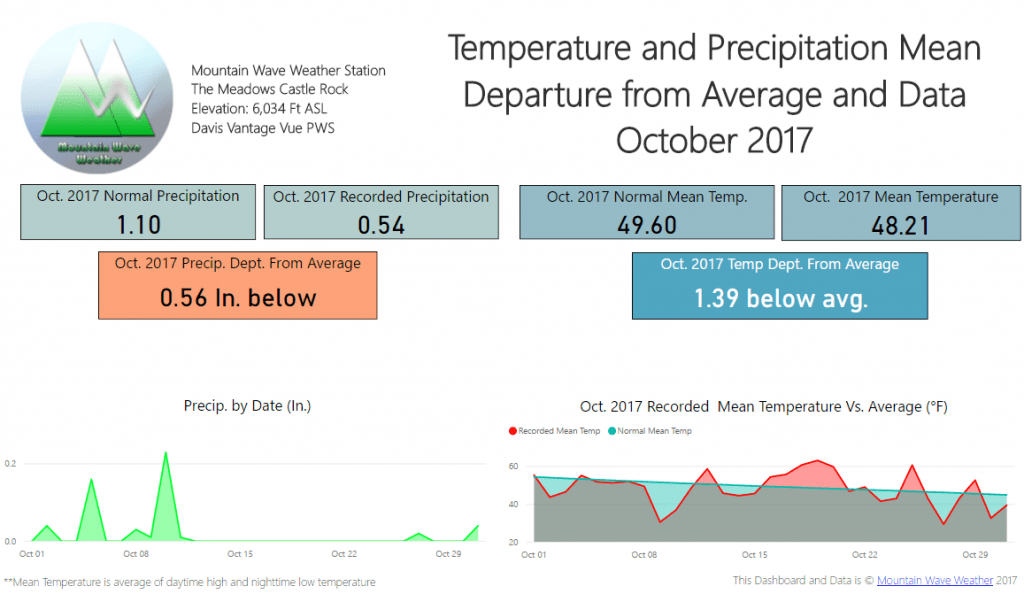 For the most part, this fall is behaving as expected, with news of a La Nina developing we expect to see a cooler and drier fall. August finished cooler than average and dry, September finished about average on temperature and about average in precipitation and October 2017 finished cooler than average as well.
With La Nina developing, we will keep an eye on how the jet stream moves and some of the other ocean oscillations play out. This year's La Nina is expected to be weak so we can't expect a huge impact on our weather in Colorado. What we expect in a weak La Nina for Colorado overall is average to above average snowpack for the Northern and Central mountains and windy conditions to continue along the front range.
For Castle Rock specifically, we look to continue the dry pattern for the near term with temperatures generally around climatological norms. One thing we think is highly likely for the Castle Rock and greater Palmer Divide area is that the high wind days will continue!
October 2017 Highlights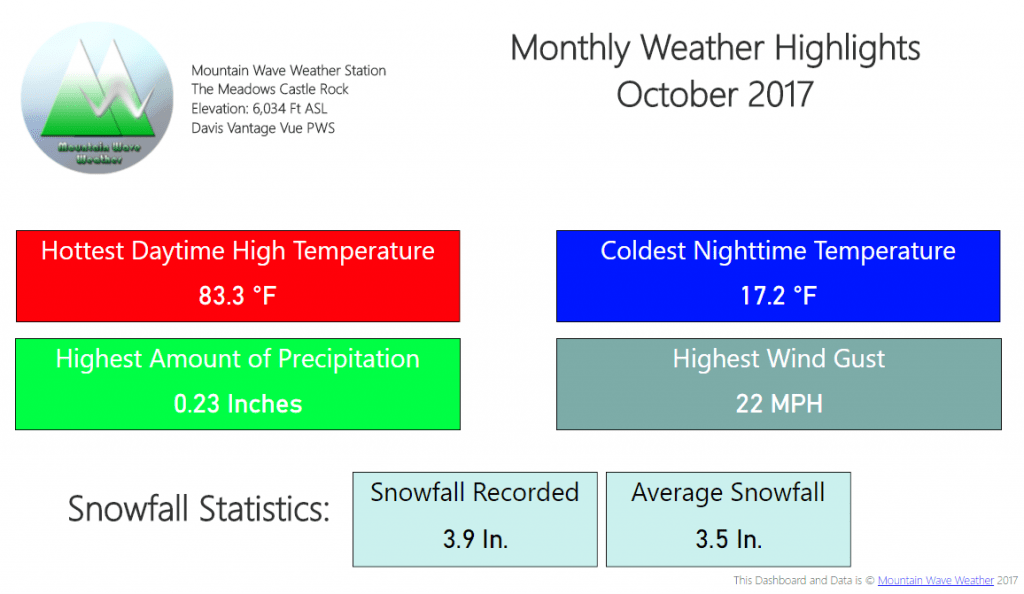 While the month had many days of below average temperatures, there were a few warm spikes here and there. Wednesday October 25 saw a high temperature of 83.3 degrees followed the very next day by highs in the 50's and 40's the day after. Seeing roller coaster high temperatures during the fall is not unusual for the Castle Rock area. Snowfall ended slightly above average at 3.9 inches, though the precipitation collected for the month was below average. That makes October overall a drier than average month.
Mountain Wave Weather October 2017 Notable Weather Story's