A severe weather threat will re-establish along the front range for Friday with large hail being the primary threat. A shortwave trough moving through this morning has increased winds at the surface (notice how breezy it was this morning) and established upslope along the front range. Initially models showed the primary severe threat in Eastern Douglas County and into Elbert County this morning, but latest model runs show a more widespread storm threat over Douglas County, Elbert County and El Paso county when storms initiate. Additionally a severe weather threat will exist along the I-76 corridor to the South of the highway.
As such, our main areas of concern today are:
Palmer Divide along Castle Rock, Franktown, Elizabeth, Kiowa and Limon
Areas south of the divide including Monument, Falcon and Colorado Springs
Areas along and just South of I-76 (including Fort Morgan, Brighton, Sterling)
Please note, storms will be spotty and not all areas will see severe storms. As a rule of thumb, areas within the slight risk area (yellow on the map below) have a 15% chance of seeing severe weather. This is a low probability overall but a notable one.
Storm Prediction Center Severe Weather Risk Outlooks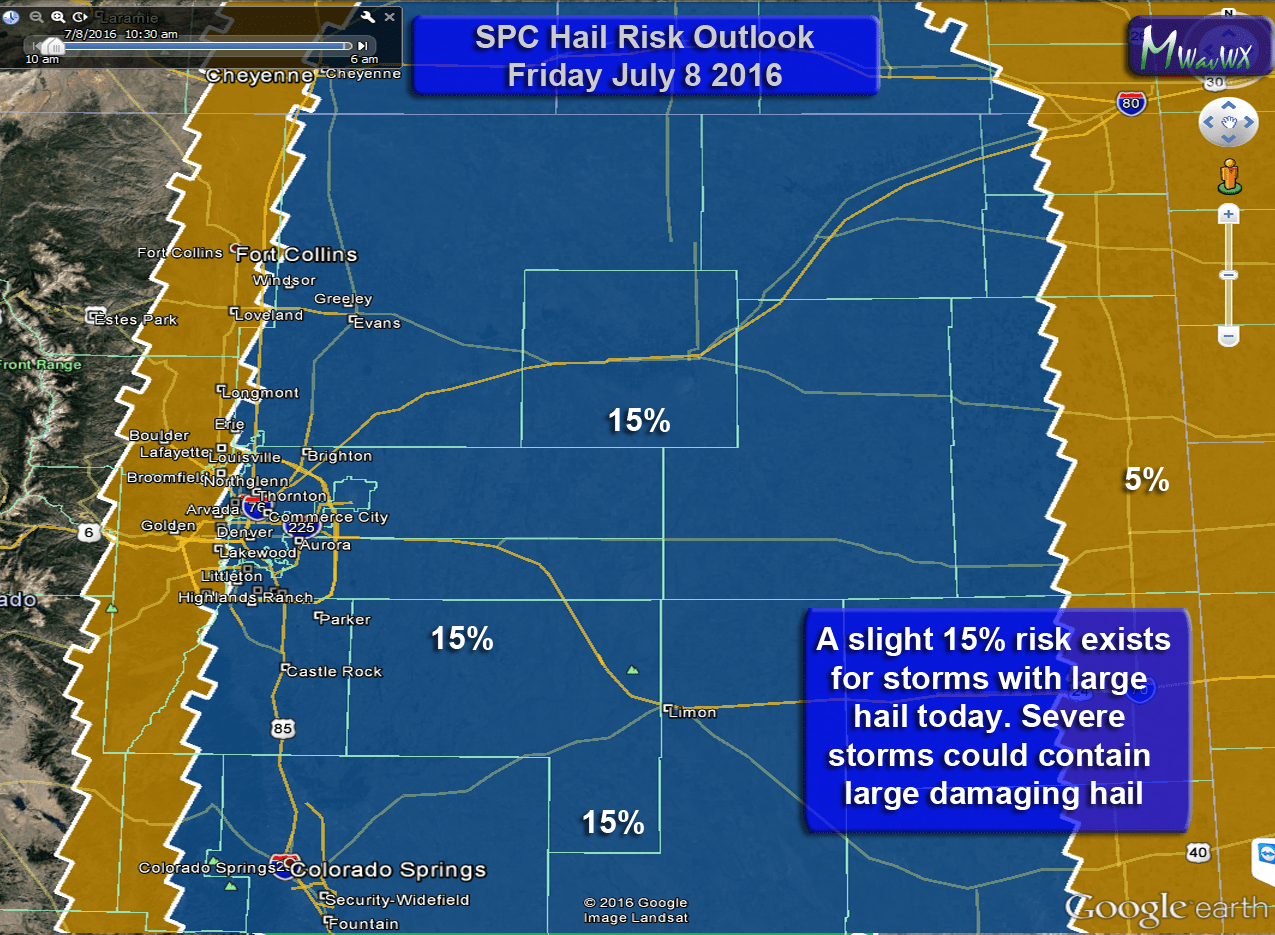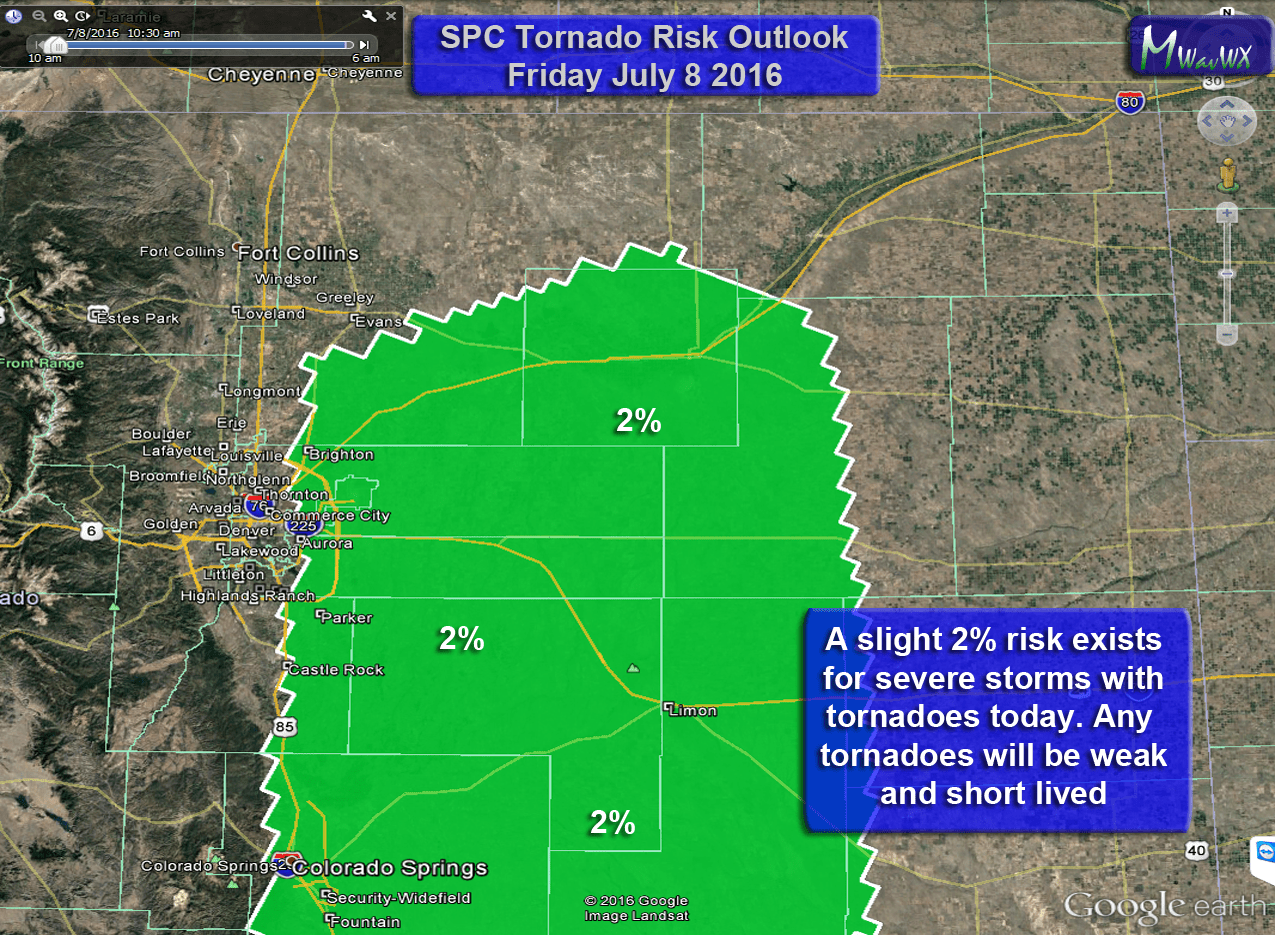 Primary Threats
A weak to moderate upslope regime along the front range will allow moisture and instability to establish along the front range. The accompanying Southeasterly winds may create surface boundaries which can promote larger hail and the possibility of tornadoes.
Hail

Stronger storms around the foothills and Palmer Divide could contain small to moderate sized hail
Larger and more severe storms could contain larger hail

Wind

Outflow bands around thunderstorms could cause strong, gusty winds

Lightning

Severe storms could produce a large amount of cloud to ground lightning

Tornadoes

Modeling shows 0-6km (combination of low level and mid-level shear) to be in the 25-35kt range. Low level shear however is show to be quite weak, so while I don't expect a widespread tornado threat, the possibility for a quick funnel cloud or short lived tornado is possible. This is especially so along any boundaries that storms anchor on.
Timing
There is uncertainty between models on the exact timing of thunderstorm initiation and strength
Thunderstorm initiation

Models mainly  show storms developing around 12-2PM
Storms will begin over the foothills and move Eastward or Southward depending on the location

Front Range Severe Storm Window

2-6PM looks like the most likely time for severe storms to impact the area
The atmosphere stabilizes after the first wave of storms, so severe weather is not expected after the initial line. Some smaller pop-up storms will still be possible into the evening hours.

Eastern/Northeastern Plains Severe Storm Window

Storms that stay strong enough to move out onto the plains will affect those areas between 3-9PM
The largest risk of severe weather will be in Eastern Central Colorado and Southeastern Colorado
What to Do/Expect Ahead of Today's Storms
Be prepared to move indoors if you are outside and storms begin to form
If you hear thunder, you can be struck by lightning, don't wait until it's too late!
Take actions to protect property that may be damaged by hail. (cars, plants, etc…)
Keep an eye on local forecasts throughout the day, don't be caught off guard!
Slight chance for tornadoes today, stay weather aware!
---
Weekend Weather Outlook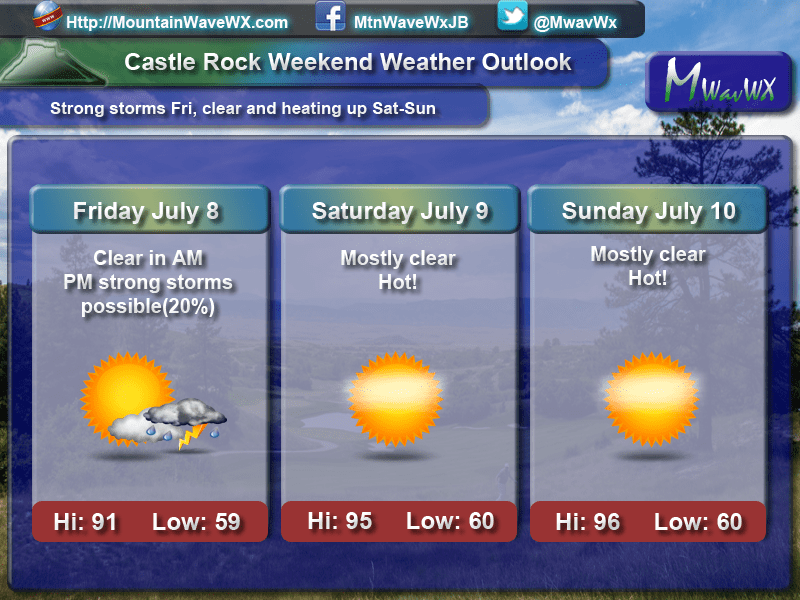 Friday looks to be the only bumpy day as far as storms are concerned. By Saturday strong ridging re-established in the atmosphere combined with Southwesterly flow across the state. This means two things, storms will be hard to come by and it will be very warm!