A strong cold front moved through the area on Monday and caused very strong winds and a noticeable temperature drop for many of us along the front range. This is the beginning of a short period of unsettled weather that will last throughout the week.
The Setup This Week
The upper level jet stream has oriented into an West/East fashion and will mainly stay between that and a Northwesterly orientation throughout the week.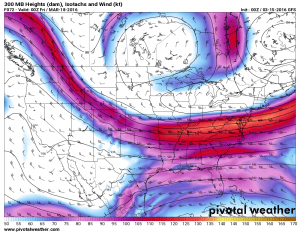 This means different things for different areas of Colorado:
This is a favorable storm track for snowfall in the mountains, we saw the beginning of this last night as many mountain areas (mainly North of I-70) picked up a foot of snow or more. Mountain areas will continue to see on and off snow showers through the week.
The front range will see cooler temperatures but overall dry conditions. A setup like this does not allow the warm air we have been seeing to establish itself over the Eastern half of the state.
The proof is in the temperature modeling for the next few days:
Notice the cooler temperatures, generally 40's and 50's across the front range. While I wouldn't consider these "cold" temperatures for this time of year, it is certainly cooler than what we have seen over the better part of the past month or two.
What About the Snow?
At this time there looks to be enough energy to squeeze out some moisture for some of us along the front range in the late Thursday into Friday time frame. Honestly, that this point the storm system does not look that impressive, the orientation of the jet stream (as I discussed above) and the positioning of the storm center (too far South) will not be conducive to a major snow storm.
I will continue to track the modeling for changes as sometimes these storms can fool us, but as of right now it looks like 0-3 inches is the most likely snow total amount for Castle Rock and areas South of Denver through Friday afternoon.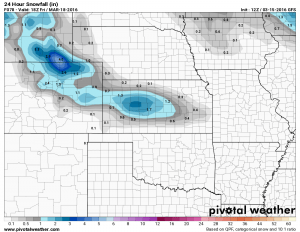 The GFS shows about 1-1.5 inches of snow for us South of Denver and this is the highest any model is predicting. Most models have total accumulation under an inch, so we may see little to no snowfall accumulation overall.
 Cooler and Wetter Period Establishing or Short Lived?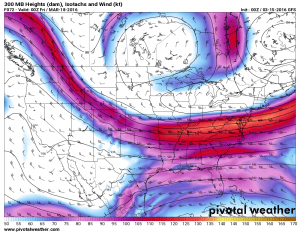 I've put this image up again, the jet stream position as of Friday March 18. I talked earlier about the Northwest flow establishing over the state but another interesting feature to note is the ridge building once again off to our West. This to me signals that this cooler and slightly wetter period will be short lived, a ridge re-establishing to our West will allow that warm and dry air to filter back into Colorado by the end of the weekend.
To verify this I took a look at the projected temperatures next week and saw a lot of 60's and 70's again so this seems to be in line with my thinking.
Additionally, I'm beginning to be a bit concerned about our prospect of a wet March. The CPC's outlook for the next 6-10 and 8-14 days shows this:
Again, a dry March does not break the entire spring season for us but it does create a bigger hole we need to dig out of. We will continue to watch this pattern closely for any changes but I'll end this post with an interesting fact:
Aprx. Date of Last Significant Snowfall: February 2, 2016
Total Snowfall Recorded for March 2016: 0.5 in.
Average Snowfall for March: 14.7 in.
For March 2016 we are 14.2 inches below normal for snowfall as of right now!