A powerful storm system is setting up to impact the Pacific Northwest and Northern plains and Rockies this weekend. A ton of moisture and cold air funneling into the area means that many places in Washington, Idaho, Montana and Wyoming could see historic snowfall (for September.)
If you have any travel plans in or around that area, expect heavy impacts from heavy snow accumulations and strong winds.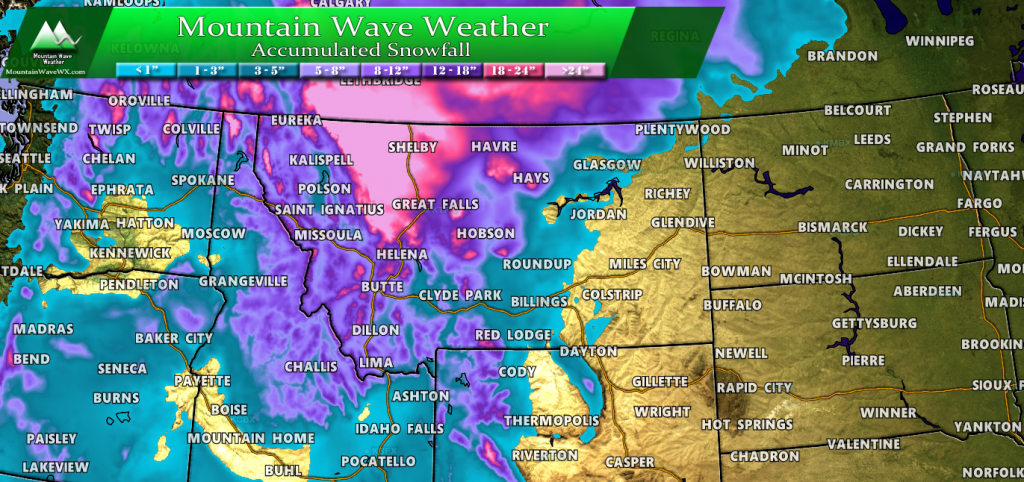 Speaking of Strong Winds...
Colorado as a whole will relatively little impact from this storm in terms of snowfall. Our higher mountain peaks along the Continental Divide may be lucky enough to see a dusting but most snow amounts in Colorado's high country will remain under 1 inch.
The big impact we will see around here will be the wind! Colorado will be caught in between the strong trough to our North and a relatively stout high pressure system to our South. What does that mean? When you are caught between two strong circulations the pressure gradient that results often means strong winds are a sure thing.
We will expect to see high winds establish over the Palmer Divide on Saturday morning. Keep in mind, the graphics below are wind gusts, so we'd expect sustained winds to be in the 20-30mph range with gusts up to the amounts shown below.
As we move into Saturday afternoon more areas will see the wind pick up.
The strong winds will continue Saturday night and into Sunday morning. Sunday throughout the day things will really ramp up with the foothills and plains getting in on more of the action.
Another Concern...
With the warm temperatures we will experience, the high winds, low humidity and how dry we've been fire danger will be a major concern. Several Fire Weather Watches have been issued this afternoon. Details below...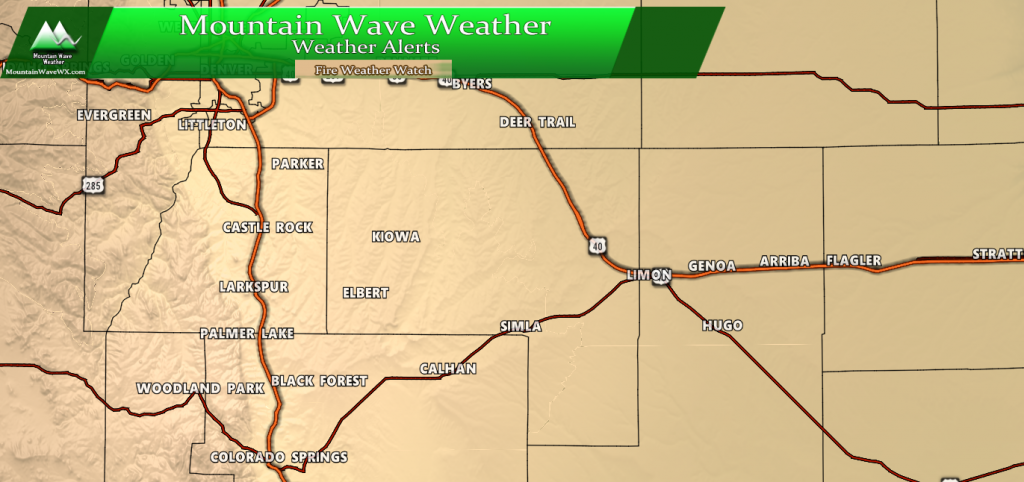 ...FIRE WEATHER WATCH IN EFFECT SUNDAY AFTERNOON FOR WIND AND LOW
RELATIVE HUMIDITY FOR MIDDLE AND SOUTH PARKS...SOUTHERN
FOOTHILLS...PALMER DIVIDE AND PLAINS EAST AND SOUTH OF DENVER...

...FIRE WEATHER WATCH IN EFFECT MONDAY AFTERNOON FOR WIND AND LOW
RELATIVE HUMIDITY FOR MIDDLE AND SOUTH PARKS...SOUTHERN
FOOTHILLS...PALMER DIVIDE AND PLAINS EAST AND SOUTH OF DENVER...


* Winds...South 20 to 30 mph with gusts up to 45 mph.

* Timing...Sunday afternoon, then again on Monday afternoon

* Relative Humidity...As low as 14 percent Sunday, 12 percent on
  Monday.

* Impacts...Conditions may be favorable for the rapid ignition,
  growth, and spread of fires

PRECAUTIONARY/PREPAREDNESS ACTIONS...

A Fire Weather Watch means that critical fire weather conditions
are forecast to occur. Listen for later forecasts and possible
Red Flag Warnings.
This Fire Weather Watch includes the entirety of the Palmer Divide so be mindful of that Sunday and Monday. If you see smoke report it immediately and if you have any plans to set anything on fire (for whatever reason) consider holding off until another time.
Summary
Strong winds will be likely across the Palmer Divide Saturday, Sunday and Monday.

Be sure to tie down or shelter anything that can be picked up and tossed
From what we can see with models so far, winds look Southwesterly so if you're driving along highways be careful as gusts can tend to blow lightweight and high profile vehicles around.

Fire Danger will be extreme

The strong winds, low humidity and warm temperatures mean any fires that start will grow rapidly
Call 911 and report smoke immediately, the quicker a fire can get under control the better the chance of it not spreading and getting out of hand.
Pay attention to the weather forecast, I'll have any updates as needed over the next couple of days!