Rapidly evolving forecast when it comes to this storm, here's the latest based on this afternoon's data and model runs.
Watches/Warnings/Advisories
Winter Storm Watch
In effect Wednesday evening 6PM through Thursday Noon.
The Southern Front Range Foothills-Castle Rock-
Including the cities of Bailey, Central City, Evergreen,
Georgetown, Idaho Springs, Westcreek, Castle Rock, Elbert,
Fondis, Kiowa, and Larkspur
1151 AM MDT Tue Oct 22 2019

...WINTER STORM WATCH REMAINS IN EFFECT FROM WEDNESDAY EVENING
THROUGH THURSDAY MORNING...

* WHAT...Heavy snow possible. Total snow accumulations of 4 to 8
  inches possible, with up to 12 inches in the foothills

* WHERE...The Southern Front Range Foothills and Palmer Divide.

* WHEN...From Wednesday evening through Thursday morning.

* IMPACTS...Travel could be very difficult. The hazardous
  conditions could develop during the Wednesday evening rush hour,
  and may linger into early Thursday morning.

PRECAUTIONARY/PREPAREDNESS ACTIONS...

Be prepared for winter travel conditions Wednesday evening through
early Thursday morning. Monitor later forecasts and consider
alternate plans or expect slow travel during the period of
heaviest snow.
Forecast/Hazards/Timelines/Impacts (The Need to Know Planning Stuff!)
Impacts
Snowfall/Travel Impacts
There will be likely impacts to Wednesday evening commute and possible impacts to Thursday morning commute. Heavy snow will be possible late Wednesday and into early Thursday.
The highest chance of travel impacts will be areas South of Denver. This includes mainly the areas outlined in the Winter Weather Watch above.
Roads are expected to become icy and snow packed in the heaviest areas of snow. Be prepared for difficult and even dangerous travel conditions in some areas.
Timing
Wednesday

Will start out mostly sunny with a transition to clouds in the afternoon. Rain showers will be possible before the colder air moves in during the afternoon hours.
A decent amount of models are now showing a possible impact to Wednesday evening commute, most likely at the later end of the time frame.

 Thursday

Snow showers will begin to taper off by Thursday morning. Still not exact on the timing as some models show before the morning rush and some after.
Either way, expect the Thursday morning commute to be impacted in some way.
The storm should be out of the area by Thursday afternoon with clearing conditions
As of right now, most likely time to see impacts is within the Watch timing... 5PM Wednesday through 12PM Thursday. We will get better details on timing over the next 12 hours so stay tuned for changes.
Snowfall
Models still have a ton of uncertainty so we will use them along with some probabilities based on the data to put together a quick snowfall forecast. Since we have so much bouncing on the models, this is a fluid forecast and will likely change several times over the next 12-24 hours so keep an eye out here for changes.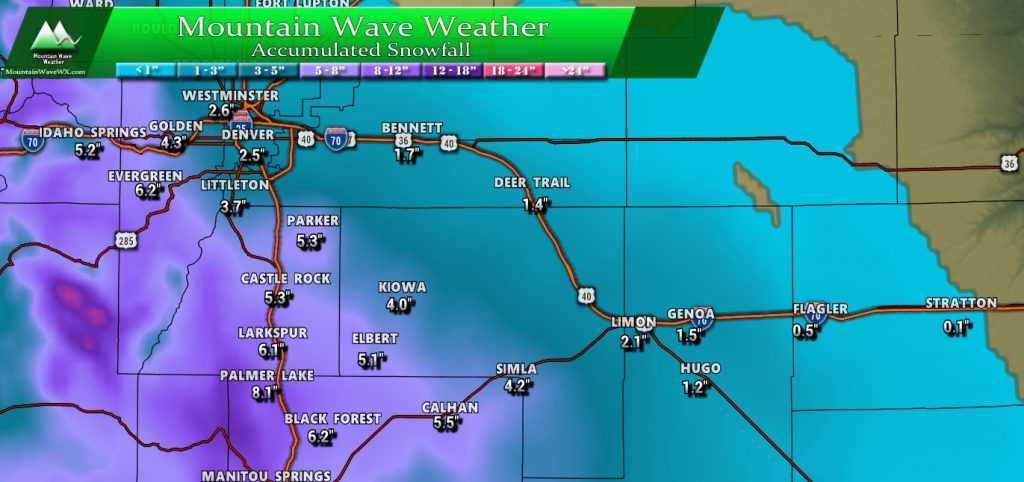 As of this afternoon's model runs we saw a slight decrease in snowfall amounts from the highest forecast models and a slight increase from the lowest forecast models. This is good because it means we are startign to get a "fuzzy" range of where we might ultimately end up with snowfall.
The graphic above is a modified capture of the WPC and seems to fit best with what I am seeing right now. We can combine this with some of the probabilisic data to see what our ranges are and if there is any uncertainty.
So here are some quick forecast ranges based on the models, WPC data and probabilistic data from above:
Castle Rock
Parker
Highlands Ranch
Elbert
Elizabeth
Kiowa
Centennial
Denver
Again, these are preliminary amounts and will change with more data. I'm slightly concerned some of the higher resolution and short range models have this storm nearly completely falling apart for most of the area. We will have to watch and see if that continues with more model runs.
Summary
So looks like we have ourselves some bit of a storm here but there are still big question marks as to who sees what. Some models are pulling the main energy of the storm further South this afternoon which could mean Denver and points North get missed completely or have very little snowfall to work with.
If things continue to pull South we'd expect highest impacts right along the Central part of the Palmer Divide (south of Castle Rock, Monument, Larkspur, Elbert, Elizabeth, Kiowa, etc...) and even higher impacts South of there into the springs.
As such, we still need to nail down more details about the storm track and some of the specifics on who sees what. The thing that has not changed and has perhaps become more clear is the Palmer Divide area and points South are the areas to watch the most closely right now.
Should have another update tonight, stay tuned! This forecast will continue to evolve throughout the day and into tonight and tomorrow!
In case you are curious about the Denver metro area, here is the probabilistic snowfall data for those areas: