A quick update on where we are this morning with regards to our projected winter storm scheduled to arrive Friday afternoon and into Saturday morning.
Model Guidance
If you click through each model below, you will see a lot of uncertainty still remains about this storm. It does not look to be a major storm like we saw Wednesday and while I know we've said that before, the dynamics if this storm system are very different from the last. The way it is moving into Colorado, the energy is has and the track and speed are all working against it. Every model has it moving out of the state very quickly so even if it sets up in a favorable position, it may not linger long enough to dump heavy snow along the front range.
Since all of these models (minus the HRRR) were terrible with the last storm, we can take a look at the one that nailed it pretty early on. The MLSP part of the EURO gives us a glimpse of where it believes the storm system will set up after it moves across the Rockies.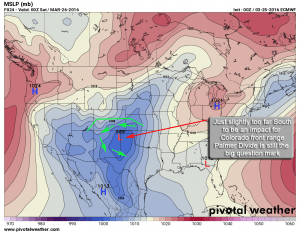 If the EURO verifies again with the positioning of the storm, it has the main energy too far South to affect areas North of the Palmer Divide much. The big question is will areas along the divide get much if any snow out of this or will the storm be too far South so that down sloping kills snowfall along the divide?
Uncertainty Remains
What do you do when half the models tell you we get snow and half don't? We look around for a few other clues...
The SREF ensembles are a good way to look a bit closer at what many different models may be picking up on. Unfortunately, the don't run these for the town of Castle Rock itself, but they do have one for Centennial Airport and one for Monument. I generally take a look at both of these and average the result out:
If you average both together and take that amount for Castle Rock you get a total of 3.45 inches. That falls in my initial forecast range of 3-6 for Castle Rock, albeit on the lower end. This may mean I shift my forecast downwards at some point on Friday if I see no change in the models.
Keep an Eye on Forecast Changes Friday Afternoon
I'm not sold at all on this storm system at this point. There are many things working against it and most models have the main energy going too far South to be any major affect on the Castle Rock area. I'm not entirely sure the Winter Storm Watch will stand in the end. Admittedly, even the NWS has mentioned this:
THE GFS IS THE ONLY MODEL
SHOWING HEAVY SNOW IN THE SRN FOOTHILLS AND PALMER DIVIDE AREA WHILE
THE OTHER MODELS KEEP THE THREAT FOR HEAVY SNOW FURTHER SOUTH OVER
SRN CO.  AT THIS POINT CONFIDENCE IS NOT HIGH AS TO WHAT TO DO WITH
THE WATCH SO WILL LET IT RIDE AND SEE IF THERE IS BETTER CONSENSUS
WITH THE LATE MORNING RUNS.



The key words in this statement: AT THIS POINT CONFIDENCE IS NOT HIGH
Forecast
At this point, I'm sticking to my forecast much like the NWS and awaiting further data through the day on Friday. For this storm, it's best to be prepared for the impacts Saturday morning but realize that this storm may not do a whole lot. I can see dropping snow totals especially for Denver and Castle Rock this afternoon unless the models start to flip.
Castle Rock: 3-6 inches
Palmer Divide South (Larkspur, Monument...) : 5-10 inches
Denver: 0-2 inches
Stay tuned for any updates today, if we see a major shift in model guidance I will update accordingly.