I warned earlier this week that our Wednesday storm was just the first in a series of storms to affect our area.
This afternoon, the National Weather Service issued a Winter Storm Watch in anticipation of our next storm.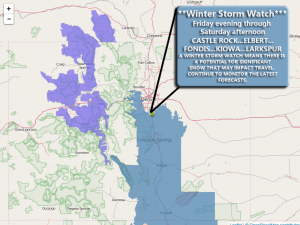 Note: This watch includes Palmer Divide Cities such as Castle Rock, Elbert, Kiowa, Larkspur, Monument... it does not include areas North of Castle Rock at this time (including Parker, Lone Tree, Denver...)
Impacts
Moderate to Heavy snowfall

Winds at 15-25mph will cause minor snow drifting

Roads will become icy and snow packed through periods of heavier snow

Travel may become difficult at times on Saturday
Snowfall Forecast
This looks to be another tricky storm. Like this past storm, models are picking up on some pretty decent snowfall but can't agree who is going to get it. Right now, I can do a preliminary forecast for snowfall, but as always expect this to change through the day Friday.
Castle Rock: 3-6 inches
Palmer Divide South (Larkspur, Monument...) : 5-10 inches
Denver: 0-2 inches
**Keep in mind this is preliminary today, this forecast may change upwards or downwards based on the data I see throughout the day Friday.
Synopsis
Here we go again, another storm that is 50/50, on the verge of being nothing or something significant just like this past storm on Wednesday.
There are a few things that this storm will lack that the other one had.
If we compare the look of the storm (and I'll use the Euro to illustrate this) we can see it is nowhere near as organized as the blizzard was.
You can notice some differences in the two images above:
Blizzard storm positioning and strength

Notice the tightly wound low sitting over Eastern Colorado. This "closed low" as we call it is generally the sign of a stronger storm system. It has colder air to work with and a lot more energy and moisture

Saturday's storm positioning and strength

The main energy of the storm stays well North of Colorado
We are only getting snow because there is a smaller disturbance the sets up to the South of the main storm
This means we are seeing a weaker storm overall but still has potential
The next storm system will also lack the strong winds (although we will see decent winds in the 15-25 mph range) and is projected to move very quickly.
Interestingly enough, here's a look at snowfall models:
So I've said this before, but pretty open and shut case right? Models tend to zero in on a range of 2-6 inches of total snowfall, but then comes the Nam4K, a higher resolution and shorter range model:
Ugh! This model keeps the bulk of the snowfall south of the Palmer Divide. If this model were to verify, we would see maybe an inch at most.
Summary
There are not a lot of similarities between this storm and the blizzard we have on Wednesday save for one; it is March in Colorado and these things have a way of wreaking havoc on meteorologists.
My advice; keep an eye on weather updates through the day Friday and be prepared for a nasty day South of Denver on Saturday. Know the impacts (stated above) and realize this is another 50/50 storm that has potential to do a lot or nothing at all.
Keep an eye out for updates from us late Friday night in case this thing does what the last storm did and starts to go nuts at midnight. I'll be up late posting any forecast changes.
To all of you who gave me feedback about my coverage, I really appreciate it!