The Winter Storm's center has finally made its move over the Southeast corner of Colorado and has shifted the winds and moisture to be more favorable for snowfall along the front range. This will probably be my last forecast post on this storm so let's take a look at where we stand.
Model Updates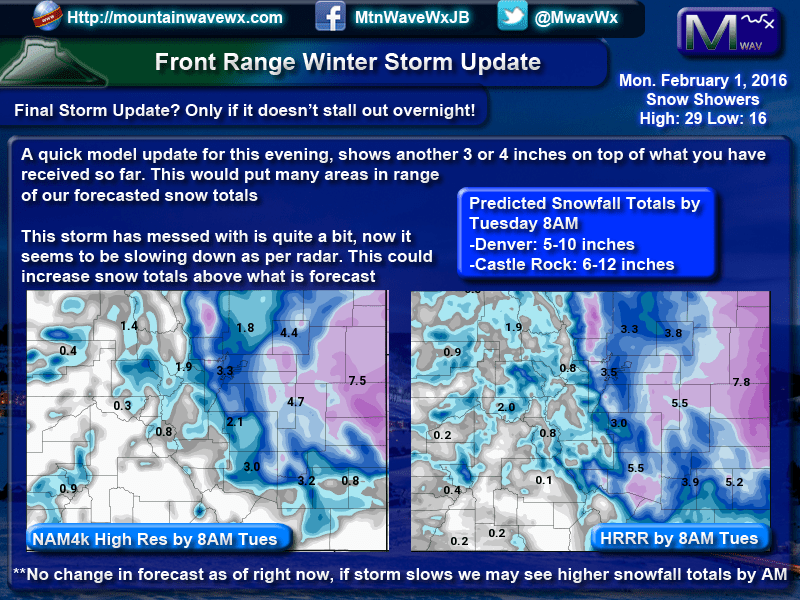 You'll notice, no GFS! Mainly because these shorter range models are much more accurate (although the GFS is accurate at this point as well) I generally like the NAM4K and HRRR at this point as they are much higher resolution and can pick up finer details better.
These images show what you can expect on top of what you already have this evening, so if you already have 3 or 4, expect another 3 or 4 more tonight. Tuesday morning should end up with around 5-10 inches for Denver, I expect higher totals South of Denver so Castle Rock should finish in the 6-12 inch range. The one wild-card here is the East/West gradient, I'd suspect areas immediately East of the town of Castle Rock could possible see more.
Tuesday Morning Impact
Whatever the snow totals for us along the front range, the roads were very bad this evening going into tonight. A layer of ice has formed under snowpack collecting on the roads and led to several accidents. Some major highways are closed (I-70 is closed East of Denver to Kansas)
I-25 is looking pretty rough at the moment, the roads will be pretty dicey with the combination of wind and snow throughout the night. Plan on allowing a ton of extra time if you have to travel in the morning.
School delays and closings are a possibility to so tune to local media for that information, or our friends at CRCO usually have that information as well.
One last thing I'll mention is that some radar loops show this storm slowing down. If this occurs and the storm stalls, we could see additional snowfall into Tuesday late morning. This would increase overall storm totals, not ready to call anything on that yet as most models don't see this as a significant change. Should this happen, I'll have one more update early tomorrow.
This should be my last forecast post on this storm, I usually try to follow up with a couple of recap posts after the storm has passed. I hope you all enjoyed my coverage and thank you to everyone who joined me to follow this storm!