This will be a very short post folks as I have not seen big changes to this forecast. I will start off this post by saying I don't agree with the National Weather Service's prediction of 5-10 inches for the Castle Rock area. I'm sticking with 3-6, but believe even that may be high, if I'm wrong and they are right I will gladly post a big picture of a crow tomorrow and eat the entire thing...
This is a huge reason why I'm not with the NWS on this storm; every model except the GFS takes a lot of the precipitation south of Castle Rock. I'm not saying we don't get any snow, but anything over 6 inches is a long shot.
Castle Rock is in the blue, you can see anything over 6 inches of accumulation is about a 20% chance of happening. The last storm was a long shot too and proved a lot of us wrong so keep in mind, it is March and anything can happen. Sometimes mother nature likes to beat the odds, in this case it looks possible but very unlikely.
Maybe I'll be humbled again? Tune in tomorrow to see!
Final Forecast/Impacts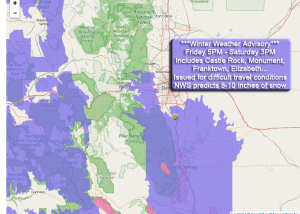 A Winter Weather Advisory has been issued for the Castle Rock area and points East and South. A Winter Weather Advisory is issued when periods of heavy snow make for difficult travel conditions. I have no doubt we will see some bands of moderate to heavy snow through the night but this storm may already be winding down by morning to early afternoon. Also, as I stated above, I think the 5-10 inch range for Castle Rock  is quite overdone.
For snowfall I'm staying put on my forecast based on data I've seen so far. This could still change later tonight but I see no reason to change with data I've received today.
Castle Rock: 3-6 inches
Palmer Divide South (Larkspur, Monument…) : 5-10 inches
Denver: 0-2 inches
Expect:
Some bands of moderate to heavy snowfall at times

Winds at 15-25mph will cause minor snow drifting

Roads will become icy and snow packed through periods of heavier snow

Travel may become difficult at times earlier on Saturday
At the risk of repeating myself too much, I probably won't post again ahead of this storm  unless the forecast changes drastically tonight. I will most likely have a post up Saturday morning with coverage of how the storm is going, but not much else tonight unless things change.
The snowfall amounts and impacts above remain the same as of right now.
Hope everyone has a great Friday night and stay warm and be safe if out and about this evening.