Another unsettled stretch of weather on tap to end this week and into the weekend. Many of you noticed the fog and low clouds on the way into work this morning. This is a result of our first cold front moving in overnight and bringing some low level moisture to the front range. Our second front and associated energy will move in later in the day on Saturday (depending on which model you believe.)
A quick look at the Nam3k shows snow moving in during the early afternoon hours and spreading snow from the Northwest to the Southeast. The key word here is "Northwest" and at the risk of sounding like a broken record, storms moving in from the Northwest are rarely something to get excited about if you like big snow.
The other thing to notice is how the snowfall energy is elongated and stretched from the mountains out onto the plains. This means the storm will most likely be shallow and limited for moisture (no surprise here given it's a Northwest storm.)
When we take a look at the snowfall we see:
This model shows banding possible across some locations East of the mountains and its areas that set up under those snow bands that will see the most snow. Those higher numbers are expected to be in the 3-4 inch range across the Palmer Divide but remember this will only happen where those snowfall bands set up. I like to reiterate a lot: models are great at showing that there WILL BE snowfall bands but terrible at predicting EXACTLY where they set up.
Another interesting thing to look at: the GFS shows significantly less snow, a quicker moving storm and the storm's timeline arriving a bit later on Saturday: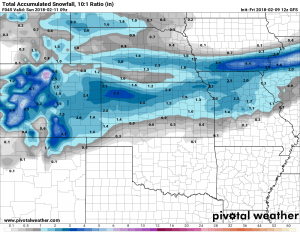 You'll notice the much lower snow amounts through the storm's exit late Saturday night but the presence of snowfall bands are still there. That's one thing we can be pretty sure of is that banded snowfall will accompany this storm.
What To Expect
This storm is a tricky forecast because snowfall amounts will vary greatly based on where those snowfall bands set up, we've seen storms dump 6 inches on Monument Hill while leaving Castle Rock with a dusting. We are pretty confidence most areas will see SOME amount of snow accumulation, but some will see very little while some will see more. There is no indication this will be a major storm and the forecasts and meteorology just don't support it; so no need to run to the store to stock up!
Snowfall Chances
Chances are good most areas across the Palmer Divide will see some snowfall accumulation, with our latest data I'd put the chance at 70%-90%
Expected Snowfall Accumulation
Forecasts call for 1-4 inches for the Castle Rock area, with slightly higher amounts South towards Monument Hill and Monument; generally 2-5 inches. Areas in the foothills like Western Douglas County should fall in that 2-5 inch range and areas along the Eastern Palmer Divide should fall within the 1-4 inch range.
As with most storms we've seen this year; bet on the lower end of all those snowfall forecasts unless you end up under a snow band. Even if you do, getting more than 4-5 inches for any areas along the Palmer Divide is pretty unlikely (with a few choice exceptions.)
Travel Impacts
As the atmosphere has saturated a bit we've seen freezing fog already on Friday morning. Roads may be slick in a few spots going into Friday night but the main impact will be Saturday. Timing is still a question but expect road conditions to deteriorate a bit Saturday afternoon and evening. Icy and snowpack conditions will be possible mainly under those areas of more intense snowfall (under snowfall bands) in other areas we expect only light to moderate travel impacts.
Summary
I very much wish we could see a different type of storm and see more snowfall but the truth is this storm looks just like the past several we've had. It just doesn't have the setup we like for a big snow along the Front Range. We will keep an eye out for a change but sadly the atmosphere and some of the ocean conditions are not conducive to a big snow storm heading our way at this time.
La Nina's are historically a very dry type of pattern for Eastern Colorado and while big snow storms are rare they can happen during these setups. We just aren't seeing any evidence of many big storms coming our way at this point. Stay tuned!