At one point this weekend's storm was looking very promising for snow lovers as one of our better looking shots at a big storm this year. We were a bit more cautious as we've seen several scenarios like this over the past few months "fall apart." We could point to no less than 2-3 storms that looked like monster blizzards on models 5-7+ days out... but with each of these storms as we got to within the 1-3 day range and they tended to fizzle.
Well, I hate to say this but this storm doesn't look super promising from one standpoint (mainly snowfall accumulation for the lower elevations.) There are a few things lacking and a few things showing up that give us pause on the models; here's what we see...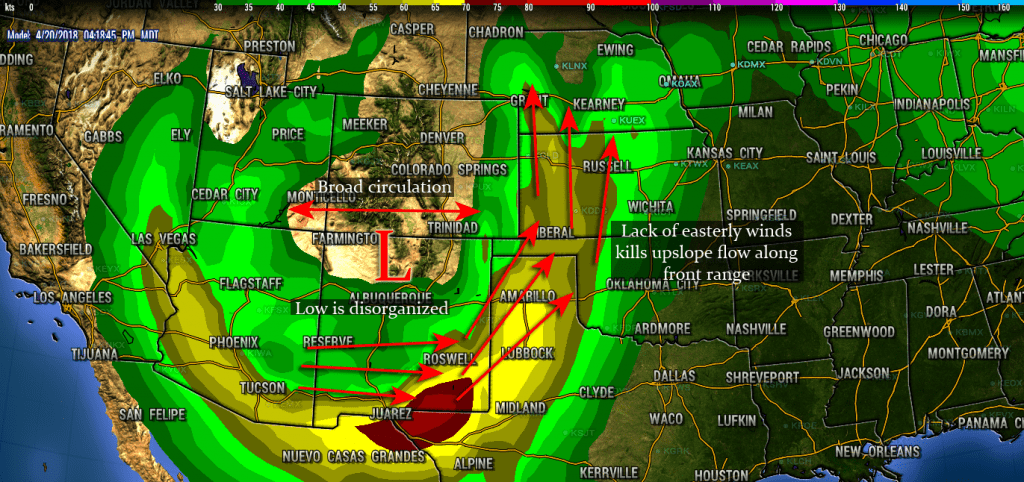 The circulation has become more broad

This can mean a few things, first of all a broader circulation means this thing gets a bit shredded up over the mountains and ends up weakening. This is not good as we need a healthy storm system to really kick in the upslope along the front range.

Positioning is a bit better, but...

You'll notice in the image above that because the circulation broadens, we see more Southerly and Southwesterly winds which doesn't equate to great upslope conditions along the front range of Colorado. The exception here may be the foothills just West of Denver, a SSE wind would give them just enough of a kick to squeeze decent moisture.

Cold Air Support

It's no secret that with the warmer temperatures this time of year it's tougher to get large snow accumulations. This storm system, because of it's disorganization will have a tough time tapping into cold air, this means lower elevations may see a larger amount of precipitation falling as rain rather than snow.
None of this is to say to write off this system altogether, when the initial wave moves through there is still support for at least some decent moisture.
What to Expect
Still need to get  a bit more data on this storm (models are still struggling with position and timing) but we are getting a clearer picture of some of the impacts we might look for at least.
Expect biggest travel impacts in the higher elevations of the foothills and Palmer Divide Friday evening and into the nighttime hours.
Precipitation will be rain for most areas with the snow focused in elevations above 6,000 feet, even then significant accumulation doesn't look likely
Even though we don't expect huge accumulations for Castle Rock and the Palmer Divide Region, models do show an intense burst of snow in the evening hours on Friday. Snow may come down quick enough to accumulate slush on the roads so be prepared for that.
Here's the latest look at expected snowfall amounts (these are preliminary and will change a bit over the next 24-36 hours) so keep that in mind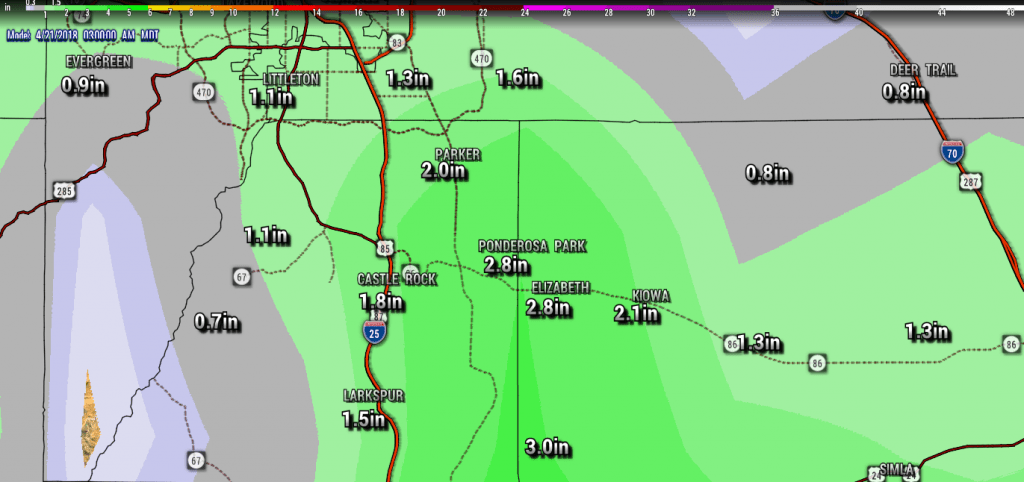 For what it's worth, models struggle mightily this time of year with temperature and snowfall accumulation. These types of storms are some of the hardest to predict; any wobble in the storm track, positioning or timing could mean big changes to this forecast. We have seen storms in the past strengthen and tap in to cold air and overperform too!
Stay tuned, we'll keep an eye on it and  have another update or two on Thursday.