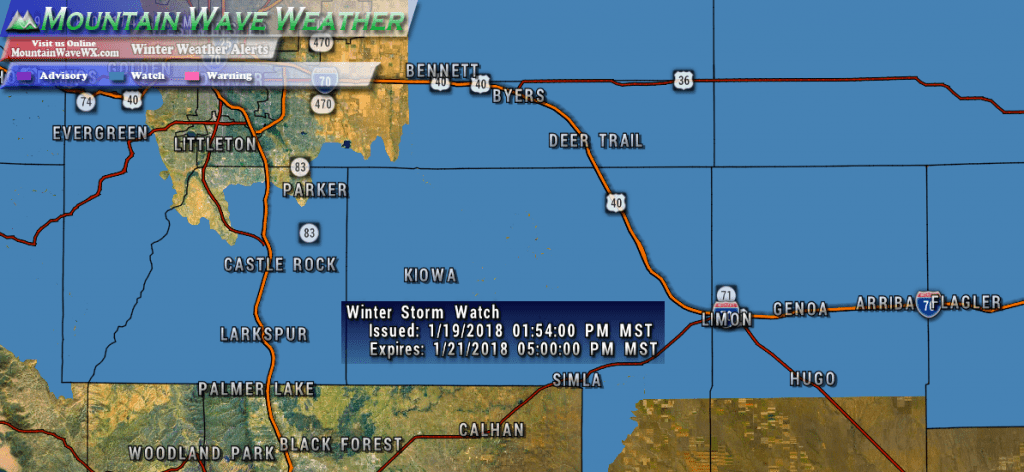 IN regards to our weekend storm system The National Weather Service has issued a Winter Storm Watch for most of the Palmer Divide and Northeastern Colorado. Interestinly, Denver and Northern areas of the Palmer Divide are not included in the watch but bad weather can be seen around the fringes of watch/warning areas so don't write those areas off.
Here's the short and dirty details on the watch:
Timing/Duration
The Watch is effective 12AM Sunday through 5pM Sunday.
Hazards
Heavy snow and blowing snow possible. Plan on difficult travel conditions.
Winds gusting as high as 40 mph will cause areas of blowing snow.
Preparedness Actions
Be prepared for deteriorating driving conditions later Saturday and into Sunday morning. Although the ground is warm a combination of moderate/heavy snow and strong winds will allow snow to begin accumulating quickly.
Expect moderate to significant travel difficulties in the morning and early afternoon hours on Sunday.
Our Take
The storm seems to be holding its own on the latest models out this afternoon. We think the NWS forecast of 4-8 inches in the watch area is realistic for some areas. We haven't moved off the 3-7 inch range for Castle Rock and surrounding areas just yet, but expect a bigger forecast update this evening with updated snow totals.
Saturday will feature a warm day with breezy conditions; it will be an excellent chance to prepare for the storm on Sunday. Get any shopping or errands done you need on Saturday. This storm will not be a crippling blizzard and probably doesn't warrant a run on the store. At most it will just mean travel issues on Sunday, conditions will improve quickly late Sunday night and into Monday.
Stay tuned for our updated forecast later today!