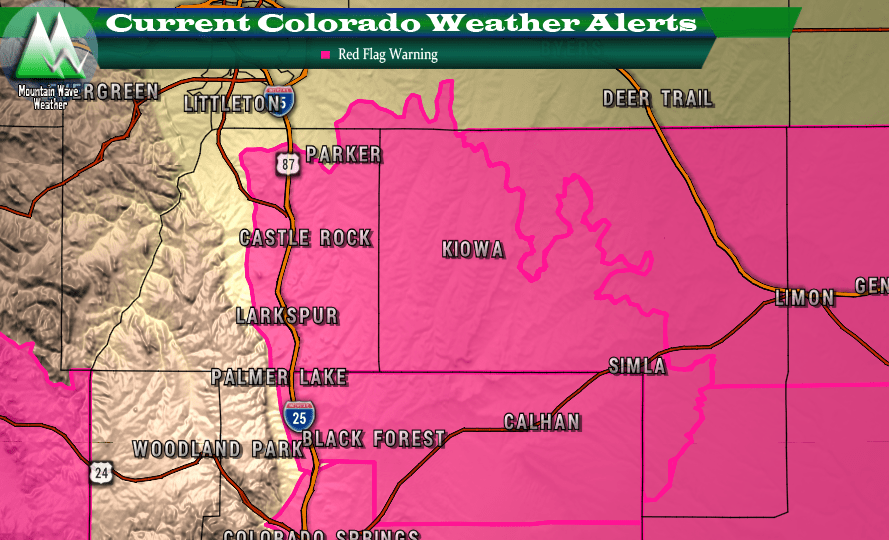 Red Flag Warnings are up for high fire danger across the Palmer Divide and most of the East Central and Southeast part of the state. Strong winds gusting to 35 mph will be likely on Sunday with low relative humidities and warm temperatures. Sadly, the combination of this weather the past week and still dormant vegetation has all but erased the moisture we received last week. Here's the Red Flag Warning details:
...RED FLAG WARNING IN EFFECT FROM NOON TODAY TO 6 PM MDT THIS
EVENING FOR WIND AND LOW RELATIVE HUMIDITY FOR THE PALMER DIVIDE
ALONG WITH EASTERN ELBERT AND LINCOLN COUNTIES...

The National Weather Service in Denver has issued a Red Flag
Warning FOR WIND AND LOW RELATIVE HUMIDITY, which is in effect
from noon today to 6 PM MDT this evening.

* Affected Area...Fire Weather Zones 241...246 and 247.

* Timing...12 PM TO 6 PM MDT Sunday.

* Winds...Southeast 10 to 20 mph with gusts up to 35 mph.

* Relative Humidity...As low as 11 percent.

* Impacts...Conditions will be favorable for rapid rates of fire
  growth and spread this afternoon and evening. The most favorable
  areas will be over southeast Douglas...Elbert and western areas
  of Lincoln county.

PRECAUTIONARY/PREPAREDNESS ACTIONS...

A Red Flag Warning means that critical fire weather conditions
are either occurring now....or will shortly. A combination of
strong winds...low relative humidity...and warm temperatures can
contribute to extreme fire behavior.



Unsettled Weather Week Could Bring Relief
There's a few storm systems set to impact us this upcoming week, they'll pretty much be lined up to hit us one after the other. We'll look at the first one and update on the additional storm systems later in the week.
Here's the setup for the Monday-Tuesday storm
Meanwhile on Monday evening and into Tuesday morning a surface low sets up as a cold front moves through and changes the wind direction at the surface. Winds should turn Northerly or Northeasterly, meaning upslope along the front range. This allows us a period of time to squeeze some of that moisture out of the atmosphere, but I suspect a lot of places will see rain or light snow accumulations. The areas to watch for heavier snowfall accumulations will be the foothills West of Denver and to a degree the Palmer Divide.
Wildcards:
Location, location, location

Where exactly the surface low sets up and how strongly it can give the region upslope will make all the difference

Instability!

Just like the past storm bands of heavier convective snowfall will be possible
This means some areas may see short, intense bursts of snowfall
As of Sunday morning with the latest modeling data, here's our thinking on snowfall accumulations. The snow will again be mainly oriented along the Palmer Divide but given the less desirable moisture and atmospheric setup snow totals don't look nearly as impressive at this time. The above model shows snowfall through Tuesday 5AM, most areas in and around Castle Rock look to end up in the 1-4 inch range. Areas to the East and West will see slightly more will areas North and South will see less snowfall.
Stay tuned for updates to the forecast throughout the day later on Sunday and into Monday as you know, the forecast can always take a hard right hand turn with these spring storms. Enjoy your Sunday!