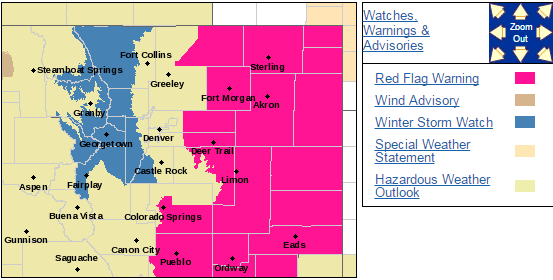 ***The National Weather Service in Denver Has Issued A Winter Storm Watch***
Please note; Castle Rock and areas along the Palmer Divide are not yet included in this watch!
Details
TIMING

SNOW WILL BEGIN FRIDAY AFTERNOON AND CONTINUE THROUGH
  SATURDAY AND INTO SUNDAY.  THE SNOW COULD BE HEAVY AT TIMES.


SNOW ACCUMULATIONS

ACCUMULATIONS OF 12 TO 18 INCHES WILL BE
  POSSIBLE BY SATURDAY AFTERNOON WITH ANOTHER 12 TO 18 INCHES
  POSSIBLE FROM SATURDAY NIGHT THROUGH SUNDAY.


 WIND/VISIBILITY

NORTH TO NORTHEAST WINDS AT 15 TO 25 MPH.
  VISIBILITIES LESS THAN ONE MILE WILL BE POSSIBLE IN HEAVY SNOW
  SHOWERS.

IMPACTS

ROADS ARE EXPECTED TO BE SNOW-COVERED AND SNOW
  PACKED...POSSIBLY LEADING TO ROAD CLOSURES. DENSE AND HEAVY SNOW
  ACCUMULATING ON TREE BRANCHES MAY CAUSE TREES TO FALL...OR
  BRANCHES TO BREAK OFF.
Stay with us on MountainWaveWX and we will update you if the Watch or Warning Status changes for us South of Denver