Model guidance has continued to push snowfall totals up through the day so while this still won't be a major storm... it will be nice to see something that provides more than a dusting but not a full-blown major winter storm. Here's the latest data we see tonight as the storm moves into the area and what to expect:
Winter Weather Highlights
The only change to the Winter Weather Advisory this afternoon was that it now includes the Denver Metro Area as higher snowfall totals and more road impacts are anticipated with this storm. The Advisory remains in effect for the Palmer Divide and Front Range Foothills, here's the latest info:
...WINTER WEATHER ADVISORY REMAINS IN EFFECT UNTIL 8 AM MST THURSDAY...

* WHAT...Snow expected. Total snow accumulations between 5 to 10 inches.

* WHERE...The Northern Front Range Foothills, The Southern Front Range Foothills, Boulder and the western suburbs of Denver, and Castle Rock.

* WHEN...Until 8 AM MST Thursday.

* IMPACTS...Travel could be very difficult. The hazardous conditions could impact the Wednesday evening and Thursday morning commutes. Roads will likely become slick and hazardous.
Please note the Winter Weather Advisory now runs through 8AM on Thursday morning instead of 6AM... this means we can expect travel impacts to last into the morning rush hour.
---
Updated Snowfall Forecast (Palmer Divide)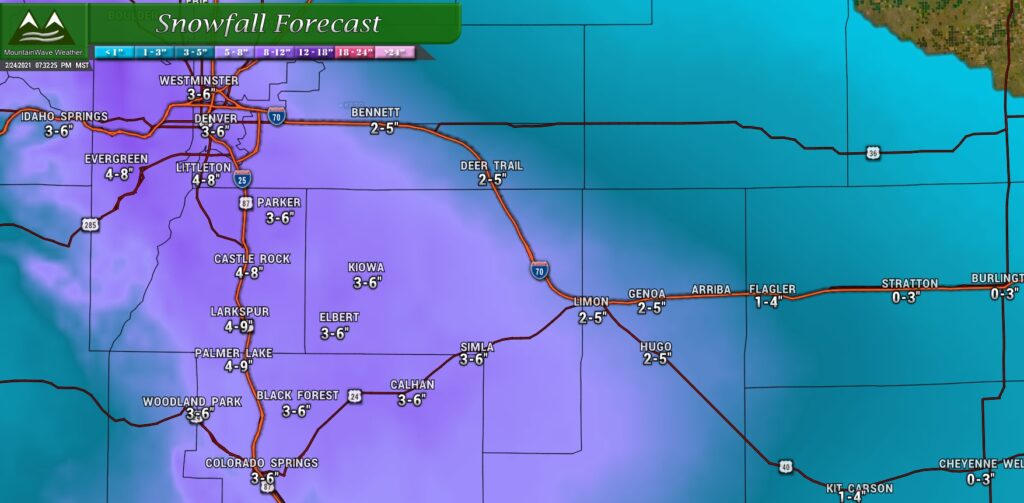 There have been a few changes to the snowfall forecast this evening based on the latest models coming in. We have bumped up our snowfall ranges slightly, especially for areas along the Palmer Divide and East of I-25 as models now agree the upslope compoentne with this storm is looking stronger and better.
The shorter range/mesoscale models really like the 5-6" range for areas in and around Castle Rock so that does favor odds of the 6-8" range slightly higher; we've adjusted the forecast to refelect those slightly higher probabilities of 6-8" snowfall. Elsewhere the Elbert County and El Paso County areas have been bumped up a bit also due to higher probabilities of higher totals.
Denver and surrounding suburbs have also been bumped up to account for higher snowfall accumulation probabilities.
---
Expect Travel Impacts Thursday AM
Expect minor to moderate impacts across the region on Thursday morning. If you have travel planned tonight or early tomorrow, make sure to leave plenty of time as roads will be slick and it will take you extra time to get to your destination.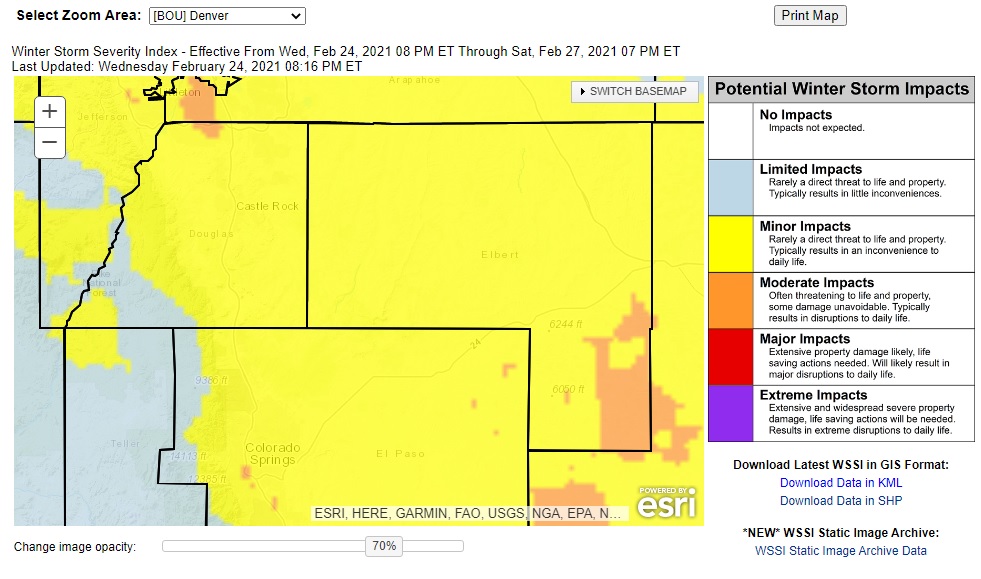 Winter Storm Severity Index shows mainly minor impacts with a sprinkling of moderate impacts so keep that in mind!