5/14/2018
A line of strong and severe storms moved across the Palmer Divide bringing hail, rain, lightning and wind. No tornadoes were sighted or reported, but given the dynamics we expected that. The chance for any tornadoes was quite low overall, but storms certainly had enough energy for hail!
The storm mainly effected areas of Northern Castle Rock and Castle Pines. When it moved East it got into a more favorable atmosphere and really took off.
---
Tuesday 5/15/2018 Another Active Day
As we are moving into the most active time of the year for severe weather, what we are seeing this week is absolutely normal for Colorado. Warm sunny mornings give-way to cloudy early afternoons and by mid to late afternoon we see the chance for storms. Given the energy in the atmosphere and cooler temperatures aloft, severe weather is a good possibility but remember severe storms are spotty in coverage.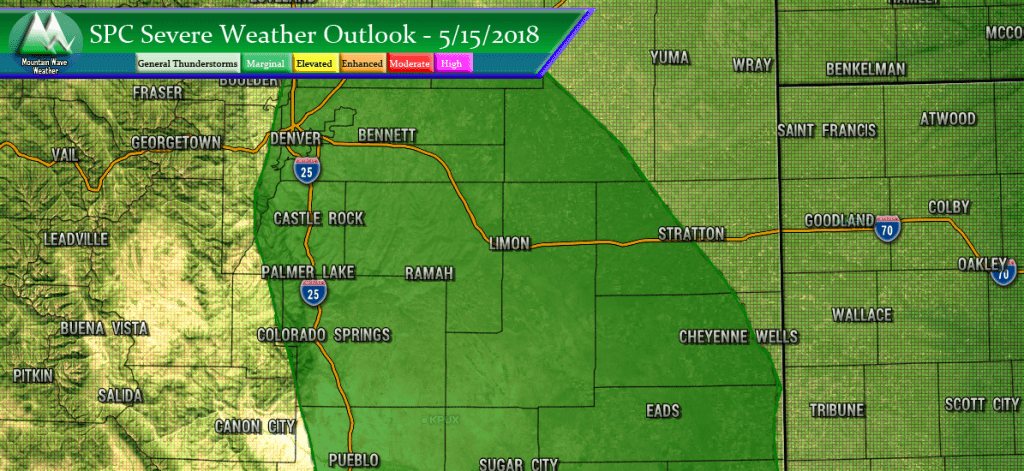 Tuesday's marginal risk area covers a lot of the same ground as Monday but more of Eastern and Southeastern Colorado is included. Again, there is a very small risk for tornadoes but the main threats will be hail, wind, lightning and heavy rain. A marginal risk means storms will be extremely isolated so most areas won't be impacted, but those that do get a storm could see any of those conditions I mentions above.
The HRRR model nailed the placement on yesterday's storms, however it was off on the timing. Nevertheless; today is has the Palmer Divide as a very active region for storms, so if you are on that area stay very aware this afternoon. The Castle Rock/Elizabeth/ South Parker corridor could be very active again this afternoon.
What to Expect
Primary Threats

Heavy rain
Frequent lightning
Strong winds
Small/medium sized hail
Small chance for tornadoes

Timing

Models had trouble with timing yesterday so this is a bit tricky
I'd be on the lookout after 2-3PM today

Follow a trustworthy weather source with real-time weather alerts and warning information (TV and Cell Phone Apps are good sources for this!)
Our Weather Warnings Update Page is a good source for watches and warnings for Castle Rock too!
---
The Rest of the Week
The rest of the week looks active, with the severe threat shifting eastward and back westward depending on the day. The two days to pay attention to are Thursday and Friday. Thursday has a slight risk covering Northeastern Colorado and the SPC outlooks are already pegging Friday as a more active day East of Denver and along the Palmer Divide. Stay with us here and we'll be sure to update throughout the week as more data comes in.