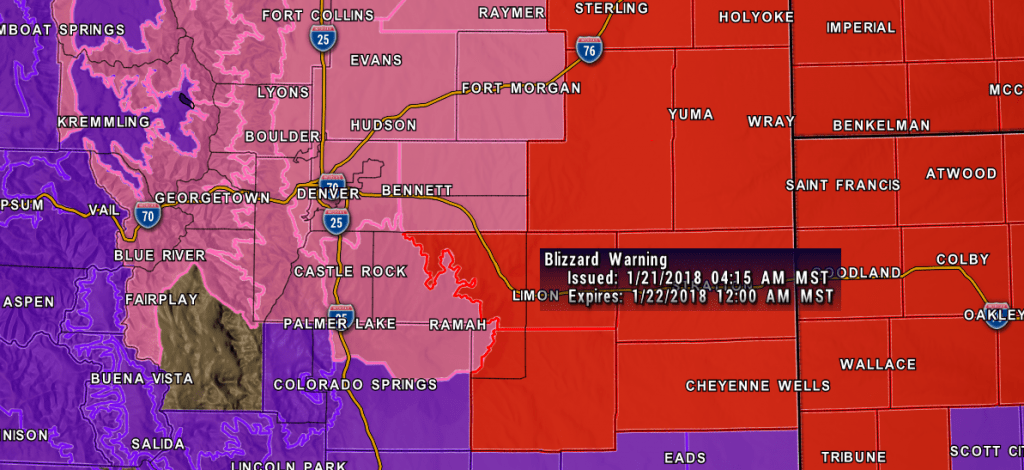 Most of the winter weather alerts issues last night remain unchanged this morning with one exception. A Blizzard Warning has now been issued for areas East of Denver and Castle Rock.
Here's the latest on all the winter weather alerts as of this morning:
Blizzard Warning
Duration:
BLIZZARD WARNING IN EFFECT UNTIL MIDNIGHT MST TONIGHT
Areas Included:
Agate, Hugo, Limon, Matheson, Crook,
Merino, Sterling, Peetz, Akron, Cope, Last Chance, Otis,
Julesburg, Ovid, Sedgwick, Amherst, Haxtun, and Holyoke
Hazards:
Winds gusting as high as 50 mph will cause whiteout conditions in blowing snow. Significant
drifting of the snow is likely.
A Blizzard Warning means severe winter weather conditions are
expected or occurring. Falling and blowing snow with strong winds
and poor visibilities are likely. This will lead to whiteout
conditions, making travel extremely dangerous. Do not travel. If
you must travel, have a winter survival kit with you.
Winter Storm Warning
Duration:
WINTER STORM WARNING REMAINS IN EFFECT UNTIL 5 PM MST THIS
AFTERNOON
Areas Included:
Arvada, Boulder, Golden, Lakewood,Longmont, Aurora, Brighton, City of Denver,
Denver International Airport, Highlands Ranch, Littleton, Parker,Castle Rock, Elbert, Fondis, Kiowa, Larkspur, Briggsdale, Grover,
Pawnee Buttes, Raymer, Stoneham, Brush, Fort Morgan, Goodrich,Wiggins, Bennett, Byers, Deer Trail, and Leader
Hazards:
Heavy snow occurring. Plan on difficult travel conditions.Be prepared for significant reductions in
visibility at times.
A Winter Storm Warning means significant amounts of snow, sleet
and ice are occurring. This will make travel very hazardous or
impossible
Winter Weather Advisory
Duration:
Until 2 PM MST this afternoon
Areas Included:
Western Colorado and Southern Colorado South of the Palmer Divide.
Hazards:
Plan on slippery road conditions. In addition, some reductions to visibility are expected
A Winter Weather Advisory for snow means periods of snow will
cause primarily travel difficulties. Be prepared for snow covered
roads and limited visibilities, and use caution while driving.


---
Forecast Update
Everything is more or less on track, the outer bands of the storm have begun to bring snow and wind to the area as of this morning. If you're wondering where all the snow is... patience! The main energy of the storm is over Northwestern New Mexico this morning. As it moves Eastward later this morning and into this afternoon expect snow to intensify and winds to increase.
We will pass along any further updates throughout the day as needed, for now it's best to stay home, relax enjoy time with the family or a movie and let the storm pass. Have a great day and stay warm!