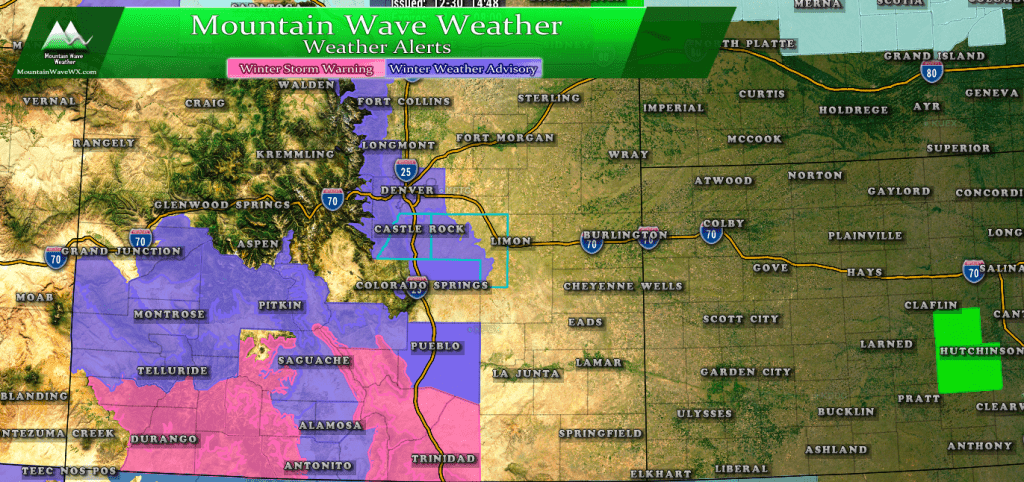 Here's the latest advisories and warnings for Colorado in regards to this storm. The fact that most of the Palmer Divide and foothills areas are in a Winter Weather Advisory should tell you something. This storm will have some snow with it but still doesn't look to be a major storm by any means. The Advisory is mainly for travel difficulties for areas under moderate snow and dangerously cold wind chill temperatures.
No surprises with any of this, we have been telling folks to expect snow tomorrow but not a major storm by any means. The lighter blue advisories into Wyoming and Nebraska are wind chill advisories, I wouldn't be surprised to see some of those issued in Colorado tomorrow and into Tuesday.
---
The Forecast:  Some Slight Tweaks!
Timing
Models have slowed the storm system down a bit, originally we were expecting snow after midnight into the early morning hours. Here's the new timing:
Snow now expected to begin between 3AM-6AM Monday morning
Snow will continue throughout the day Monday
Do expect snow during the Monday morning commute, it is possible lingering snow showers could impact the evening commute too (for those working tomorrow...)
Keep in mind, all the ranges we show for snow below are through Tuesday morning... that means you won't wake up to 3-6 inches of snow in Castle Rock tomorrow, this will accumulate through the day and into late Monday night!
Snowfall
As expected, models are continuously dropping snow totals with each run this evening. This wasn't totally unexpected though, as it's been the main theme of our storm systems this year. That being said, we still can't ignore the strong northerly winds that tend to favor upslope over the Palmer Divide. Models don't always pick that up very well and given the favored upslope and bitter cold temperatures, we still may be able to eak out some accumulating snow.
With that, we are leaving forecast snow totals as they are, but please understand the lower ends of these totals are looking more likely now than the higher ends.
Castle Rock, Parker, Lone Tree areas
Elbert, Elizabeth, Kiowa
Larkspur, Monument
Woodland Park, Palmer Lake, W. Colorado Springs Foothills
Impacts
No major changes in the impacts, some roads will become slick under heavier bands of snow, but again this will not be a major impacting storm to travel for the Palmer Divide.
The biggest impact of this storm will not be the snow, it will be the bitter cold temperatures.
Those are low temperatures below zero for a number of areas across the Palmer Divide. Given the winds are supposed to breezy out of the North, many areas could see wind chills in the range of -15 to -25 degrees. These are dangerous temperatures so be prepared if you are out Monday night or Tuesday morning. Don't forget the pets too!
We will have one more quick update in the morning if anything changes in the forecast overnight, if you don't see an update... expect that there aren't any changes and things are more or less on track. Stay warm and stay safe!
If you'd like to read today's earlier look at the models, forecast and synopsis you can see that article by clicking here.