Snow continues at this hour for the Castle Rock area and for areas South into Colorado Springs. This storm is mainly affecting these areas and is not doing a whole lot for Denver or suburbs immediately South of Denver.
A 9:30AM look at the radar shows the narrow areas of light to moderate snow: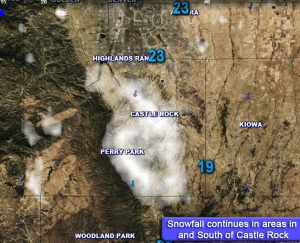 Air temperatures overnight remained relatively warm which means a good portion of this snowfall has melted. 3-6 inches was my forecast yesterday and this still looks to be on track. Roads were a bit slick this morning when I was out and about but are recovering as temperatures continue to warm slightly.
This morning there is a slight bit of wind out of the North so we are getting just enough of a windchill to make it feel quite cold out. Be sure to bundle up before heading out anywhere as it will remain chilly today with high temperatures only projected to reach the lower 30's.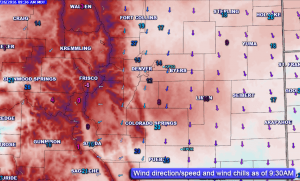 Many areas around Castle Rock are showing light winds out of the NNE and wind chill temperatures in the teens.
The Rest of Saturday
The bulk of models have light snow continuing through the morning with most of it tapering off by about noon.
Expect the light snow to end by late morning or into early afternoon at some point. Accumulations today will be light as additional snowfall will have a difficult time overcoming melting. Expect maybe another inch or two if you are in the Castle Rock area on top of what you already have this morning.
Easter Sunday
The good news is the current storm will scoot out of here pretty quickly and a high pressure ridge will begin to build behind it meaning warmer and drier air will make its way into the state as early as Sunday. It will still be a bit chilly during the day, high temperature is expected to reach right around 50 degrees but a bit of wind may make it feel a bit cooler than that.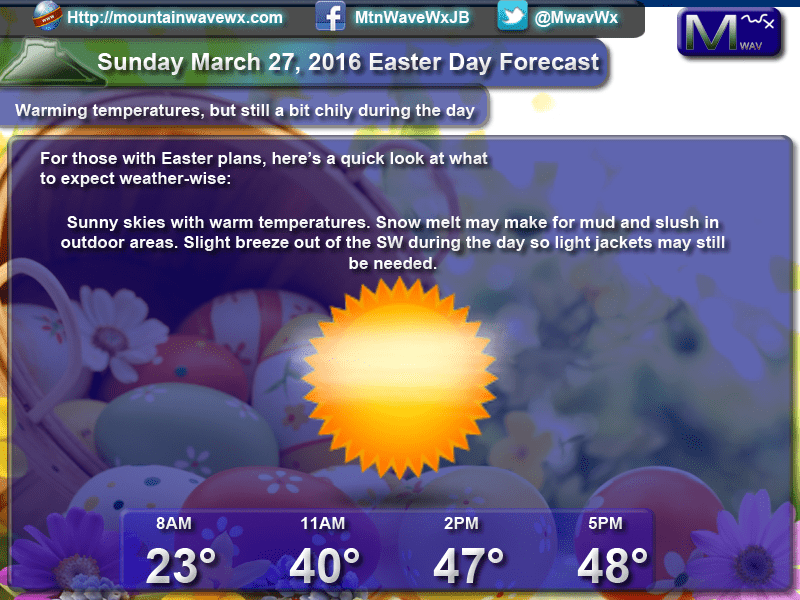 Weather looks to be quiet through late Tuesday so we won't have a whole lot of posts up on Sunday. Monday we will begin taking a look at our next storm system and chance for snow.
Have a great weekend everyone!