As a cold front has moved through today the atmosphere has begun to destabilize considerably behind it. We saw evidence of this with the batch of thunderstorms that moved through Eastern and Central Colorado this evening.
Severe Weather Threat Coming Together
As a slight risk tomorrow, not all areas will see severe storms. Generally when you see a slight risk in Colorado it means storms will be scattered but some will grow into larger storms with the chance of hail, strong winds, flooding and in tomorrow's case; a slight threat for tornadoes!
Be on the lookout for Supercell Thunderstorms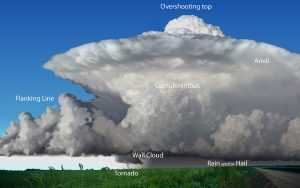 As we move into the afternoon hours, look for storms with a large flat top and a section bubbling over that top. This is an intense area of lift known as an updraft. Severe thunderstorms have an "overshooting" top that signifies the strong updraft in the storm; this allows the storm to pull in heat and moisture and continue to grow. Not all will have the perfect structure you see above, but see if you can spot any of the characteristics in the storms on Friday.
The frontal passage today destabilized the region by bringing cooler air in, especially aloft. On Friday, the winds will shift to a Easterly/Southeasterly direction giving us our second and third ingredients for severe weather: lift and moisture.
We use this graphic a lot but this essentially the setup when we see conditions like what we are forecasting tomorrow. The southeasterly winds move along the front range and are funneled around where they turn Northwesterly and crash back into the Southeasterly winds. The areas of most intense lift can form along the boundaries created by this setup.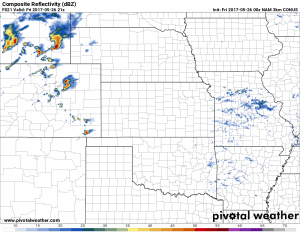 A snapshot of around 3PM tomorrow from the NAM3k shows storms developing along the front range East and South of Denver. Two areas I'd watch tomorrow would be areas Northeast of Denver and areas immediately East of Castle Rock along the Palmer Divide. The area East of Denver will be the most favorable environment for storms to grow severe but we can't rule out extra lift South of Denver thanks to the terrain.
What To Be Prepared For Tomorrow
These storms may have intense lightning, if you are outdoors and hear thunder; that is your sign to move inside. These storms will be moving relatively quickly
Hail and strong winds are possible under these storms. Hard to tell how big the hail could be as of tonight, but with soundings and models tomorrow we should be able to determine how steep our lapse rates are (how big the hail could get)
Flash flooding is possible in areas of intense rain

There will be a chance for tornadoes with the severe storms on Friday
This forecast is evolving and the risk areas may still shift by Friday morning. Stay tuned for further forecast updates from us early Friday morning and keep an eye on the sky after about 12PM!