This storm didn't exactly come out of nowhere, we've been watching it for days but as you can imagine we are hesitant to get too excited about it given what has happened so far this year. Models have continued to keep decent snow accumulation along the front range and targets the Palmer Divide pretty well with a bigger impact. Here's the latest on everything we are seeing tonight!
The National Weather Service issued a Winter Weather Advisory for the front range mountains, front range foothills and Palmer Divide for tough travel conditions due to falling snow and icy roads. The advisory goes into effect at 5AM so keep that in mind for the morning commute and the evening commute as well.
We don't see a lot of evidence for heavy snowfall, but light to moderate snow through the day will add up. The accumulation amounts you will see below are generally through late Friday night into Saturday morning so keep that in mind; snow all day with accumulations listed.
---
What to Expect
Timing
There is a bit of disagreement on when the snow kicks in exactly, so we'll go with our best guesses on this one; but just like our past storms if it starts snowing early expect more snow... if it snowing later expect snowfall amounts to be less.
Snow is expected to start very early on Friday morning, 3-6AM timeframe looks most likley
Snow will ramp up and be at its heaviest between 6AM-11AM with a secondary wave later in the day
This will be a long duration event, snow is expected from Friday morning through late Friday night
Morning Commute Impact: light to moderate
Evening Commute Impact: Moderate
Snowfall
Here's some of the snow totals we are thinking... I'm still not quite sold on the higher totals for a lot of areas in this storm. I've chosen to go with slightly lower totals based on warm temperatures, melting snow and also based on the track record we've seen of storms shifting South at the last minute.
If I'm 100% honest, this is probably the storm with the most potential to over perform my snowfall forecast that we've seen all year... so keep that in mind. As such, you'll see my ranges are slightly different from the graphic above but I think based on the modeling and data I've seen so far, the ranges are pretty close to valid.
Castle Rock, Parker, Lone Tree areas
Elbert, Elizabeth, Kiowa
Larkspur, Monument
Woodland Park, Palmer Lake, W. Colorado Springs Foothills
Impacts
Main impacts of this storm will have to do with travel on Friday. Roads may be slick in the morning initially but melting later in the day means they will be slushy or wet later in the day.
Models show a secondary burst of snow later in the afternoon and considering that with following temperatures I'd expect travel impacts Friday evening and night as well.
---
Wrapping It All Up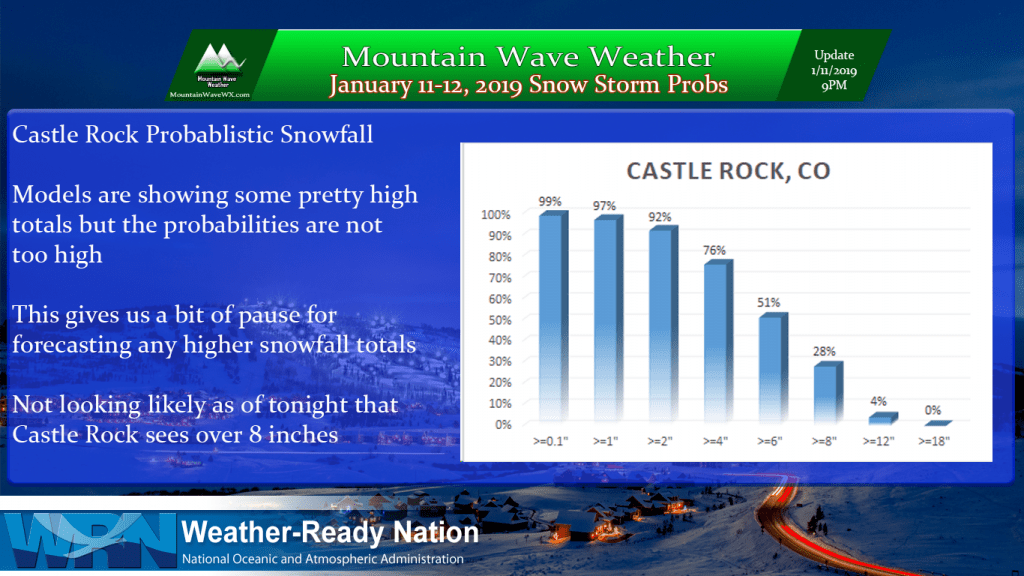 This is another one of those type storms where people get caught up on "how much snow do we get?" This storm if it performs as expected will cause travel difficulties throughout the day on Friday, especially South of Denver... that's really what folks should focus on here.
As we get data throughout the night, I'll post another update early Friday morning if needed. Stay tuned and we'll be sure to pass along any important updates!