Arapahoe basin is now open and Loveland is soon to follow. For those of you itching to hit the ski hill here are Colorado's Ski Areas 2016-2017 Season Opening Dates.
Despite the dry conditions along the front range, snow-making progress has been going pretty well for our ski resorts. Although it has been quite dry up in the hills as well, nighttime (and sometimes daytime) temperatures have been consistently cold enough to allow for decent snow-making conditions.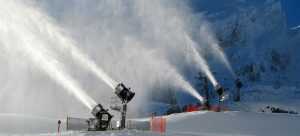 We are working on a long range winter outlook over the next couple weeks. We'll take a look at the possibilities along the front range and the mountains, so keep an eye out here at Mountain Wave Weather!