Current Colorado Weather Watches/Warnings/Advisories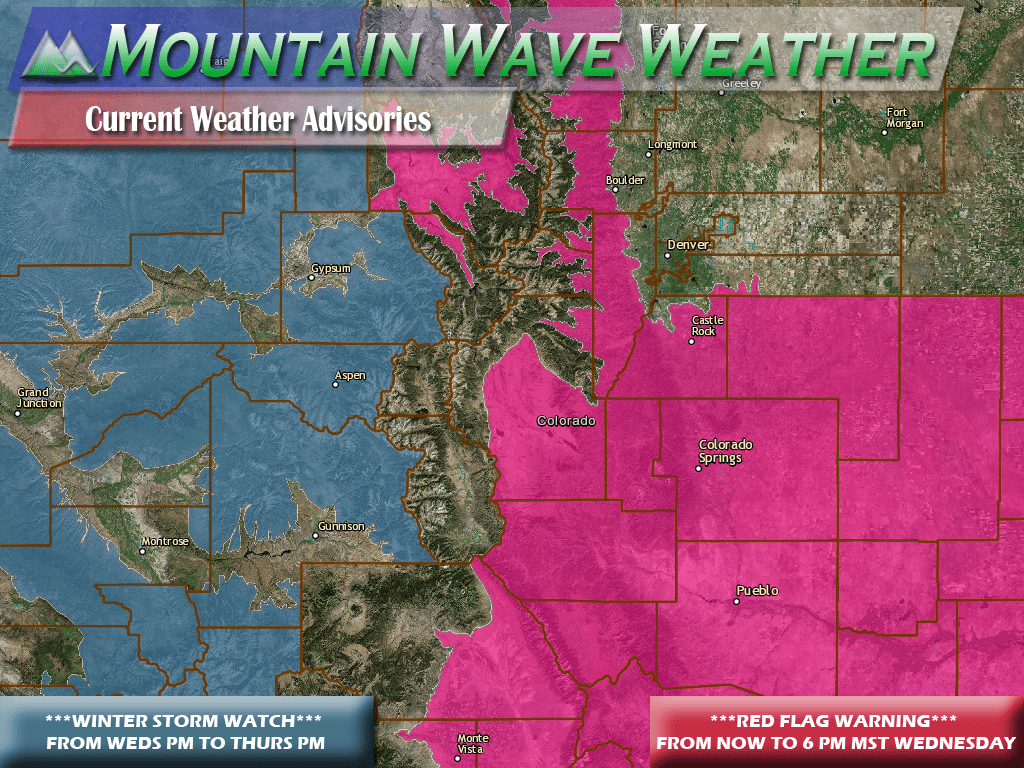 In advance of our storm system, the National Weather Service has issued a host of weather advisories. Here's the breakdown:
...RED FLAG WARNING IN EFFECT FROM 10 AM THIS MORNING TO 6 PM MST
THIS EVENING FOR WIND AND LOW RELATIVE HUMIDITY FOR THE FRONT
RANGE FOOTHILLS...PALMER DIVIDE AREA...AND SOUTH AND MIDDLE PARKS...
A RED FLAG WARNING MEANS THAT CRITICAL FIRE WEATHER CONDITIONS
ARE EITHER OCCURRING NOW....OR WILL SHORTLY. A COMBINATION OF
STRONG WINDS...LOW RELATIVE HUMIDITY...AND WARM TEMPERATURES CAN
CONTRIBUTE TO EXTREME FIRE BEHAVIOR.

Additionally, Winter Storm Watches have been issued for parts of the mountains:
...WINTER STORM WATCH NOW IN EFFECT FROM LATE TONIGHT THROUGH
LATE THURSDAY NIGHT...
SNOW ACCUMULATION...5 TO 10 INCHES WITH LOCALLY HIGHER AMOUNTS IN
  THE MOUNTAINS...2 TO 5 INCHES ACROSS THE ROAN AND UNCOMPAHGRE
  PLATEAUS AND FROM 1 TO 3 INCHES IN THE NORTHWEST VALLEYS OF
  COLORADO ARE POSSIBLE.
A WINTER STORM WATCH MEANS THERE IS A POTENTIAL FOR SIGNIFICANT
SNOW...SLEET...OR ICE ACCUMULATIONS THAT MAY IMPACT TRAVEL.
CONTINUE TO MONITOR THE LATEST FORECASTS.
---
Latest on Thursday's Storm System and the Potential for Snow and Freezing Temperatures
The forecast regarding Thursday's storm remains largely on track from yesterday. There is still a bit of uncertainty on whether we actually get any snow to stick on the ground. That is one issue the models are still battling it out on, ground temperatures may end up just too warm to promote any snow accumulation.
The GFS still shows about an inch of snow accumulating throughout the later hours on Thursday: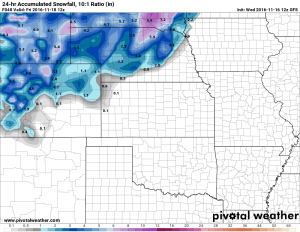 Both of the NAM models show no accumulation for the front range area:
---
Latest Storm Forecast for Castle Rock Based on Current Model Guidance
Snow begins by Thursday afternoon. Although snow may be falling, there is still a lot of uncertainty about whether any of it will accumulate on the ground.
Chance for snow falling with this storm system as of today: 60-80% chance

Probability that we see snowflakes falling at some point on Thursday is relatively high. Downsloping winds may kill our moisture if the low doesn't set up just right though.

Chance for snow accumulating with this storm system as of today: 40-60% chance

Snow accumulation on the ground is still highly uncertain with most models. The ground may simply be too warm to allow any snow to accumulate. We'll watch this closely for changes.

Total Snow Accumulation: 0-1.5 inches

(Unchanged) I still think models are struggling with how much snow melts vs. how much sticks. Any accumulation will be light as I still expect a lot of melting at this time

Expect clearing on Friday but a very chilly day with highs only in the upper 30's to low 40's. No snow is expected to linger on Friday during the day.
This storm does not look to be a major snowmaker for Colorado at this point. We are not expecting major travel issues around the Castle Rock area as roads and the ground is still quite warm. We'll keep an eye out in case anything changes…
---
Main Impacts to be Prepared For
This storm won't cause a lot of travel difficulties along the urban corridor as much of the snow is not expected to stick. One thing models have been consistent about for several days is the strong winds that will accompany this storm. Here's a snapshot from around 8AM Thursday morning: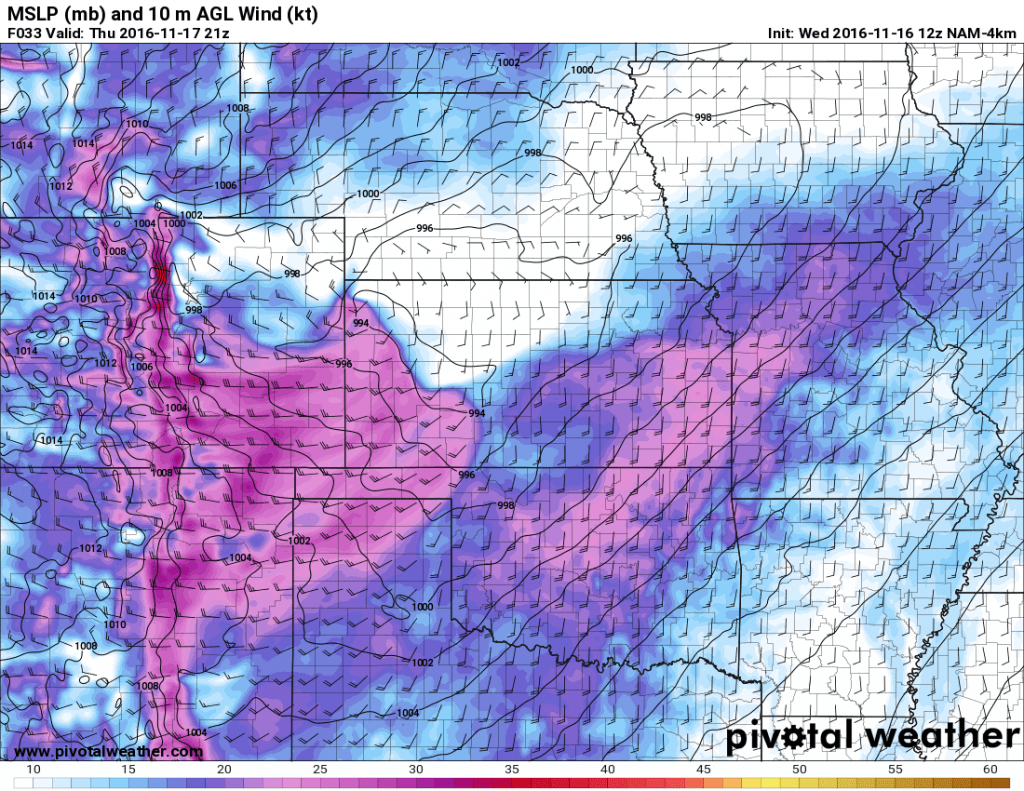 Many models are showing strong winds sustained around 25-35 knots ( about 30 to 40 miles per hour.) Some gusts could reach over 40mph throughout the day. That combined with the cold temperatures will make for some very cold windchills. Be prepared for it, I reccomend taking a jacket with you for the day on Thursday and definitely having some heavier gear ready for Friday morning.
Speaking of temperatures Friday morning, that will be the second big impact from this storm: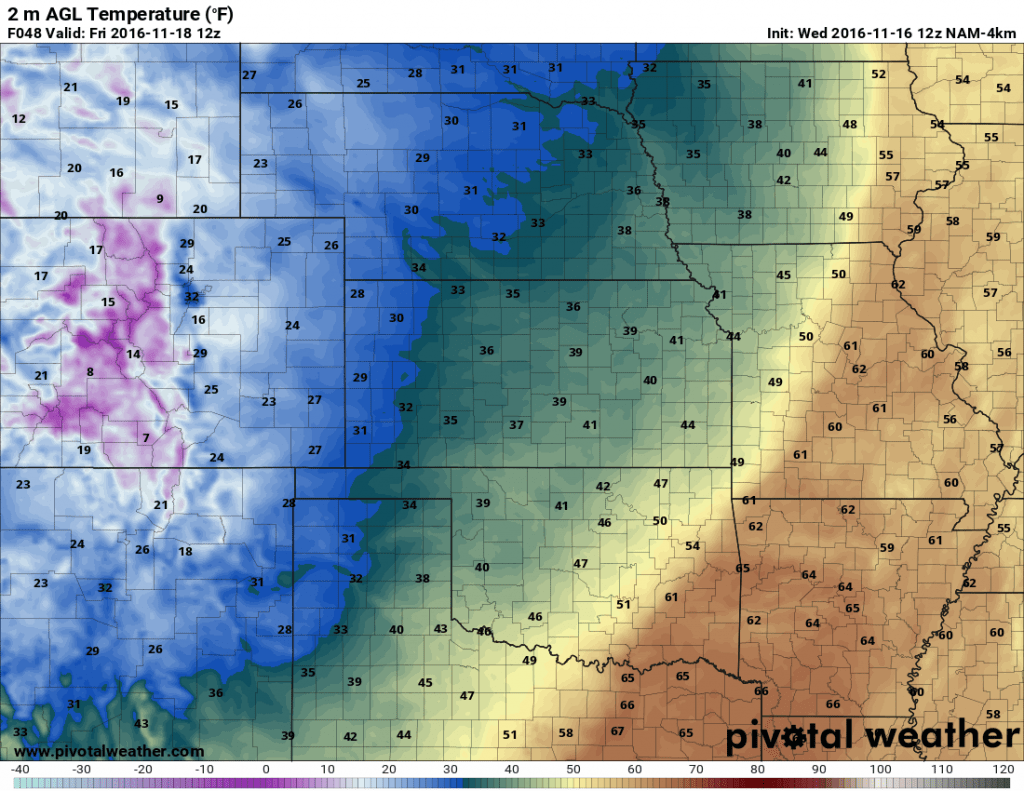 To wrap it all up, this system will not be powerful enough to dump a large amount of snow on the Castle Rock or Denver areas. It will probably shock a few people though, the winds will be very strong on Thursday and the temperatures the coldest we've seen in some time on Friday morning.
Stay tuned, we'll pass along any updates or changes throughout the day today.