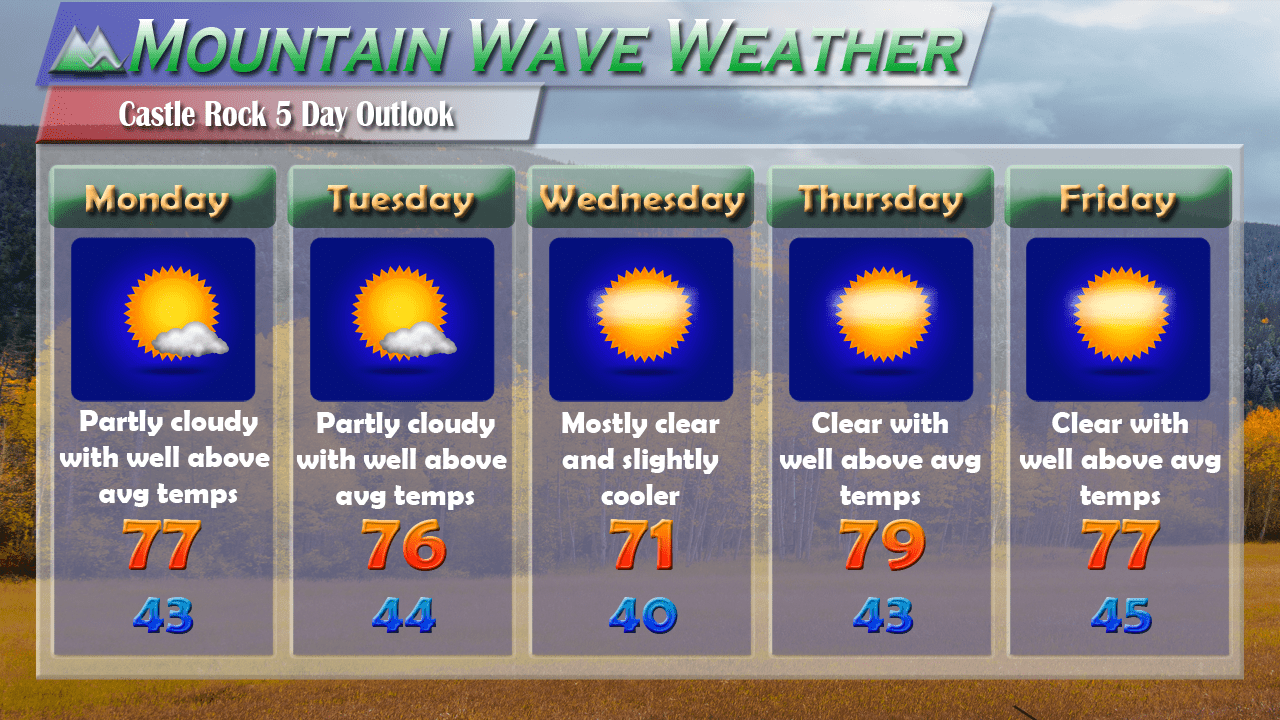 With fall in full swing most of us in Colorado are still waiting on a pattern change to hopefully bring us cooler and wetter weather. Unfortunately, this week doesn't look to feature any big shift in that overall weather pattern for Colorado. Expect mostly clear the partly cloudy skies through the week with well above average temperatures and little chance for rain. As with last week, we will have slight cooldown towards the middle of the week, but will be quickly warming up by the end of the week towards the weekend.
---

As we continue the latter half of October, it remains very warm and very dry across most of the state. Official records for our area are kept at Centennial Airport, but climatological records come from Denver's weather station at DIA. I dug up some of that data so we can compare this October with some of the records:
OCTOBER: DENVER'S TOP 10 WARMEST (MEAN TEMPERATURES):
59.9 DEGREES 1950
57.9         1963
57.9         1934
57.4         1933
57.0         1947
56.3         1875
55.9         1956
55.9         1940
55.9         1938
55.9         1921
Notice, while we are running quite warm, we are not warm enough to crack the top ten warmest Octobers. This is no surprise mainly because October is statistically one of our warmer fall months. Nearly 3 degrees above average is nothing to shake a stick at though, this is a very warm mean temperature and signifies well above average temperatures than what we would expect this time of year.
Now let's take a look at the precipitation stats (can fall as either rain or snow, but is a measure of total collected precipitation:)
OCTOBER: DENVER'S 10 DRIEST
T INCHES 1934
0.01        1933
0.05        1962
0.05        1944
0.06        1988
0.06        1954
0.06        1948
0.08        2003
0.08        2001
0.10        1980
Again, we don't quite crack the top 10 in driest Octobers, but we are very close. Number 10 is 1980 with only 0.10 inches recorded. This month we are at a total of 0.14 inches for the Castle Rock area, very dry for what we'd expect this time of year.
So the long and short of it is; yes this month has been very warm and dry, but it is not the warmest or driest. The thing to take away here is that it is a warmer and drier than average month in a long string of warm and dry months. We are hoping the pattern shifts by November (there are some indications that it may) and hopefully we will see a more favorable storm track for Eastern Colorado.