The latest drought status information is up and it's not great news for most of the front range and mountains of Colorado. Many areas have seen an intensification of drought conditions in the past couple of weeks. Most of Douglas County has transitioned from D0 or "Abnormally Dry" to D1 or "Moderate Drought."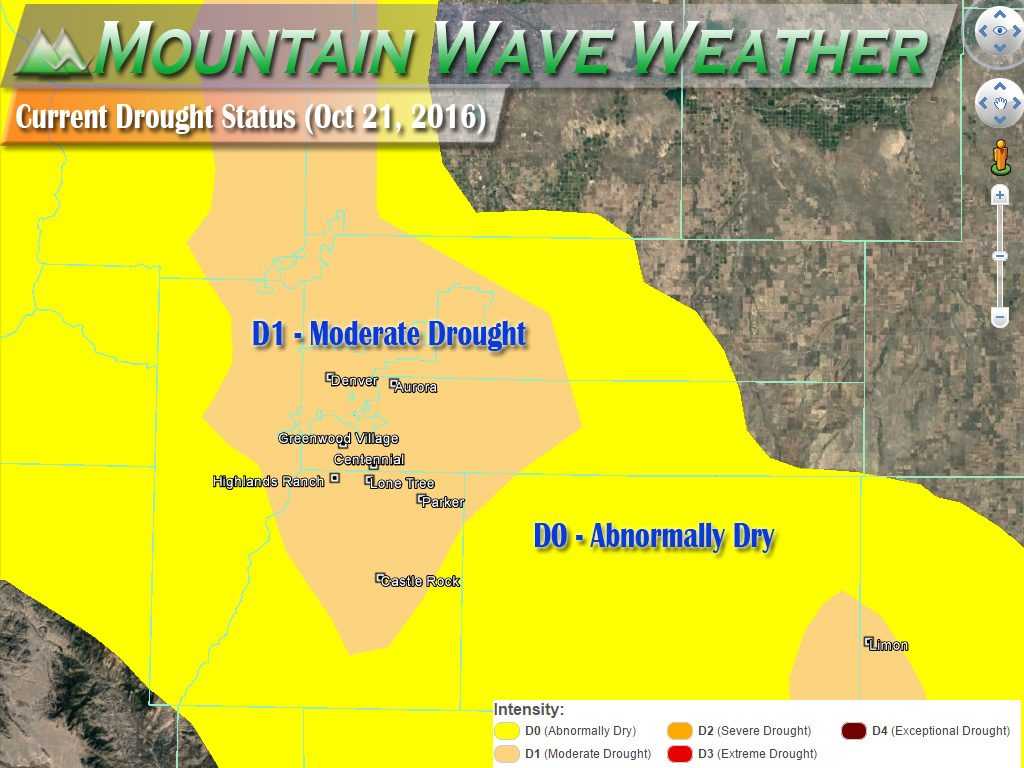 The outlook for the next few weeks doesn't look great either, according to the folks at the U.S. Drought Monitor:
A continuation of hot, dry conditions may necessitate increases in drought intensity and coverage over the upcoming weeks. Unfavorably dry conditions are expected to linger over many of the nation's drought areas over the next 5 to 7 days. In particular, little — if any — rain is expected
---
Quick Update on Castle Rock's Drought
No other way to look at it, we are in a drought at this point folks. That means soil moisture is low, fire danger is high, plants and grasses are beginning to become stressed.
Drought can form due to a combination of above average temperatures and below average moisture, both of which Castle Rock has had for a period of nearly 3 months now: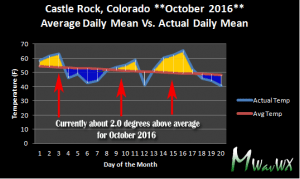 October's mean temperature has had some big ups and downs but the warmer periods have been more sustained and more significant than the cooler periods. As such, Castle Rock is currently running about 2.0 degrees above average for mean temperature as of October 20. Couple this information with September's 1.3 degree above average finish and July's 1.43 degree above average finish. August was actually cooler than normal, but there's a caveat...
Precipitation has been a bit on the low side this year for Colorado, especially in the past few months:
Here's a look at the hard data from the past few months:
October 2016

Currently 0.96 inches below average precipitation
No recorded snowfall as of yet

September 2016

Recorded 0.99 inches below average precipitation

August 2016

Recorded 2.03 inches below average precipitation
Usually our wettest summer month due to monsoon, no sustained monsoon pattern occurred in 2016
After a relatively short-lived wet period in spring, we look to have transitioned to a longer term dry period in late 2016.
---
Any Relief In Site?
Unfortunately, it does not look like we will see any relief from the dry conditions in the short term. This post is Friday October 21, 2016; when I take a look at models from today through next Friday (7 day outlook) our chances of rain look pretty low for the period.
As long as we continue to have large ridges in the upper atmosphere (pictured above) larger storm systems will continue to miss Colorado. The mountains may be lucky to pick up a bit of snow with a small disturbance moving through from time to time, but until we see a major pattern change we can expect the weather to continue to behave much as it has for the past few weeks.
The only glimmer of hope here is that some models are picking up on a pattern change the first week or so of November. This is still very far out for computer models so take it with a grain of salt, but it could mean some beneficial moisture for the state. The catch here is that while troughs (storm systems) start to move into Colorado with this particular model, it doesn't show many of them being that strong or well organized.
It's too early to call it one way or another, so for the time being we'll just keep a cautiously optimistic eye towards Early November.
--This article has been corrected for drought status. Originally we had said "Severe Drought" conditions when actually we have just entered "Moderate Drought" conditions. This article has been re-adjusted and re-posted to reflect the changes.