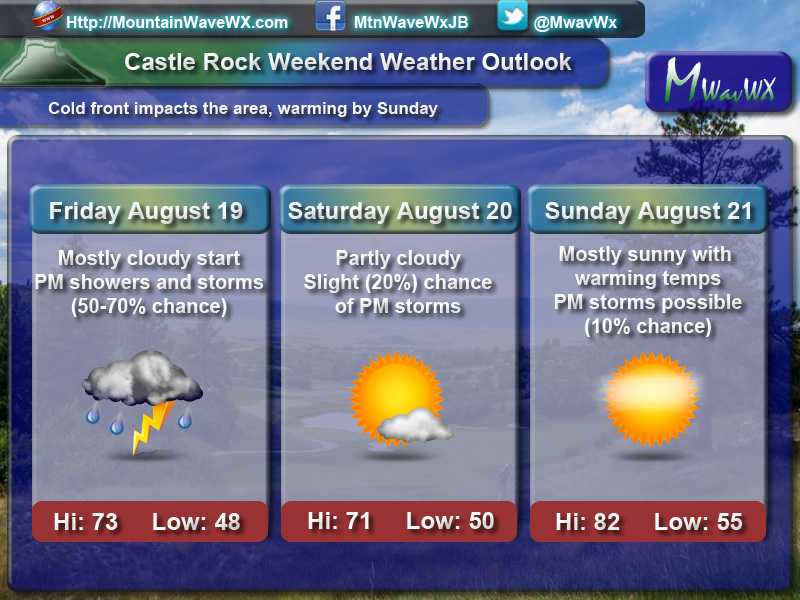 A decent sized cold front moving through the area will give us a brief break from the heat again and provide us with a chance for a bit of moisture. Many areas along the Palmer Divide will have a decent chance for moisture mainly on Friday and into Friday night. Saturday has a chance for rain but looks to be spottier along the front range. We will begin to dry it out and heat it up again starting Sunday and on into next week.
A Look at Other Regions in Colorado
For those of you outside the Castle Rock/ Palmer Divide area with weekend plans, here's a quick look at what to expect:
Fort Morgan Area

Friday: 79/44 – Cooler and cloudy, decent chance (50%) of PM Storms
Saturday: 77/47 – Cool and partly cloudy to mostly sunny, very slight chance (10%) of PM Storms
Sunday: 89/55 – Warming back up, mostly clear

Limon

Friday: 76/43 – Cooler and cloudy, decent chance (60%) of PM Storms
Saturday:73/46 – Cool and partly cloudy, slight chance (20%) of PM Storms
Sunday: 84/50 – Mostly clear and warmer

Winter Park/Fraser

Friday: 65/41 – Partly cloudy with a chance (50%) of PM Storms **Areas above 12,000 ft could see snow showers. Very little accumulation expected**
Saturday: 70/41 – Mainly sunny to partly cloudy, slight chacne (20%) of PM Storms **Areas above 12,000 ft could see snow showers Saturday morning. Very little accumulation expected**
Sunday 75/45 – Mostly clear and warmer

Woodland Park

Friday: 68/40 – Mostly cloudy early, decent chance (70%) of PM Storms
Saturday: 65/44 – Partly cloudy early, decent chance (40%) of PM Storms
Sunday 73/49 – Mostly clear in the morning, slight chance (30%) of PM Storms
---
Rain Chances Slight Better This Week than Last
The good news with this weekend's storm system is the chances of rain are slightly better than last weekend's system, the bad news is there won't be a ton of rain for most areas. The benefit will be the combined moisture, along with higher humidity and cooler temperatures; all of these factors should help things de-crisp with regards to vegetation at least in the short term.
If we take a quick look at precipitable water around 3PM we can see a pretty juicy atmosphere for Colorado standards. At last check this morning, dew points were mostly in the 50's and 60's along Colorado's front range. The trick will be getting enough lift and energy in the atmosphere to wring some of this water out, something we've been missing with the last couple of storm systems with similar setups. Just because we have water in the atmosphere doesn't mean we will see all of it as rain, so that's something to keep an eye out for.
The latest NAM4K shows swaths of moisture accumulating in certain spots along the front range. As a model, don't take this as a guarantee those exact areas will get that exact amount of rain. Look at the bigger picture in this case, it shows us rain will be decent in some areas, but overall very spotty.
Overall, with this storm system I like our chances of seeing moisture in both areas, but I don't see a ton of areas getting large amounts of rain. At this point a lot of areas in the state are beginning to get quite dry so we will take whatever we can get.
---
Mountain Chances for Snow?
You can see in and around the Winter Park area it's quite nice, but notice the white up on the divide? We had a bit of snow fall in the area up there yesterday and could see a tiny bit more in the next 24 hours.
The image above shows snow-depth forecast by Saturday 9AM. You can see the tiniest hints of gray along the higher peaks along the continental divide. A few areas in the Southern mountains will see a chance of very light accumulation as well. Keep this in mind if you have mountain travel plans along some of the higher mountains and prepare accordingly.
---
A Quick Note About Colorado's Drought Status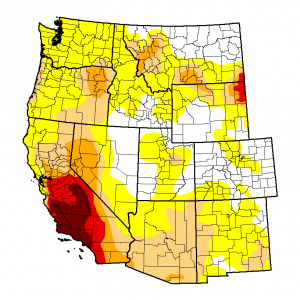 The Western U.S. continues to be quite dry this year, areas in California and Oregon continue to see drought conditions. What interests us is the situation evolving in Colorado. The latest drought monitor released on August 16, 2016 shows larger areas of the state in D0 (abnormally dry) and even a few areas of D1 (moderate drought) The moderate drought areas extend along the east side of the continental divide Northwest of Denver and the Southwestern corner of the state. Areas elsewhere along the front range into the Northern mountains are experiencing drier than normal conditions. We can most likely attribute a lot of this to a drier than normal July and a dry start to August for many of these areas.
As I've said before, we tend to see drier conditions along the front range during La Nina events, this type of drier than normal coverage would be consistent with that. We shall see how the rest of the month plays out, despite the dryness we haven't seen a sustained dry weather pattern establish just yet so I'm not terribly concerned just yet. I will continue to keep an eye on this data however, to see if we are beginning to sink into a drier pattern.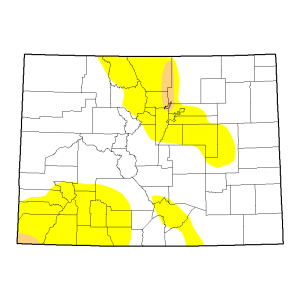 Week
None
D0-D4
D1-D4
D2-D4
D3-D4
D4
Current
2016-08-16
71.05
28.95
1.47
0.00
0.00
0.00
Last Week
2016-08-09
73.34
26.66
0.38
0.00
0.00
0.00
3 Months Ago
2016-05-17
95.22
4.78
0.00
0.00
0.00
0.00
Start of Calendar Year
2015-12-29
90.02
9.98
0.00
0.00
0.00
0.00
Start of Water Year
2015-09-29
71.49
28.51
0.00
0.00
0.00
0.00
One Year Ago
2015-08-18
97.96
2.04
0.00
0.00
0.00
0.00