A cool and cloudy day complemented with rain showers along the front range and even a bit of snow along the higher peaks in the mountains has brought out a host of folks not too happy with today's weather. In the end though, it's Colorado and we see a lot less days like this than we do sunny days throughout the year so it's not too bad. Plus, if you all are like me, you'll probably be stuck inside an office all day anyways!
August Has Been Dry!
For some areas this isn't necessarily true (Colorado Springs especially) but for those of us along the southern and western sections of Denver, this has been a brutally dry month.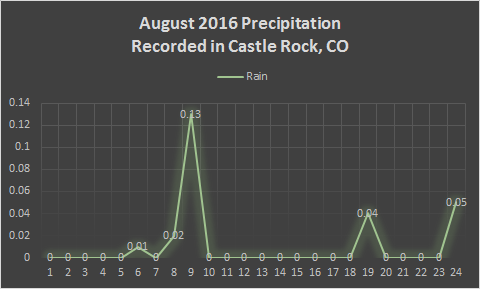 I just ran the current numbers for what I've collected this month in Castle Rock and the results are listed in the above graphic (this includes rain collected today as of 3PM) This shows how incredibly dry this month has been, we've had days of rain here and there but it hasn't amounted to much from any one of those storms.
When you add up the total amount of rain collected this month in our neck of the woods you can see an abysmal 0.25 inches total (again this includes today so far.) This is EXTREMELY DRY! August is typically one of our wettest months and July is a close second. What concerns me for the longer term is that two of our wettest months of the year were much drier than normal.
In a month where we see 2.72 inches of precipitation on average (wettest month of the year) we are currently at 0.25 inches! This is a whopping 2.47 inches below average!
A graphic posted by 9news this morning says it all: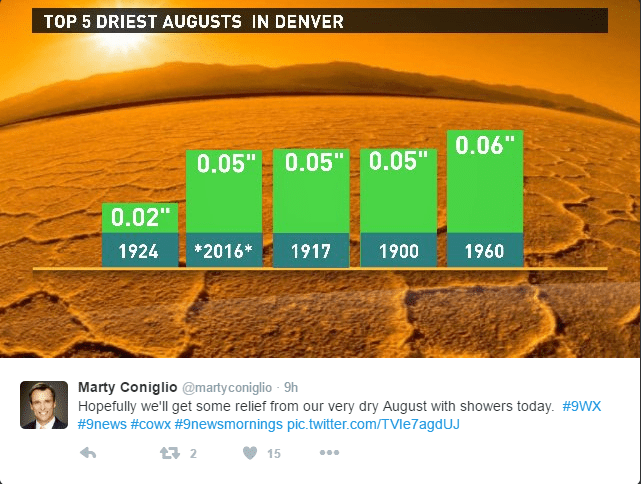 Our rain today should knock us out of the second driest spot but this storm system really isn't going to drench a lot of people. I can still see August 2016 finishing in the top 10 driest
Drought Has Returned to Colorado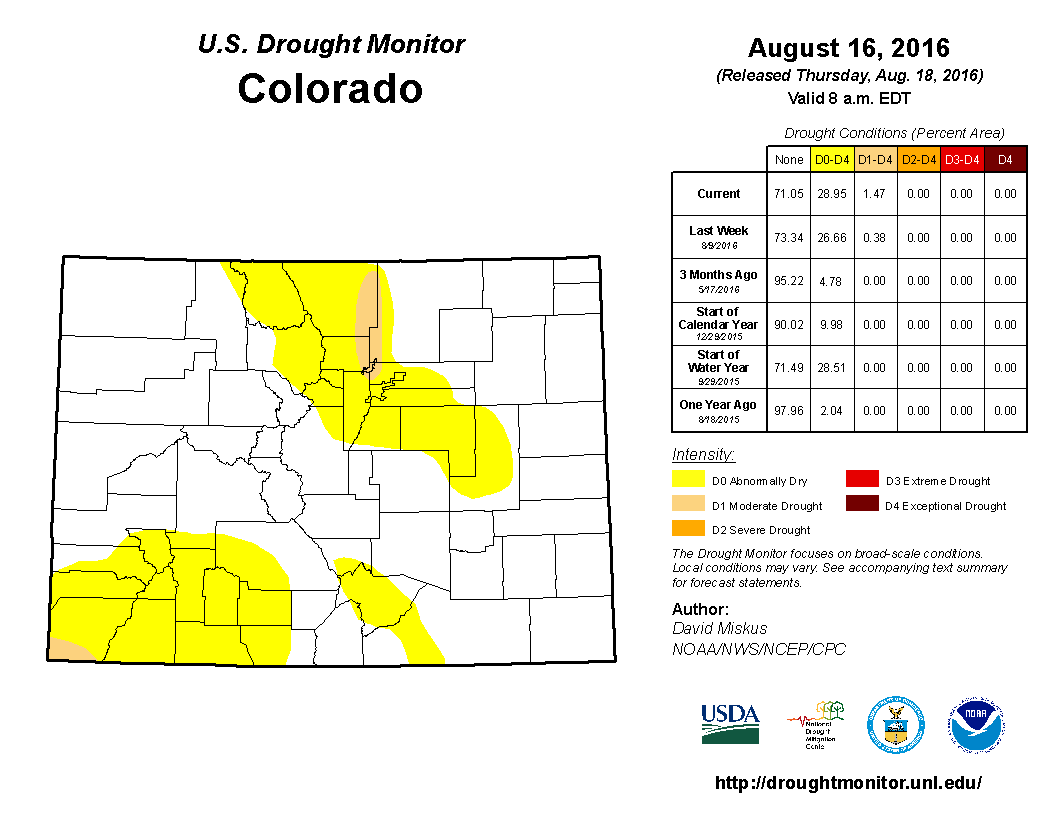 It's been awhile since we've seen widespread drought conditions in Colorado but due to our dry July and extremely dry August, the drought monitor is beginning to light up again. Areas in Southwestern Colorado are mainly in an "Abnormally Dry" pattern along with many areas in the Northern/Central mountains and Palmer Divide. A small area right along the front range and East of the Continental Divide are classified as "Moderate Drought." Hopefully rain chances can improve into the fall and help break a few of these areas out of this pattern.
The latest drought update for Colorado states the following:
...South-central Colorado where D0 was added as seasonal precipitation expectations have been below normal. In northern Colorado, a small area of D1 was added as short-term dryness was putting a strain on un-irrigated vegetation, with some tree leaves becoming crispy.
We'll keep an eye on this and hope for a wet September, the rest of August isn't looking too terribly promising for heavier rain chances.