As we move into the holiday weekend with Christmas only a few days away, a lot of folks are hitting the airport or the roads to get to their Christmas destinations. Depending on where you're going the weather will be just fine or may be a bit of a headache, even in Colorado there is a mixture of conditions. Here's a quick update on what to expect if you're travelling around Colorado or the nation today.
Colorado Weather
If you are travelling into or through the mountains, expect slow travel conditions. A combination of wind and snow will make roads icy and snowpacked through the day Saturday. Expect slow going mainly west of the continental divide on Saturday.
Closer to home, the Eastern plains of Colorado will see breezy and partly/mostly cloudy conditions. Snow showers are possible throughout the day but it doesn't look like it will amount to much (if any) accumulation.
So overall, most of the travel difficulties for the state will be in the Northern and Central mountains for Saturday. You shouldn't run into too many issues along the front range, but keep in mind snowfall amounts are expected to be slightly higher (1-3 inch range) on the far Northeast plains of Colorado into Wyoming and Nebraska.
---
National Weather
Overall it's not looking too bad for Saturday morning across the U.S. The main areas you'll find precipitation are across Kansas, Nebraska and Northeastern Colorado. Additionally snow is being reported across North Dakota and the Northeast, none of which seems to be effecting airport operations.
Most airports checking in with delays this morning are due to traffic... so weather not playing too much of a role.
extExpected 24 hour snow totals across the U.S.Over the next 24 hours the concentration of snow will be in the Pacific Northwest into Washington and Idaho mainly... some areas in Colorado will pick up a bit of snow along with the midwest and Northeast. None of these look like major storms, so delays for airports will probably be mainly around increased traffic.
If you're driving in and around these areas, be prepared for winter driving conditions. Take it slow and be safe!
---
Next Week... Major Storm?
Models are keying in on a potentially large and powerful storm system that would affect the western and central US next week. We won't go into too many details on this just yet because we don't have enough information to nail down anything too accurate.
Here's what you need to know for now: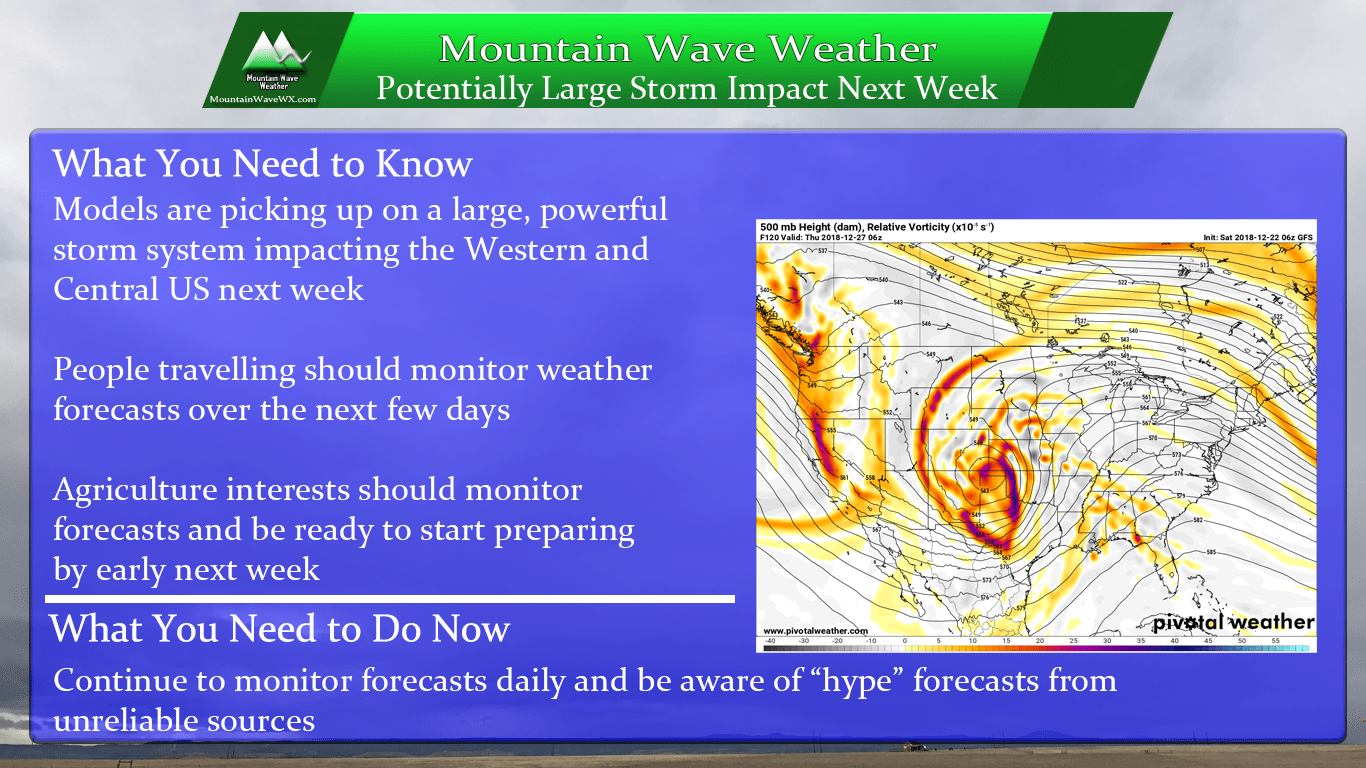 We will begin to actively monitor this storm and post about it starting sometime on Sunday. We will be watching this very closely as it has the POTENTIAL for a big impact on Colorado. For now, don't be worried too much about it but keep an eye on reliable weather resources through next week.