Watches/Warnings/Advisories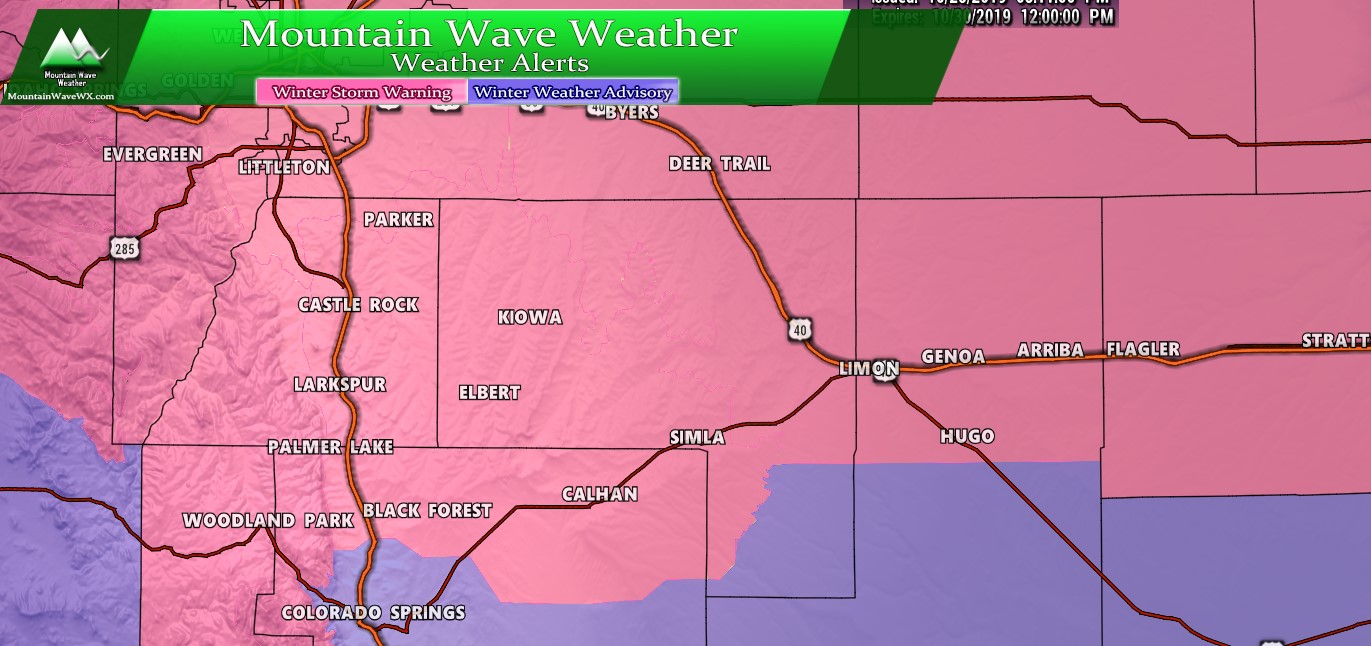 ***Winter Storm Warning***
In effect from Tuesday October 29, 2019 6AM – Wednesday October 30, 2019 12PM
URGENT - WINTER WEATHER MESSAGE
National Weather Service Denver CO
405 AM MDT Tue Oct 29 2019

...SNOW AND COLD TODAY THROUGH WEDNESDAY MORNING...

.A storm system will drop south out of the Northern Rockies
and will be centered near the Four Corners by tonight. The storm
system will then track east across Colorado late tonight and
Wednesday. Snow will become widespread this morning, across much
of the area, with heavier snow developing later this morning
through the afternoon.

Roads are expected to become snow covered and slippery this
morning with hazardous travel conditions by midday through tonight
into Wednesday morning. If traveling today or Wednesday morning
consider adjusting your travel plans.


COZ039>041-043>046-049-291815-
/O.CON.KBOU.WS.W.0016.191029T1200Z-191030T1800Z/
Boulder and the western suburbs of Denver-Denver-Castle Rock-
Greeley-Fort Morgan-Byers-Limon-Akron-
Including the cities of Arvada, Boulder, Golden, Lakewood,
Longmont, Aurora, Brighton, City of Denver,
Denver International Airport, Highlands Ranch, Littleton, Parker,
Castle Rock, Elbert, Fondis, Kiowa, Larkspur, Eaton, Fort Lupton,
Greeley, Roggen, Brush, Fort Morgan, Goodrich, Wiggins, Bennett,
Byers, Deer Trail, Leader, Agate, Hugo, Limon, Matheson, Akron,
Cope, Last Chance, and Otis
405 AM MDT Tue Oct 29 2019

...WINTER STORM WARNING REMAINS IN EFFECT UNTIL NOON MDT
WEDNESDAY...

* WHAT...Heavy snow expected. Total snow accumulations of 6 to
  12 inches.

* WHERE...Portions of east central and northeast Colorado.

* WHEN...From 6 AM Tuesday to noon MDT Wednesday.

* IMPACTS...Travel is expected to be very difficult. The
  hazardous conditions are expected to impact the Tuesday
  evening and Wednesday morning commute. The cold wind chills as
  low as 15 below zero could result in hypothermia if
  precautions are not taken.

PRECAUTIONARY/PREPAREDNESS ACTIONS...

If you must travel, keep an extra flashlight, food, and water in
your vehicle in case of an emergency.

The latest road conditions for the state you are calling from can
be obtained by calling 5 1 1.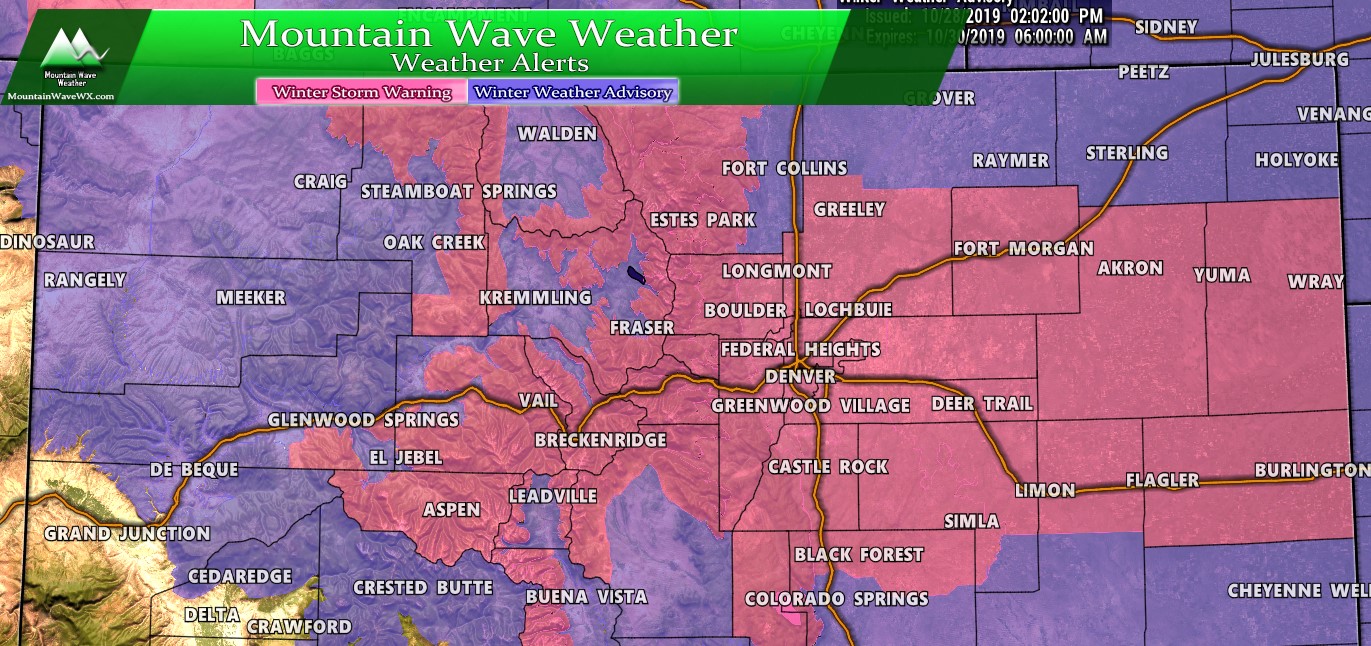 Forecast/Hazards/Timelines/Impacts (The Need to Know Planning Stuff!)
Impacts
Snowfall/Travel Impacts
Moderate to high impacts are occurring this morning along Front Range roads.
Moderate to high impacts to travel look likely into Tuesday night and Wednesday morning
Roads are expected to become icy and snow packed in the heaviest areas of snow. Be prepared for difficult and potentially dangerous travel conditions along the front range including Denver, Palmer Divide and areas East of Denver especially later in the day Tuesday through Wednesday morning.
Timing
Tuesday

Snow is occurring Tuesday morning, moderate intensity in some places
Snow will pick up in intensity after lunch time with heavier snow establishing after 3PM and into the evening hours
Heavy snow and wind will be likely for many areas going into Tuesday evening and overnight

 Wednesday

Heavy snow overnight and cold temperatures means the commute Wednesday morning will see moderate to high impacts
Snow is expected to continue through early Wednesday with the heaviest accumulations in the morning.
Snow begins to taper off by late morning to afternoon
Extremely cold temperatures will be possible overnight Wednesday into Thursday
Snowfall
A couple of factors went into adjusting snow totals from last night's to this morning's model runs. First, models initially backed off on snow totals last night but this morning increased them. Second, the snow intensity this morning is a bit heavier than anticipated and it began snowing a bit earlier as well. All of this points (if everything else in this storm stays the same) to higher snowfall accumluation.
Here's the latest for the Palmer Divide and around the front range:
Models this morning have been very consistent with totals in these amounts. Not anticipating any more changes to these totals unless something falls apart or the storm strengthens.
Summary
Pretty good sized storm on our hands. Already seeing reports of tough travel conditions not only in Denver but areas South towards the springs and Palmer Divide. Remember, a Winter Storm Warning means travel is not advised. If you can stay off the roads today that's definitely a good idea. If you have to travel make sure you have a survival kit and any necessary supplies in your vehicle!
If we see any more updates we will be sure to pass them along, but looks like the storm is moving in!