For the folks asking where spring has been lately... it's here! Spring is usually our wettest time of the year in Colorado and when you see average to below average temperatures a lot of that falls as snow. The last few days have been quite typical days for what we would expect in spring for Colorado.
Saturday - Sunday Will Be Cold, Wet and Unsettled
There are a couple of things going on today that are keeping the snow around, despite the fact the main storm system is well off to our East.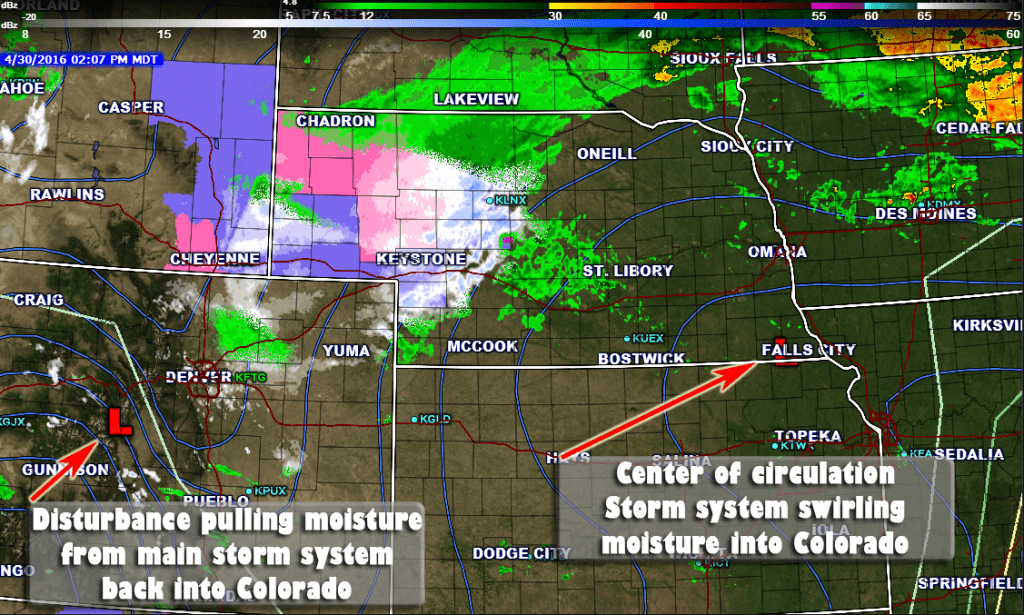 The main center of low pressure from our storm system is in Southeast Nebraska today, but it is still quite a large system and is pushing a ton of moisture around itself. In most circumstances this moisture would not make it back to Colorado but a disturbance parked over the mountains is helping to pull that moisture back into the state and continuing to enhance upslope along the front range enough for snow to fall.
Because of all these mechanisms working together, we are still seeing spotty snow showers along the front range including those of us South of Denver.
This pair of systems is not moving all that quickly and many models have it staying with us through the day Sunday as well.
Monday - Wednesday, Beginning of the Warm Up
The Monday through Wednesday time period begins a slight warm up as the troughs move to the East and allow the air to warm a bit. I don't see it getting super warm as no ridge has built in and won't be transporting a lot of warm air into the state. Monday and Tuesday high temperatures look to be in the mid to upper 50's for most higher elevation locations South of Denver.
Wednesday the temperatures will be markedly higher with most locations in the upper 60's to low 70's and this is where the ball will start rolling on spring-like temperatures to end the week. Notice that big blob of warm air to our Northwest!
Thursday - Saturday, Cranking up the Heat!
By Thursday we see that warm air filtering down into Colorado.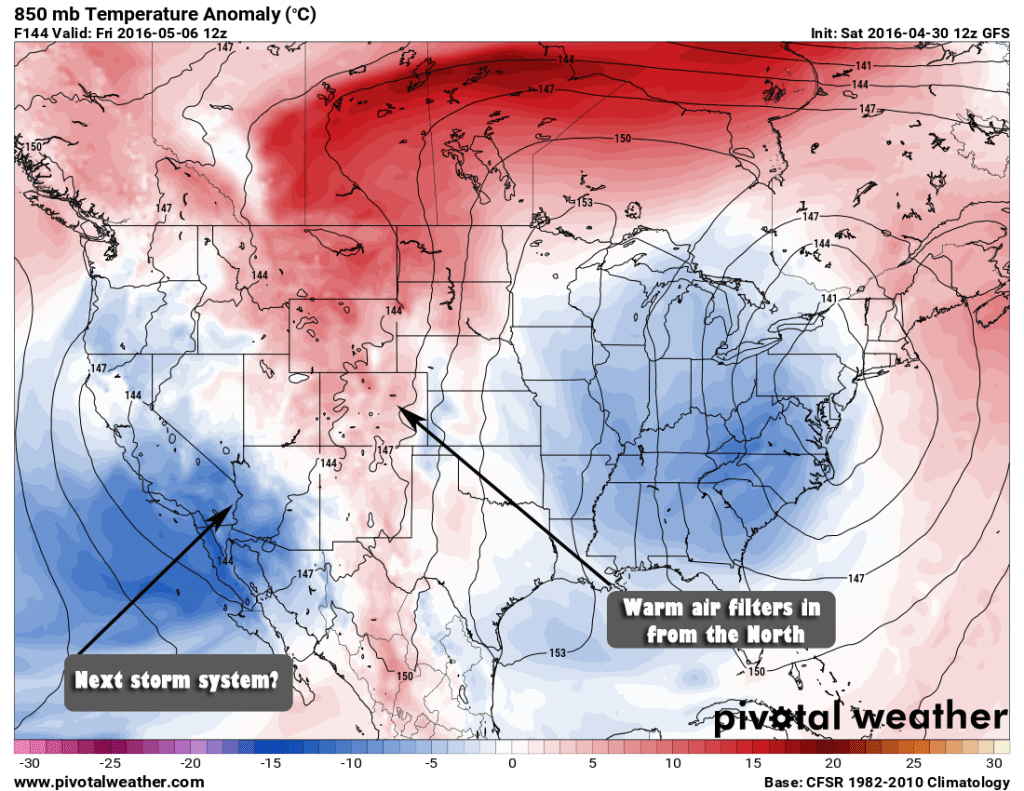 Some locations along the front range could see high temperatures in the 80's Thursday and Friday. I think locations South of Denver along the Palmer Divide will struggle to reach 80 on Thursday but may have a chance for Friday. Unfortunately the warmth will be a bit short lived as another storm begins building to our West and begins to affect us as early as Saturday.
We will have to keep a close eye on the next storm system as we've seen with the last few how much precipitation they have been bringing into Colorado. The good news is that it doesn't look like there is any snow with our next storm system but it is still early yet.
Thanks for visiting and reading everyone, enjoyed the comments and interactions through this latest storm. I will have a storm re-cap up in the next day or two with a look at how this storm did and snow totals. Have a great Saturday!