The spring snow storm is here! Major impacts are being felt along the front range, especially South of Denver along the Palmer Divide. Let's take a quick look at the latest information on this storm:
Current Weather Warnings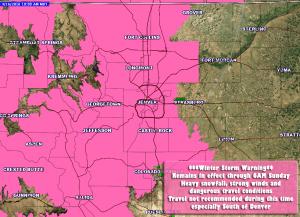 **Winter Storm Warning Remains In Effect**
Timing
WINTER STORM WARNING IN EFFECT TO 6 AM MDT SUNDAY
Cities/Areas Included
INCLUDING THE CITIES OF...FORT COLLINS...HEREFORD...LOVELAND...
NUNN...ARVADA...BOULDER...GOLDEN...LAKEWOOD...LONGMONT...
CASTLE ROCK...ELBERT...FONDIS...KIOWA...LARKSPUR
Snowfall
16 TO 22 INCHES WILL BE
POSSIBLE BY SUNDAY MORNING FOR AREAS ALONG THE PALMER DIVIDE.
SOME AREAS COULD SEE HIGHER AMOUNTS
DENVER IS EXPECTED TO SEE TOTALS BETWEEN 8-14 INCHES


Impacts
A WINTER STORM WARNING FOR HEAVY SNOW MEANS SEVERE WINTER WEATHER
CONDITIONS ARE EXPECTED OR OCCURRING. SIGNIFICANT AMOUNTS OF SNOW
ARE FORECAST THAT WILL MAKE TRAVEL DANGEROUS.



Current Storm Synopsis/Update
There was a period yesterday where the models drastically decreases snowfall totals along the front range. This looks to be a momentary blip as models this morning and late last night bounced right back up on snowfall.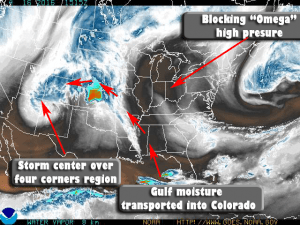 There are a few interesting things going on with this storm highlighted in the image above:
It appears as of this morning the storm system has stalled out over the four-corners region. This is exactly the area the models were predicting for significant snowfall out of this storm.
Because the storm is in the position it is, a ton of moisture has been tapped from the Gulf of Mexico and is begin transported into Colorado due to the storm's counter-clockwise flow. This moisture is being fed in from our East and Northeast to establish strong up-slope flow along the front range of Colorado.
A blocking "Omega" high pressure system to the East will cause this storm to stall and not move for awhile. This will enhance up-slope and cause a sustained period of heavy snow through the day Saturday and overnight into Sunday.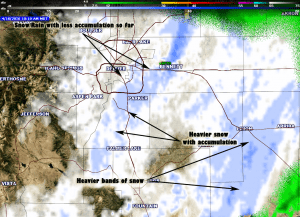 A current look at the radar shows heaver bands of snow up and down the front range. These bands are moving Southeast to Northwest, a good sign of well established up-slope.
Here's a look at the expected snowfall totals through Sunday morning.
Castle Rock: 16-22 inches

Palmer Divide South (Larkspur, Monument…) : 20-25 inches

Western Douglas County Foothills: Spots of 1-3 feet accumulation

Denver: 8-16 inches
**This is going to be a very heavy, wet and dense snow. These totals may be slightly shorter if the snow compacts a lot as it falls.
With our storm in progress, I should have a few more updates today and into Sunday. Stay tuned!