Thought I'd post a quick update on how the storm looks with the latest data in; in short, I see no reason to change the forecast at this point. There are still some major questions about this storm as far as the Denver area and even the Western Palmer Divide.
Here's a quick look at the areas and impacts we are watching closely this afternoon: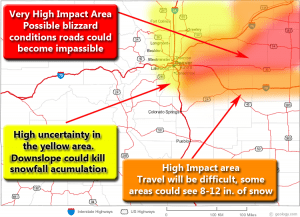 The Yellow Area (Includes Castle Rock Denver, Parker, Longmont, Boulder, Fort Collins...)
This is the area of greatest uncertainty now. Folks before you jump on the media hype train that the local TV news stations have started up, understand that the areas in yellow have equal chances of seeing 1-3 inches or 6-12 inches.
Uncertainty is extremely high because every model shows a dry slot of air in this area that could result in much less snowfall than anticipated. Downslope could kill snowfall in these areas.
The Orange Area (Includes Elizabeth, Kiowa, Limon, Flagler...)
These areas look certain to get heavy snowfall and strong winds during the period on Wednesday
Travel in these areas may become very difficult, if you plan on travelling in these areas consider postponing if possible.
The Red Area (Includes Strasburg, Woodrow, Last Chance...)
At this time the area in red looks to be the most severely impacted
Blizzard conditions will be possible, heavy snow and winds up to 50mph may cause some roads to close.
Bottom Line
Keep a close eye on the weather forecasts this afternoon and into this evening. If you are travelling in the red or orange areas tomorrow you need to keep a close eye on the situation.
For us in and around Castle Rock, the forecast still stands:
Preliminary snowfall forecast for the Castle Rock area: 4-8 Inches
Main Impacts: Heavy snowfall, strong winds up to 50mph, hazardous road conditions especially Wednesday morning. Strongest impacts will be felt East of Castle Rock into Elbert County.
**Keep in mind this is preliminary today, this forecast may change upwards or downwards based on the data I see throughout the day Tuesday.
But understand there is still a high degree of uncertainty for areas in and around Castle Rock. These areas could receive big snow if the up-slope cooperates, but right now models are latching onto down-sloping winds which would eliminate a lot of moisture for snowfall. The tricky part is, it is very difficult to forecast how much down-slope erodes the storm and where.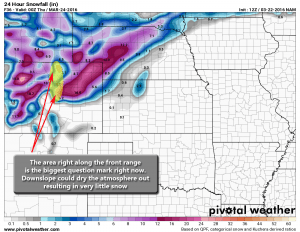 I've highlighted the areas in yellow that stand the most chance of having this storm bust. This means those areas could equally see little to no snow accumulation from this storm depending on a lot of variables that set up on Wednesday morning.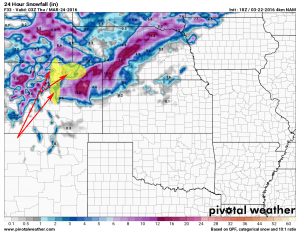 The latest NAM 4k is also picking up on a pronounced dry slot due to down-sloping.
Keep an eye on the weather forecasts this afternoon, I expect the NWS to start pulling the trigger and upgrading some of these Watches to Warnings soon. We'll keep a close eye on it and expect at least a couple more posts about this storm today as more data comes in.
As always, thank you all for reading, liking and sharing, if you have any questions please don't hesitate to ask on our Facebook page!