For the night owls still up, I have a quick update on the latest status of the storm set to impact the front range of Colorado. For everyone else, no worries as I'll have another update Wednesday morning.
The Latest
In a nutshell, models across the entire spectrum have significantly increased snowfall accumulations. I am usually very hesitant to jump on increases based on one set of model runs, we can see these flip-flop the other way on the very next run. Overall though, this is a very convincing set of models as far as how they all agree on a higher snowfall amount. With that in mind I'm increasing my snowfall forecast in and around the Castle Rock area. I'll look to the morning's models to see if this stays on track or if I need to adjust downward again (or maybe even upward, depending on the data)
Here's a quick look at the latest models for snowfall accumulation
As we get closer to the storm, I begin to look at some of the better short range forecast models. The HRRR especially (bottom image) is quite good at picking out finer details and overall trends.
As with any analysis of the weather, I don't simply look at one model or one set of circumstances, the EURO's positioning of the low has been very consistent for 3 days now. When a lot of models dismissed this snowfall event, the EURO held fast. The latest look at this model show the Low setting up in a very favorable position for heavy snowfall along the front range.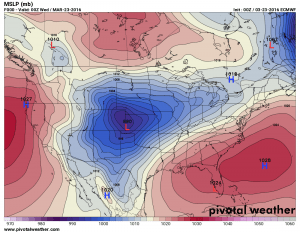 Updated Castle Rock/Palmer Divide Forecast
Castle Rock West of I-25: 6-12 inches
Castle Rock East of I-25: 7-14 inches
Palmer Divide (Eastern Douglas County and Elbert County towards Limon) : 8-16 inches
Denver:4-8 inches
You'll notice my totals are slightly lower than model guidance shown above. Mainly this is because down-slope may still play a bit of a factor for some areas, though it is much less prevalent on the latest models. The other reason is that warmer temperatures (especially at lower elevations) may cause some significant melting before the snow sticks.
Impacts Remain the Same
Heavy snowfall

Strong winds up to 60mph, sustained 30-40mph

Hazardous road conditions (morning commute may not be too bad yet but as snow falls throughout the day road conditions will deteriorate)

Strongest impacts will be felt East of Castle Rock into Elbert County.
I'll have further updates Wednesday morning with a look at new model data and if the storm still looks on track at that time. Stay tuned for further details!