The National Weather Service in Denver has issued a ***Winter Storm Watch*** for some areas of the front range of Colorado for 4AM Wednesday morning through 6PM Wednesday night. This storm echoes a lot of the last storm system to move through in the fact that it will not be a major, city-crippling blizzard, but it does look to be significant enough to cause quite a few headaches throughout the day on Wednesday. Here's the latest as of this morning:
Impacts
Heavier snowfall between 6AM and Noon on Wednesday
Winds will be strong starting Tuesday afternoon and continue through the day Wednesday

Expected sustained winds of 25-35mph with gusts up to 50mph
This could cause blowing and drifting of any snow that falls. Areas East of Castle Rock towards the plains will have the highest threat of blizzard like conditions

Roads will become icy and snow-packed with the heavier snow on Wednesday. Roads to the east on the plains may become impassible with drifting snow
Wednesday morning commute looks rough, the evening commute may be dicey as well depending on how long the snow lingers around during the day
Expected Snowfall for Castle Rock Area
I've held off on snowfall totals through the day Monday as models were having a tough time pinning down where the heaviest snow will fall. It looks like that is still the situation with the latest models, but in any case here is what they show as of this morning:
**I put the GFS last because it's the model I trust least in the winter season
You can see that every model is bringing snowfall to our area to some degree. The NAM and Euro (not shown) models have been much more consistent this year with predicting winter storms so I tend to stick with them first and give the GFS just a passing glance.
One big concern I have about total snowfall is that in the NAM models above, there is a pronounced dry slot against the foothills and Western Douglas County. This is a signal consistent with down-sloping winds, winds like this tend to dry the atmosphere and could impact how much snow we get. You'll notice the bulls eye is not over Castle Rock proper, but just to our immediate East, especially in Elbert County. The NWS has a snowfall range of 4-8 inches, which I tend to agree with but have serious concerns about down-slope flow killing our snow accumulation as you move West. If this signal verifies, expect my snowfall forecast to drop drastically at some point on Tuesday, however if the storm track shifts more favorably, the 6-12 inch range may not be out of the question.
I know at first glance the 4-8 inch range contradicts the NAM pretty sharply, however I'm not looking at just one model. Given the data I've seen across the entire spectrum of model products that I use, some do indeed show the higher snowfall pusing further West, hence why I agree with the 4-8 inch range at this time.
My preliminary snowfall forecast for the Castle Rock area: 4-8 Inches
Main Impacts: Heavy snowfall, strong winds up to 50mph, hazardous road conditions especially Wednesday morning
**Keep in mind this is preliminary today, this forecast may change upwards or downwards based on the data I see throughout the day Tuesday.
Stay tuned to Mountain Wave Weather throughout the day Tuesday, I will have several updates regarding this storm and will post as new data comes in and the forecast either begins to verify or change.
Synopsis
For the weather nerds more interested in the science of this storm I usually throw in this section to talk more technically about the storm setup.
Model guidance has a strong low pressure system crossing the Rockies of Colorado today. As often the case with these types of storms, the mountains tend to shred the energy as the storm system crosses the divide. What becomes important to us is where the energy re-strengthens; the NAM 4k shows the low re-developing over Northwest Kansas into Wednesday morning. The positioning here will be important as any shift could have big implications for how much show we get along the front range.
The low will usher in colder air overnight Tuesday and into Wednesday and as it does so, it will wrap moisture back around the Western side of the storm system.
This is shown quite well on all models with snowfall taking a heavier track across Eastern Colorado, Northeastern Colorado and into Nebraska. I think those areas will have the biggest impact from this storm.
Upslope Vs. Downslope will Make or Break This Storm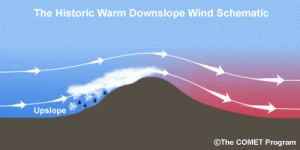 In weather we all know that upslope causes rising air and thus moisture on windward side of the mountains. The leeward side is punctuated by sinking air, this causes it to compress and warm and it moves down the slopes and generally dries out the atmosphere. This is an important thing to know for Colorado as it can dictate our weather quite frequently.
Let's look at the  NAM4K snowfall model:
Notice the bulk of the snowfall falls across the Eastern plains and there is a noticeable lack of snow right along the front range. This is a strong down-slope signal and it shows up pretty clearly here. What I'll be watching for in Tuesday's model runs is does that dry spot disappear or intensify. This is ultimately going to depend on where the models think the Low will set up over Kansas. If it should back off to the West a bit or South, up-slope flow will enhance along the front range and we will get more snow.
Should the low shift North or East, we will see stronger down-slope along the front range which means our snowfall accumulation could greatly diminish. As is often the case with these snow storms in Colorado, it's all about location, location, location!
The National Weather Service's latest statement echoes this concern:
AT THIS TIME AS MODELS ARE STILL NOT LOCKING ON TO A STEADY SOLUTION OF THE HEAVIER SNOW...WITH THE LATEST GFS DOUBLING ITS AMOUNTS OF QPF NEAR THE FRONT RANGE WHILE THE NAM MOVED THE HEAVIER PRECIP EAST OVER THE EASTERN PLAINS. ONE COMMON FEATURE IS THE DOWNSLOPING SIGNATURE ALONG THE FOOTHILLS AND NORTHERN FRONT RANGE URBAN AREAS AS NORTHWEST FLOW WILL DOWNSLOPE OUT. THE QUESTION IS HOW MUCH AS IT DOES LOOK LIKE THERE WILL BE A SMALL WINDOW WHERE WINDS UP THROUGH MOUNTAIN TOP MAY TURN UPSLOPE BETWEEN SUNRISE AND NOON.

For what it's worth, here was a look at the SREF ensembles this morning for snowfall at Centennial Airport:

You can see the mean is right in that 4-8 inch range, so I'm sticking with that for the western Palmer Divide area (Castle Rock, Parker, Monument, etc...)
It should be interesting to see how this storm develops with so much inconsistency between the major models. I expect the forecast to change drastically at some point on Tuesday with either much more snow than anticipated or a total collapse of this system from down-sloping and we'll be looking at a dusting at best. This is why weather is so interesting, every storm is different!