Our weather this week looks to be split between a nice first half and a bit of a dreary second half.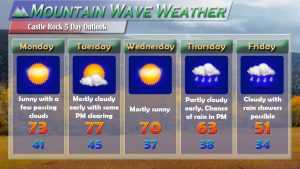 Expect warm and dry conditions the first half of the week, high temperatures will be in the 70's which is about 10-12 degrees above average for this time of year. The night-time temperatures will be in the low 40's for most areas in and around Castle Rock with some of the lower elevations seeing upper 30's due to cold air inversions.
By the second half of the week we begin to see a shift in the weather pattern. An upper level low will begin to move into the area late Wednesday and into Thursday. This feature will bring a cool front through the area and switch our winds to Northerly and Northeasterly (upslope!)
Expect cooler temperatures Thursday and Friday with chances of rain. At this time most models bring the heaviest rain East of Castle Rock and the Palmer Divide area (think more Northeastern and Eastern Colorado)
At this time we expect about 0 to 0.5 inches of total rain accumulation through Saturday morning in and around Castle Rock. This storm doesn't look to produce a ton of moisture for our area, but we will take the cooler temperatures and whatever moisture we can get! Most of this looks to occur on Thursday and Friday, so keep that in mind if you have any outdoor plans. Thunderstorms will be possible!
We'll keep an eye on this storm system and pass on any changes through the week, snow is not expected at this time with this system.